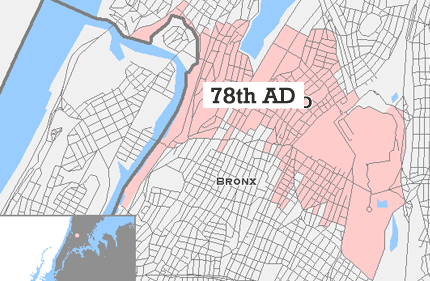 Incumbent Assemblymember Jose Rivera has had a lot to worry about over the past two month. After years as head of the Bronx Democratic Party, Rivera faces a challenge from a rival group of politicians calling themselves the "Rainbow Rebellion." The anti-Rivera faction gained strength on primary day, when Bronx residents voted against his for Surrogate Court judge and defeated his ally, State Sen. Efrain Gonzalez. Rivera also failed to defeat any of the Rainbow members up for re-election.
Now Rainbow Rebellion leaders want to replace Rivera with one of their own, State Assemblymember Carl Heastie. In September, the factions held dueling meetings -- one gathering re-elected Rivera leader, the other chose Heastie. The battle now rests in the hands of a court where a judge must determine which meeting was the real one.
But amid all the turmoil, one thing Rivera probably does not have to worry about is his return to the Assembly. He faces two opponents: Jose Torres on the Republican and Independence Party lines and Conservative Robert Lupo. Little information was available about either candidate.
Rivera first served in the assembly from 1982 and 1987, then moved over to the City Council. He returned to the legislature in 1990 and has been there ever since. A former member of the carpenters union and a union organizer, Rivera says he has worked "for jobs, better housing and social justice."
Rivera's most recent available campaign finance report, filed in July, showed him with $105,682. A report for Torres was not available and Lupo reportedÂ