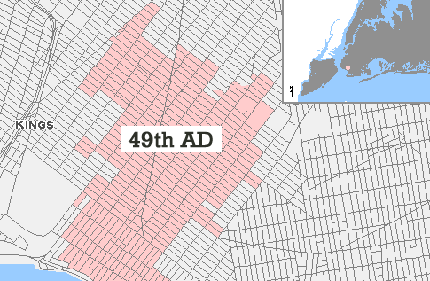 Peter Abbate, who was first elected in 1986, will face Republican challenger Lucretia Regina-Potter.
Abbate chairs the Assembly's Committee on Governmental Employees. At a recent forum, Abbate boasted passing of about 225 bills through bipartisan efforts. He has spearheaded legislation requiring that school buses keep their lights on when transporting children, and reforming the city's commercial real estate incentive program.
His challenger, Regina-Potter, is the general manager and designer of Bari Tile and Ceramics in Brooklyn. She is a member of the Brooklyn Chamber of Commerce and the Brooklyn Executive Business Women Association. Part of her agenda is to ensure small businesses can weather the current economic crisis. She also is the Republican district leader for the area.
Abbate raised about $20,650 in the weeks leading up to the 32 Day Pre-General reporting deadline and closed out the period with almost $536,000 on hand, vastly overpowering Regina-Potter in the fundraising department. For the same period, she collected $3,005 in contributions and ended with $3,591 on hand.
The 49th district includes Dyker Heights, Bath Beach, Bensonhurst and Borough Park.
Â