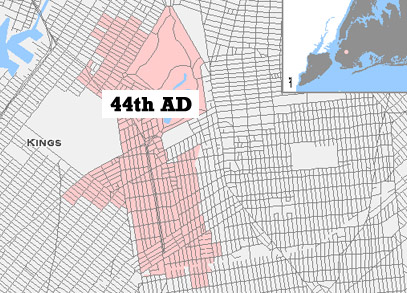 Longtime incumbent, Assemblymember James Brennan, faces Yvette Velazquez Bennett next week.
Brennan, who recently withdrew from the race for city comptroller in 2009, is the former chairman of the Committee on Mental Health, Mental Retardation and Developmental Disabilities and now heads the Assembly's cities committee. He authored major budget reform in the early 1990s and considers himself a conservationist and budget expert.
Bennett is a former City Council candidate and also ran for an assembly seat in 2006. A longtime activist in the Republican Party, she has been endorsed by Minority Leader Assemblyman James Tedisco, and she says she would like to bring a moral compass to the Brooklyn Republican party.
Brennan raised no contributions in the period covered by the 32 Day Pre-General report, but at the end of September, he had more than $40,000 on hand for his re-election bid. Bennett raised $300 in that filing period, and 32 days before the election had $983 on hand.
The district includes Park Slope, Flatbush, Kensington, Midwood and Windsor Terrace.
Â