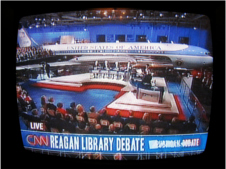 The following table summarizes the positions of the four remaining Republican presidential candidates on issues of particular concern to New York City voters. The selection of issues is somewhat arbitrary, since all events and policies affect New Yorkers. We tried to select those topics traditionally considered part of the "urban agenda."
For the candidates' positions on other issues, go to their Web sites or the Washington Post, which profiles each candidate and provides summaries of their views on a range of important topics.
The candidates' views here were compiled from their own Web sites, speeches and press reports. In some cases, we could not determine a candidate's stand on a particular matter. If you can provide any additional insight we'd love to hear from you.
| | | | | |
| --- | --- | --- | --- | --- |
| The Issues | Mike Huckabee | John McCain | Ron Paul | Mitt Romney |
| | Would replace income tax and other payroll takes with a tax on consumption, essentially a national sales tax. Believes government spends too much. | Calls for fundamental tax reform including major cuts in the corporate tax rate and the tax on middle-income families. Would combat deficit spending by ending funding for wasteful projects and earmarks. | Would cut taxes for everyone. Thinks deficits and what the so-called Federal Reserve's devaluation of our currency constitute major threats. | Would focus on tax reductions with lower corporate and income taxes across the board, elimination of the inheritance tax and preserving the Bush tax cuts. |
| | Thinks an "unfair, unlevel trading arena" is costing America jobs. | Believes globalization with fewer barriers to trades will help most U.S. workers. Would overhaul unemployment insurance to retrain and help workers who have lost jobs. | Position could not be determined. | Believes opening markets and trade would help U.S. workers. Would streamline job training programs and set up "one-stop-shops" to make it easier for workers to get benefits, training, and education to find jobs. |
| | Believes his Fair Tax system and better education would reduce poverty. | Believes a good education system and a pro-growth economy are the most effective ways for government to fight poverty. | Believes in letting private charities help the poor. Thinks that lower taxes and less regulation will enable more impoverished areas to be improved with private money. | First step is strengthening families. Also thinks better education and a strong economy will cut poverty. |
| | In favor of public school choice, more charter schools and allowing home schooling. | Believesin choice, including home schooling, and that competition among schools can improve education. Would give parents more power to choose schools. | Would provide a $5,000 tax cut credit per student, per year for cost of attending any school or being home-schooled. | Believes in providing choice through public, charter and private schools. Supported charters as governor of Massachusetts. Would provide a tax credit to parents who home-school their children. |
| | Sees values in setting standards but thinks state should have power to determine their own benchmarks. | Says it has enabled people to see whether students meet a common standard and has shed light on "previously invisible" students. Wants further solutions. | | Supports it and says he would give states that meet or exceed testing requirements more flexibility in measuring student performance and would focus more on individual student progress, rather than the overall school progress. |
| | Endorses higher teacher salaries while making it easier to dismiss teachers; stressing basics in the curriculum; proponent of music and art education. | Believes schools should continue to set standards. Would also find and reward the best teachers and encourage school choice. | Would abolish Department of Education and turn education back to the states. | Supports performance based pay for teachers. |
| | Promises to achieve energy independence in eight years with renewables, nuclear, "clean coal" and other sources. | Advocates using the market to boost nuclear power and other technologies to reduce reliance on foreign oil. | Would create a free market in energy to encourage conservation and the development of new forms of energy. | To increase efficiency and decrease reliance on foreign oil would fund basic research, promote nuclear technology and commercial large-scale renewable energy project and develop cleaner fossil fuels, such as clean coal. |
| | Endorses the Leadership in Energy and Environmental Design Green Building Rating Systems and would consider offering tax benefits to buildings that meet those standards. | Would seek to limit carbon emissions and has cosponsored a Senate bill to reduce them. Believes economy depends on sustainable use of resources. | Private property rights can best protect the environment. | Believes any program to reduce carbon emissions should be global but thinks we can still reduce oil consumption and with it our "environmental footprint." |
| | Strongly opposes gun control and notes he has a license to carry a concealed hand gun. | Opposes most controls on ownership of guns and ammunition, though supports instant background checks. | Opposes any restrictions on gun ownership and would leave the United Nations to protect "us from their attempts to tax our guns or disarm us entirely." | Opposes gun control efforts. |
| | Opposes federal requirement for universal insurance; would encourage private sector to bring down costs. Advocates measures including reforming medical liability, expanding health savings, making health insurance tax deductible for individuals and families. and providing tax credits to low-income families | Calls for bringing costs under control through changes, including increased competition, giving patients great control over their own care and encouraging technology. Would provide all people with a $2,500 tax credit for health coverage. | Would remove federal regulations on health care coverage, make all medical expenses tax deductible, create health savings accounts and promote competition to reduce costs. | Would give states more power to regulate and reform health care, help uninsured people buy insurance, expand Health Care Saving accounts and make more medical expenses tax deductible. |
| | Would emphasize preventive health care | Calls for people to take more responsibility for their health and educate their children about nutrition and exercise. | Opposes government efforts to restrict some food and natural treatments and is against mandatory vaccinations, including those for small pox. | Position could not be determined. |
| | Concerned about sprawl and increased driving as a transportation and health issue. | Position could not be determined. | Opposes widespread use of eminent domain as a violation of property rights. | Opposes taking private property for private development through eminent domain. As governor, he promoted "smart growth" policies. |
| | Position could not be determined. | Position could not be determined. | Position could not be determined. | As Massachusetts governor, vetoed funding increase for public housing. Also loosened zoning regulations that some say may have helped bring down some rents in Boston. |
| | Would build a fence along the U.S-Mexico border, increase the border patrol, tighten employee verification program, give all illegal immigrants 120 days to register and leave the country. Those who do so could later apply to immigrate; others would be barred for 10 years. Would increase visas for people with technical skills and make the process for legal immigration more efficient. | Would secure border but would also work to promote economies of Latin American countries, assimilate immigrants and recognize U.S. will continue to attract immigrants. | Calls for securing borders, tightening visa rules, not granting amnesty to undocumented workers and not giving them government services, including schooling and medical care. Opposes immigration plan that would admit millions more into in the U.S. legally. | Securing the U.S.-Mexican border, instituting a stricter employee verification system and denying any "special pathway" to citizens for people who are here illegally. Would "Cut back federal funding to cities that are "sanctuaries" for illegal immigrants and "refuse to comply with… federal law enforcement." |
| | Mentions steam pipe explosion in New York and endorses American Society of Civil Engineers estimate that the U.S. needs $1.6 trillion in the next five years to repair and improve infrastructure. Believes spending on highway and transit infrastructure can play key role in stimulating the economy. | After bridge collapse in Minnesota last summer said government neglected needed repairs while funding some wasteful pork barrel projects. | Position could not be determined. | Invest in key infrastructure projects, not pork barrel. |
| | Calls for easing congestion through road expansion and mass transit; would like link land use and transportation planning. | Has advocated tougher fuel economy standards for cars. Has been a longtime critic of Amtrak. | Position could not be determined. | As Massachusetts governor, bought cleaner,fuel efficient buses. Promoted transit oriented development and created bond program to pay for it. Also instituted bike and pedestrian improvements. |
| | Would improve cargo screening at ports and allows state security standards to be stricter than those set by the federal government. | Would be prepared to deter, detect, and respond to any attack. | Position could not be determined. | Threats must be addressed "before they reach our shores." |
Â