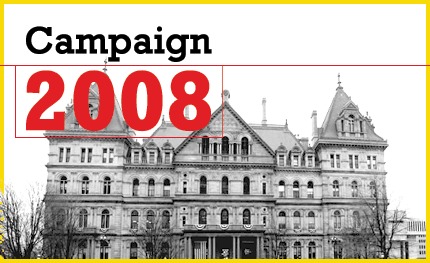 (This article was updated on June 24 to reflect the resignation of Senate Majority Leader Jospeh Bruno.)
As job security fades for most New Yorkers, it has remained for members of the New York State Legislature. Once elected, they keep an almost legendary hold on their posts. Re-election rates have been said to reach 98 percent and likened to members of the North Korean government. Members of the legislature have won re-election after being indicted, arrested and caught in various compromising positions.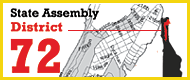 A House Divided in Washington Heights
First in a series of articles on the issues and candidates in the city's 2008 elections for state legislature and other offices.
---
No one will know for sure until polls close on Nov. 4, but that could change in 2008. The combination of term limits in New York City, the resignation of longtime Senate Majority Leader Joe Bruno and a sense by some Democrats that they could finally capture the Senate -- and with it control over state government -- has upset the traditional political calculus. In fact, many observers attribute Bruno's decision to leave the Senate at least partly as an indication that he too saw the arithmetic on the wall.
In the months running up the September 9 primary and then on to the Nov. 4 general election, Gotham Gazette will provide in-depth coverage of many of the competitive races in New York City. (The first of articles on an individual race -- this one covering the primary contest in Manhattan's 72nd Assembly District -- appears today.)
What's At Stake
Every two years, all seats in the State Legislature are up for grabs. This includes the 91 Assembly and State Senate seats for New York.
In most years, though, few incumbents face credible challengers. In the 2004 legislative races, nearly 60 percent of incumbents either ran unopposed or faced an opponent who had raised less than $1,000.
Political professionals cite a number of reasons for this. Primary contests for occupied seats remain rare and, in the general election, the drawing of district lines tends to favor incumbents, making some districts heavily Democratic and others heavily Republican -- discouraging closely fought contests.
Many experts believe the two major parties in New York had a kind of non-aggression pact. The Republicans would control the Senate and Democrats the Assembly. That is the way it has been since the 1960s.
It could change this year.
For one, the Democrats have moved closer to capturing control of the Senate. Following a special election in 2008, which brought a rare win by a Democrats in an upstate rural district, the GOP edge was reduced to a single seat. Gov. Eliot Spitzer's resignation made the situation a bit more complicated, since the Republican senate majority leader may now get to vote in the event of a tie, but the Republican control remains tenuous.
And it goes beyond the arithmetic. Republicans have been losing strength in New York State in general -- the party lost three seats in the state' delegation in the U.S. House of Representatives in 2006, and both senators and the governor are Democrats. Pundits see 2008 in general as shaping up to be a strong year for Democrats, and with the collapse of Rudy Giuliani's presidential bid, the GOP has no clear standard bearer in the state.
The Democratic zeal for taking over the Senate was fueled by Spitzer. Since taking office, Paterson has reportedly retreated from that fray, trying to foster détente with Bruno. But in many districts, the lines have already been drawn.
What It Means for New York
As a Democratic city, New York would seem to have everything to gain from a switch in the Senate. If Malcolm Smith, now Senate minority leader, remained head of the Democrats, it would mean that all three men in the room -- Paterson, Assembly Speaker Sheldon Silver and Smith -- would be New Yorkers. Many progressive groups in the city, particularly those involved with housing and various social issues, have seen Democrats as more supportive of their causes.
Other influential groups in the city have managed to curry favor from both sides of the aisle. The healthcare workers union, 1199, allied itself with Bruno and backed Republicans in individual contests. The teachers union has also backed Republicans and has seen the Republicans support them, most recently on a bill that prevented the city from linking decisions on teacher tenure to their students' test scores.
Rather than backing either party, observers say, labor has been using the volatile situation in the capitol to press its programs.
"Labor is in a good place," said Richard Iannuzzi, president of New York State United Teachers, told the New York Times. "The atmosphere in Albany, for a variety of reasons, has been somewhat chaotic and combative, and that's allowed us to use our ability to be consistent to our advantage."
On the other hand, the Working Families Party, which has strong ties to labor, appears to be pushing for Democratic gains. It has abandoned some Republicans it backed in the past in favor of their Democratic challengers.
Weakened though they may be, the Republicans have one powerful ally in their quest to keep control of the Senate: Mayor Michael Bloomberg. In the past two years, the purportedly independent billionaire mayor has given at least $900,000 to Republican legislative campaign committees -- not counting any donation to individual candidates.
Bloomberg has indicated a willingness to extend his support beyond cash. Earlier this year, his Department of Education named a Queens school for Frank Padavan, a Senate Republican facing a Democratic challenge. Under city regulations, schools are not supposed to be named for living people but Chancellor Joel Klein defended the move on the grounds that this was not just a school -- but an entire campus.
Bloomberg said his moves are simply evidence of his commitment to helping people who help New York City. The Republicans "have been there for us," Bloomberg said earlier this year. "They've come and stood for the city a number of times when we needed to have a voice in Albany and didn't have that voice from the Assembly or from the governor." This was before Paterson's ascension and Bruno's resignation.
It is unclear how much of Bloomberg's enthusiasm has been for the Republican senators as a whole and how much of it was for their leader, Bruno, who Bloomberg repeatedly praised. Certainly Bloomberg has had problems with the Democratic Assembly. Silver vetoed Bloomberg's plans for a West Side stadium, the Assembly did not vote on Bloomberg's congestion pricing scheme and it has stalled his solid waste management plan. Of course, the GOP has not always taken the mayor's side either.
Up for Grabs
The situation has prompted a number of comparatively strong Democratic contenders to take on Republicans for Senate seats. Adding to the competition are some politicians from New York City who will lose their City Council seats to term limits at the end of 2009. Looking for their next political job, many have turned to state government -- where, for now at least, term limits do not exist.
Here are some hot Senate races cited in Capitol Confidential. Let us know about ones we might have missed. One caution, though, candidate lineups will not be final until petitions are filed -- and challenged -- later this summer.
3rd Senate District: This seat from Suffolk County is one of two (along with the 15th -- see below) that Senate Minority Leader Malcolm Smith has identified as key to Democratic hopes of winning the Senate. The 82-year-old incumbent Cesar Trunzo won with 53 percent of the vote -- and with Working Families Party support -- in 2006. Now, though, the Democrats seem to be acquiring strength in the area, and the Working Families has decided not to back Trunzo.
The party, along with Smith, is supporting Brookhaven Town Supervisor Brian Foley. But Jimmy Dahroug, who has sought the seat unsuccessfully before, wants another crack at Trunzo and seems likely to force a primary contest.
Following Bruno's resignation, some have speculated that Trunzo might follow Bruno into retirement.
7th Senate District: This Nassau County district was the scene of a contentious-- and expensive -- special election in February 2007 after then Republican Sen. Michael Balboni resigned to become state homeland security chief. Democrat Craig Johnson won that election, but the Republicans would like the seat back and hope Plandome Manor Mayor Barbara Donno can accomplish that task.
11th Senate District: Frank Padavan has represented this part of Queens for more than 45 years. This year, though, a term-limited City Council member, James Gennaro, hopes to end Padavan's Senate career.
While the Democrats hold a substantial edge in enrollment in this part of eastern Queens, many observers believe Padavan will hold off the challenger. The Republican has " has been described by both sides as a hard worker who is all over his district," observed Capitol Confidential.
15th Senate District: According to Malcolm Smith, voters in this Queens district hold the fate of the State Senate in their hands. "This is the tipping point," Smith said at fund-raiser for Democratic candidate Joseph Addabbo earlier this year. "There is no race more important than this one. We should all eat, sleep and dream Joe Addabbo."
The man Addabbo is challenging, Republican-Conservative Serphin Maltese has been considered all but invincible in this Queens district, for much of the last 20 years. As recently as 2002, he won re-election with more than 90 percent of the vote. But Maltese began looking vulnerable in 2006 when little known Al Baldeo, with no official backing, came within 800 votes of beating the long-time incumbent.
This year Baldeo wants another shot, but most Democratic officials are backing term-limited City Councilmember Addabbo. Baldeo and Addabbo will face each other in the primary before the victor gets to take on Maltese, and Baldeo has said he might consider a third-party run .
Despite reports that he might follow Bruno's example and retire, Maltese said he plans to remsin in the Senate. ""I'm very happy here. I'm enthusiastic," he told The Politicker.
35th Senate District: Incumbent Democratic Sen. Andrea Stewart-Cousins does not seem to have easy races. In 2004 she challenged long-time GOP State Sen. Nicholas Spano and lost by 18 votes. She tried again in 2006 and succeeded by a not completely comfortable 1,800-vote margin.
Spano considered going for another rematch in the Yonkers district but has decided against it. In his stead, Republican Yonkers City Councilmember John Murtagh will try to end Cousins' Senate career.
43rd Senate District: This was considered about as safe as a seat in anything resembling a democracy could be -- and then Joe Bruno announced he would not seek re-election. Democrat Brian Premo had already planned to run against Bruno and expects to remain in the race. On the GOP side, Assemblymember Roy McDonald seems to be Bruno's preferred replacement for his Senate seat, although Rensselaer County Executive Kathleen Jimino had also expressed interest, the Albany Times Union reported.
As giddy as Democrats may be in the wake of some recent upsets, Bruno's home turf around Albany remains tough territory for them, according to Rochester Turning. The GOP has a big advantafge in registration, and it's likely Bruno's blessing would carry a lot of weight with voters who benefited from his largesse for the past decades.
48th Senate District: This is the area of upstate that had the Democrats smelling blood in February when Democrat Daniel Aubertine beat GOP Assemblymember Will Barclay in a special election. Republicans had held the seat representing Jefferson, Oswego and St. Lawrence counties for at least a century and had a major advantage in party enrollment. In November, Watertown attorney David Renzi will try to win back the seat -- but some observers think Aubertine's new status as the incumbent gives him an advantage.
56th Senate District: In 2004 and 2006, the Working Families Party endorsed Republican Joe Rohrbach in his successful campaigns for this seat from the Rochester area. This year, though, that party left Rohrbach to endorse another candidate, former State Sen. Rick Dollinger. The Democrats hold a hefty edge in the district but in 2006 Rohrbach, a former Democrat, beat his Democratic challenger by a margin of almost two-to-one.
61st Senate District: When incumbent Republican Mary Lou Rath announced she would not seek re-election, Democrats saw an opportunity to pick up the Erie County seat. Three Democrats are vying for the nomination: former boxer "Baby Joe" Mesi, who has been endorsed by the Working Families and Conservative parties; Erie County Legislator Michele Iannello and Town of Amherst Councilman Daniel Ward. On the Republican side, Rath endorsed Erie County Legislator Michael Ranzenhofer. Robert Newman, is also running.
Elsehwere?: Following Bruno's resignation, some observers speculated that other aging members of the Republican majority in the State Senate -- and by one count older people constitute almost half of the GOP 32 members in the body -- would follow Bruno's example.Twenty-four hours after Bruno's decision became known, however, no one had done that. Two of the members in question -- Maltese and Hugh Farley -- explicitly denied any plans to step down.
Back in the City
Two other interesting races are shaping up in the five boroughs, although they seem unlikely to have much affect on who will control the State Senate.
21st Senate District: Three Democrats are vying to represents this overwhelmingly Democratic but diverse Brooklyn district, with large numbers of black voters, many from the West Indies. The incumbent, Kevin Parker, has never had the easy time most incumbents do, although he has managed to hold on to his seat.
This year he faces a challenge from term-limited City Councilmember Kendall Stewart. Stewart originally was seen as having the backing of the Brooklyn Democratic organization, but his campaign lost steam when two of his aides were indicted in the City Council budget scandal. Stewart himself has not been charged.
More recently another term limited Council member, Simcha Felder, announced he would run too. Felder has strong backing from Bloomberg and Parker has accused him of being a Republican plant. Felder denies the charges.
25th Senate District: State Sen. Martin Connor seems an unlikely person to be facing a primary challenge. He has represented his district straddling Brooklyn and Manhattan since 1978. But in recent years, he has had to fend off challenges from fellow Democrats. This time around his opponent is Daniel Squadron, a onetime aide to Sen. Charles Schumer. Connor alleges Squadron is running to settle old scores; Squadron says he is running because Connor represents "part of the system of taking money from corporations and lobbyists and doing their bidding."
The Assembly
Barring a cataclysmic event (not that we haven't seen those in New York this year) the States Assembly will remain firmly in Democratic hands. Most incumbent Assembly members from New York seem to face a fairly easy road to another term.
One exception is on Washington Heights, where incumbent Adriano Espaillat faces a challenge from term-limited Councilmember Miguel Martinez. (See related story.) A number of politicians are seeking to fill the vacancy in the 40th District in Brooklyn, which was left vacant when Assemblymember Diane Gordon was convicted on bribery charges.
And then there's the race in Manhattan's 64th district. There Assembly Speaker Sheldon Silver, one of the most powerful men in the state, faces not one but two challengers. If either does well, what will that say about the power of incumbency in a year when everyone is talking about change?
Â