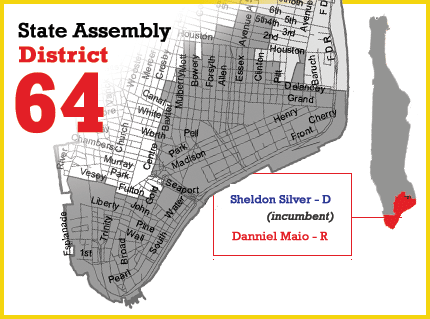 UPDATE:
Assembly Speaker Sheldon Silver overcame two spirited challenger to win the Democratic primary in his Lower Manhattan district with 68 percent of the vote.
He is likely to face an easier time in the general election. His opponent, Danniel Maio ran for Manhattan borough president in 2001, State Senate in 2002, City Council in an election in 2003, and the U.S. House of Representatives in 2006 and lost every time. Maio has challenged Silver to a public debate about the economic crisis, but no debate has taken. place.
According to his 32 Day Pre-General filing, Silver had more than $2.5 million on hand at the end of September and had collected $23,000 of that in the previous few months. Maio had collected no money in the reporting period and showed a negative balance of $575.
* * * * * * original article * * * * *
Sheldon Silver doesn't have a campaign Web site, and his page on the State Assembly's official site is barely distinguishable from those of the other 149 members of the Assembly. Centering on perfunctory details -- contact information, office addresses, a map of Silver's Assembly district -- the page extols visitors to "Take the 2008 Summer Reading Challenge!"
While the Speaker of the Assembly's less-than-formidable Web presence may mean that governing New York leaves scant opportunity to post YouTube clips and friend voters on Facebook, it could be another sign of changes in the political world that Silver has dominated as leader of the State Assembly and one of Albany's "three men in a room."
Senate Majority Leader Joseph Bruno, who held office since the 1970s, suddenly announced his retirement in late June. His State Senate could swing to the Democrats after decades of Republican control. And after 32 years in office and 22 years without a primary opponent, Silver now faces two separate challengers in the Democratic primary to represent the 64th district in Lower Manhattan.
Silver's two opponents, Luke Henry and Paul Newell, have each used social networking sites and their own Web pages to tout their message that Silver is out of touch with voters in a year when the mantra is change.
When Henry talks to voters on the street, he sometimes takes a camera along so he can post people's reactions in online videos. For his part, Newell has been endorsed by BlogPac, an online activism site. "The blog stuff is great. New media can play a big roll in finances," he said.
Both challengers have taken some cues from Democratic presidential candidate Barack Obama, whose message of change and extensive online organizing effort paid off in his campaign against Hillary Clinton.
"I think change is an easy sell," Newell said. "I don't think people in the community need to be convinced."
But if Silver doesn't have a glitzy campaign Web site, he does have a few things Henry and Newell lack: 32 years in the Assembly, a record lauded by many district voters and the power that comes with being the Assembly leader. Labor unions, a key source of campaign volunteers and cash, strongly support his re-election. As of the last filing deadline in January, Silver's campaign had raised almost $3 million, according to state Board of Election records.
At the same filing deadline, Newell had around $17,500 and Henry had no funds to report at all. Both candidates say they are on track to meet their fundraising goals by the next reporting date in July.
Experience vs. Change
On the issues, Silver and his challengers often agree. They think rents should be regulated, that the Rockefeller Drug Laws should be reformed, and that the mayor should have control over New York City schools.
What they disagree on is how decisions should be made in Albany.
Newell and Henry think the process in the state government must change and say one way to accomplish that is to defeat the man who has run the Assembly since 1994.
"If you reform the rules by which Albany operates, it takes a strong step toward progress," Henry said. "Speaker Silver is the chair of the Assembly's rules committee. Any new speaker would have to support rules that empower individual legislators. Until we change the structure in Albany, change will never happen."
According to both challengers, unseating Silver would have symbolic value as well.
"If the Assembly has to vote for a new speaker because of a 33-year old community organizer running on a reform platform, things will change," said Newell, who has never run for an elected office before. "I believe Albany is going to change dramatically when I arrive."
In emphasizing Silver's removal, both challengers devote Web site space to Silver's negative or ambivalent press, including a recent New York Magazine profile of Silver titled "The Obstructionist." Both Henry and Newell offer themselves as the political equivalent of Drano, but in their effort to transform the political machine, they haven't convinced everyone they can handle politics on the inside.
Their lack of political exeprience helped convince the Downtown Independent Democrats, the self-described "reigning Democratic club in a wide swath of Lower Manhattan," to endorse Silver, said club president Sean Sweeney.
"The fact that one of them would not drop out shows that they're not politically experienced enough to be the representative of one of the most important Assembly districts in the country," Sweeney said. He predicts the two will split the opposition vote, guaranteeing a Silver victory.
The Third Man?
Even Silver's supporters acknowledge his method of leadership has its shortcomings. His willingness to work the system has won him praise and ire over the years, but his critics, including the New York Times editorial board and Mayor Michael Bloomberg, whose congestion pricing program recently died in Silver's Assembly, have lambasted the speaker for working behind closed doors and not promoting open debate in the Assembly. Many target a lack of transparency as Silver, Bruno and the sitting governor -- the three men in a room -- made so many key decisions out of public view.
"Is it the best exercise in democracy? No. Is it efficient? Yes," Sweeney said. "We're a reform club and we don't agree all the time with some of Silver's politics. But a legislator has to do for his constituents."
He added, "I wouldn't want to go play poker with him in Atlantic City."
The Silver campaign dismissed the "three men in a room" description of the Albany legislative process as a political myth.
"All the members of the Assembly exhaustively, collaboratively, openly come to consensus," said Jonathan Rosen, the spokesmen for Silver's re-election campaign. Rosen compared Silver's role to that of Speaker of the House Nancy Pelosi, who negotiates with the president on behalf of Congress.
In fact, the leaders in the New York State legislature have more power than their counterparts in most other states and in Congress.
"Power in the New York State Assembly and Senate is much more centralized than in many, though not all, states," according to Justin Phillips, an assistant professor in political science at Columbia University.
Phillips said the Senate majority leader and the Assembly speaker could change that, but that is not likely to happen.
"First, it would mean giving up some of their influence over legislative outcomes - something that legislative power-brokers are very reluctant to do," Phillips said. "Second, decentralization within the legislative chambers may also bog down the lawmaking process - it is pretty darn efficient to leave responsibility in the hands of just a few people."
Silver's Record
Despite his legendary political skill, Silver hasn't always come out on top.
Take the rent regulation battles of 1997 and 2003, involving Bruno, Silver and then Gov. George Pataki. Silver held staunchly pro-tenant views, but in the end, rent regulations were weakened. This was seen as a loss for the Democrats, said Jenny Laurie, director of the Metropolitan Council on Housing, a pro tenant group.
Silver, she said, "was out-maneuvered on some issues and perhaps didn't understand how meaningful some of these changes were."
Laurie called the secrecy that governed these closed-door negotiations "customary."
"It's how the Senate and the Assembly and the governor have worked," she said. "I think there should be open debate on all these issues, and not just on housing issues. There's a lot that could be more democratic."
But when Silver comes up victorious in the political game, it earns him loyal voter support. Sweeney hailed Silver for blocking plans to build a West Side stadium for the Jets football team. Henry shared Silver's opposition to the stadium, a Bloomberg project, but decried how Silver met his ends. The stadium required approval from Bruno, Pataki and Silver, who ultimately vetoed the project despite Bloomberg's yearlong pursuit of his support. The Henry campaign described Silver's move as the "implementation of legislative tactics to further his agenda."
In a similar move, the speaker did not allow Bloomberg's plan for congestion pricing, which would have charged people for driving into parts of Manhattan, to come to a vote in the Assembly. Newell said that showed the speaker's "contempt ...for the democratic process."
The Challengers
For better or worse, Silver is a known commodity. But who are his opponents?
Newell, a former community organizer, is an Obama delegate to the Democratic National Convention. His campaign has seized on this fact to suggest that the race in the 64th will produce the same insurgency-beats-the establishment narrative that came to define the national primary between Obama and Hillary Clinton, who Silver supported as a superdelegate. Newell even released a poster of himself posed as Obama above the word "Obamawitz."
"I don't make promises that the sun will shine down upon us on the day that I walk into the Assembly, but I do believe that we would begin to have a process that will allow progress," he said. "And if I had to pick a year to be a 32-year incumbent, I would not pick 2008."
Henry jumped into the race shortly after Newell, and his candidacy has struck some observers as so unlikely that there have been rumors that it is designed to split the opposition vote and so ensure Silver's re-election. Henry pushes an anti-establishment message about wrestling power from Albany regulars. An expecting father who only moved to the district last year, he said he decided to run to change state government.
"I hoped when Spitzer got elected there would be real change in Albany. I didn't see it," said Henry, who was recently endorsed by Democracy for New York City, a volunteer-driven non-profit political action committee. He has the support of former District Leader Norma Ramirez and former Assemblymember Nelson Antonia Denis.
For his part, Silver doesn't appear to be entirely dismissive of these potential threats. He has hired BerlinRosen, a public relations firm, to run his primary campaign. Focusing on the speaker's record, the campaign is portraying Silver as a neighborhood staple and pushing a "neighbors talking to neighbors" line to describe his base of community support.
And while the 64th district has undergone some demographic shifts since Silver was first elected, big questions go unanswered until primary day on September 9. Is the Orthodox Jewish community from which Silver hails still a significant voting bloc in his district? Will the youth vote turn out for a state primary election? Can online organizing make up for being outspent? Is 2008 really a bad year to be an incumbent? And is Albany really going to change?
Related Links on District 64
"The Obstructionist," (New York Magazine)
Â