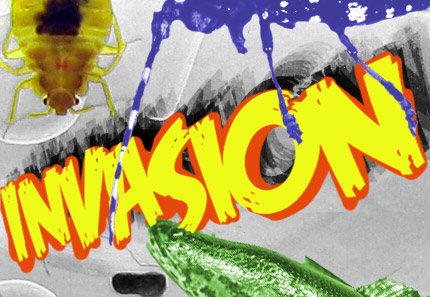 Gotham Gazette image by Ya-Hsuan Huang
It's not your typical type of tourism.
But plants and insects end up paying unintended visits to New York City just like any other traveler.
There's one difference, though: These pesky species end up staying.
Grounding their roots, literally, in our soil, invasive species come from far and wide, via barge or souvenir-stuffed suitcases, in what horticulturists and biologists across the city call a serious threat to our habitat. Deceiving to the common eye, these foreign born pests and plants raise significant challenges for the city's Department of Parks and Recreation: monitoring, controlling and even eradicating top the list.
Though the city welcomes visitors from far and ride (foreign tourism, according to the Bloomberg administration, is what is fueling our economy right now), advocates and the parks department have another message for the relentless Asian Longhorned Beetle or the slimy, practically amphibious Snakehead Fish.
Keep Out!
A City of Immigrants Sees Immigrating Species
The city is no stranger to immigration -- we are, after all, a Mecca of diversity and transcontinental culture. But our parks may not be as welcoming as Ellis Island.
For centuries, New York has been inundated by foreign-born plants and wildlife. Even creatures we now consider common -- like our subway or sewer rat -- are invasive species. We may have adapted to some of them -- whether we wanted to or not -- but other more contemporary wildlife pose a serious threat to the sanctity of our natural flora and fauna, say city scientists.
To them, fighting or controlling invasive species isn't a choice, but a necessity.
"The issue of invasive species is second only to habitat loss as a threat to plants and animals worldwide," said Steven Clements, senior scientist at the Brooklyn Botanic Garden. "It's almost as big a threat as deforestations."
To the untrained eye or the casual park-goer, that may seem hard to believe.
But the effects of invasive species are expansive, from killing off native plant and wildlife to threatening our infrastructure and waterways.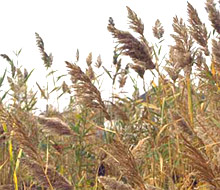 Click here for more on the Common Reed
Take the purple loosestrife. First introduced in New York City in the 1800s, the tall, weed like plant has attractive flowers that can coat wetlands in a sea of violet. That purple stalk, however, kills off all adjacent plant life. Its ability to grow fast and tall makes the survival of neighboring species practically impossible.
And when native flora fades, the entire habitat and food chain can be thrown into flux and uncertainty. Birds may no longer be able to feed on the area's bugs. Insects are eradicated that had relied on the native plant life. And the cycle goes on.
"Different species have different roles in the functioning of the habitat," said Susan Elbin, the director of conservation at the New York City Audubon. "So when you cut down the number of players you may be eliminating an important function that happened in that system that you don't even know about."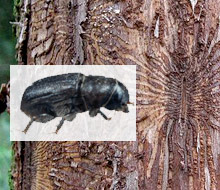 Click here for more on Dutch Elm
There is also Dutch Elm, which attacks some of our forest population in Central Park, or the phragmites -- a so-called gluttonous reed found in our marshes known to consume and kick out other wildlife. These and more (Check out our biology cards linked under the images) can unsettle any wild habitat.
A Public Nuisance
Other animals may not throw off the balance, per say, in our widely dispersed, natural habitats. Instead, they threaten our man-made infrastructure --- from power lines to our sewer systems.
The zebra mussel is half-buried at the bottom of the Hudson River. Though it also threatens native-born mussel species, the zebra mussel, originally from Russia, takes up residence in the city's water treatment and sewer pipes, clogging them up and contaminating the system. One study from the federal General Accountability Office said the zebra mussel accounts for $137 billion a year in economic losses and other costs annually nationwide.
Click here for more on the Quaker Parrot
Less slimy, but of potentially equal threat to our infrastructure, are the parrots of Brooklyn, which came fluttering in through Kennedy airport. The birds, known as Quaker parrots or monk parakeets, are thought to have originated in Argentina and escaped from a cargo container at the airport in the 1960s or '70s and then intermarried with escapees from local pet shops and homes. While groups settled throughput the metro area, most have taken up residence in Brooklyn. Since they are from southern Argentina, which has a temperate climate, they do well here.
"They are successful Brooklynites, in that they are adaptable, eat a wide variety of foods and like to talk," Eleanor Miele, a professor at Brooklyn College, where many parrots hang out, told the Washington Post.
The birds, though, have attracted the ire of Con Edison and other electric companies for building huge nest for their colonies on light poles. In Connecticut, a power company, United Illuminated, is seeking permission to kill the birds, while in Florida researchers have proposed mixing contraceptives in with bird seed to limit the parrot population.
While there were efforts to wipe out the New York colonies, Con Ed in general has taken a more moderate stand than some other utilities. It, for example, tried to dismantle the huge nests -- only to see the parrots build again -- and has created alternative platforms. More recently, New York's parrots have faced another threat: Poachers have captured many of the birds to sell them. While this may have decreased their numbers, many remain.
A Long Trip
As species cause damage and irritate our utility companies as well as our wildlife, one may wonder how they got here in the first place?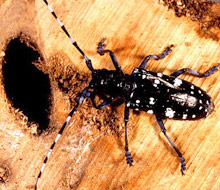 Click here for more on the Asian Longhorn Beetle
Most commonly, said advocates, would be through international shipping and travel. Most of these dangerous species, like the longhorned beetle or the West Nile Virus, have hitchhiked here that way. West Nile, originally found here in 1999 and has since resulted in 159 cases and 23 deaths, is thought to have come here via a passenger through John F Kennedy International Airport, perhaps in a traveling mosquito or in a person who was already infected. It had been confirmed before 1999 in Asia, Africa and Europe.
The Longhorned Beetle too made its way across the Pacific via wood packing material from China (See related story).
Because these species come in through New York's ports, much of the regulation to control and monitor cargo is out of the city and the state's jurisdiction. As international trade increases, officials do not see invasive species slowing down.
"Henry Hudson I'm sure brought his share of invasive species," said Steve Sanford, director of the office of invasive species coordination at the state Department of Environmental Conservation. "The rate of invasion is so fast because of globalization," he added. Since 2004, said Sanford, about 15 new species have invaded New York.
While much of port regulation is out of state and city hands, New York, with several other states, recently won a court decision requiring the Environmental Protection Agency define regulations for ballast water -- or the water released from the underbelly of the ship once it reaches its destination -- by the end of September. That water is known to harbor foreign species, like the zebra mussel.
Other legislation outlining how much that water would have to be treated before release is pending in Washington.
Beyond controlling our ports and international travel hubs, it comes down to monitoring and controlling on the ground level, said city and state officials.
Crowding Out
There is a reason why they call them invasive. Like modern-day warfare, these species invade, lay claim to the habitat, take on natural wildlife and push them out.
Sometimes it takes innovative responses -- such as the National Park Service's policy of bringing in goats to eat away invasive species on Staten Island.
To take back control elsewhere, it often takes manpower -- city parks department workers making their way through the city's forests to weed out, excuse the pun, these foreign plants. Mike Feller, the chief naturalist for the natural resources group in the city's parks department, said they have been identifying and mapping foreign species throughout the five boroughs for decades. It wasn't until recently, however, that they received the funding that enables his team to go in and root up foreign plants to replace them with natural ones.
Years ago, he was not so optimistic. Feller recalled visiting Riverdale Park in the Bronx where the Porcelainberry, a rapidly growing vine from Asia, had taken over tree trunks 50 feet into the air, invading the canopy for acre after acre. Now, he said, it's practically gone.
"I remember looking at it and saying, 'This is hopeless,'" said Feller. But, he added, "You really can ravel things back."
PlaNYC 2030, Feller said, is one way he sees his department raising awareness and funding. The Bloomberg administration's million trees initiative, he said, is one way the city can cut down foreign flora and bring back natural plant life. Even with this infusion of attention on the city's ecosystem, Feller said much of the control over invasive species is not within the city's policy purview, but the state and in Washington.
On the state level, attention to invasive species is on the rise. After a task force investigated the prevalence of invasive species in New York State in 2004, a division of the state Department of Conservation, which Sanford heads, was formed to oversee the control of invasive species statewide. That monitoring is rolling out right now, said Sanford.
Â