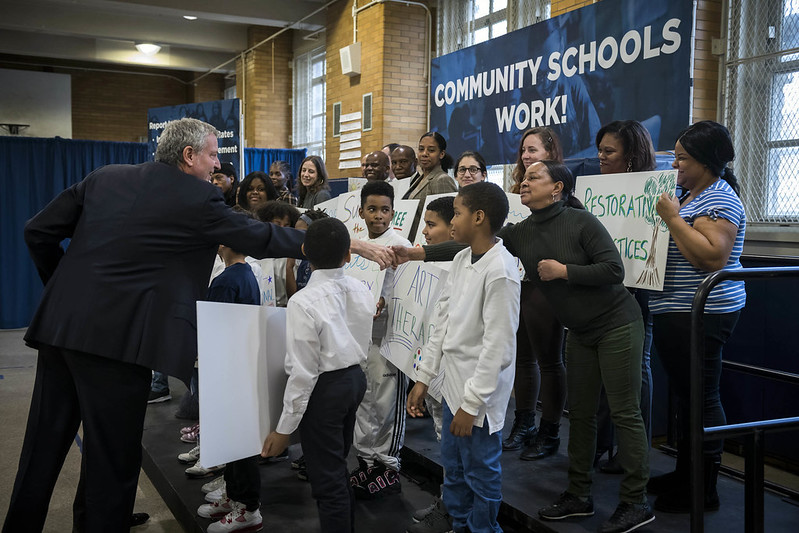 A community school celebration (photo: Ed Reed/Mayoral Photography Office)
---
Dear Candidates for Mayor:
Among the myriad issues you are discussing during public forums and interviews, none is more important than the education of New York City's children and adolescents. You have responded to, and raised, several aspects of our educational landscape in these venues but we have heard precious little about whether you support expansion of the city's community schools initiative, an effort that began in response to a de Blasio campaign promise in 2013—a promise on which he and his administration more than delivered.
Especially now, as New York City recovers from the COVID-19 pandemic, voters want to know what you propose as viable strategies to promote health, healing, and learning. In my view, the best answer is community schools.
Community schools organize school and community resources around student success. In 2013, candidate de Blasio said he would increase by 100 the number of community schools in New York City. By the end of his first term, the actual number had increased to more than 250. City Hall and the Department of Education worked together to leverage leadership and funding that allowed these schools—chosen according to the level of unmet need among their students and families—to marshal additional human and financial resources. In alignment with national best practice, each school conducted a thorough assets and needs assessment and then engaged community partners that brought the requisite skills, services, and supports into their schools on a consistent basis.
Even more important than the number of community schools are the results they have achieved. A multi-year impact study of the initiative conducted by the RAND Corporation reported a reduction in student chronic absence as an early outcome and, later, found an increase in academics and graduation rates for all students—particularly for students living in temporary housing and for Black and brown students.
These results were achieved through the mobilization of community resources and their integration into the core instructional work of these community schools—resources like vision screenings coupled with free eyeglasses provided by Warby Parker; mental health screenings and services offered by a combination of public and private clinicians; afterschool and summer enrichment programs that provided child care for working families and extra learning opportunities for students; and a cadre of specially trained social work interns, sponsored by New York City's six schools of social work, who assist public school students living in temporary housing.
A lesser-known part of the New York City community school story is the role of the Coalition for Educational Justice, a parent advocacy organization that identified community schools as a preferred reform strategy after surveying and consulting with families across the city. As CEJ's Natasha Capers has written, CEJ implemented a campaign in early 2013 to make improving public education a key issue in that upcoming mayoral race; this campaign included extensive family outreach and consultation over several months. Capers noted that, with the help of a design team of policy experts, CEJ then issued a roadmap for the next mayor that highlighted all the top ideas, including community schools. Parent demand as an instigator for this reform makes its continuation and expansion even more urgent because COVID-19 has demonstrated that the supports and services offered by community schools are needed by New York City's families now more than ever.
Taken together, these factors—family demand, documented success, new post-COVID realities—make expansion of the community school strategy a no-brainer. Recent action by Mayor de Blasio and the City Council will ensure continuation and growth of community schools through 2022, but advocates are rightly concerned about the future that lies beyond the current administration. The city can use its experience over the past eight years in leveraging and making better use of existing resources while also tapping into new federal dollars, including those allocated for high-need schools in the American Rescue Plan Act.
In addition, the Biden administration has proposed expanding the Federal Full-Service Community Schools Program in the U. S. Department of Education from its current annual budget of $30 million to $442 million in 2022. New York City should be first in line to capitalize on this national momentum. But, to do so, we need a Mayor who believes in the idea of every school a community school.
***
Jane Quinn is currently a doctoral student in Urban Education at the City University of New York. From 2000 through 2018, she served as Director of the Children's Aid National Center for Community Schools.
***
Have an op-ed idea or submission for Gotham Gazette? Email This email address is being protected from spambots. You need JavaScript enabled to view it.