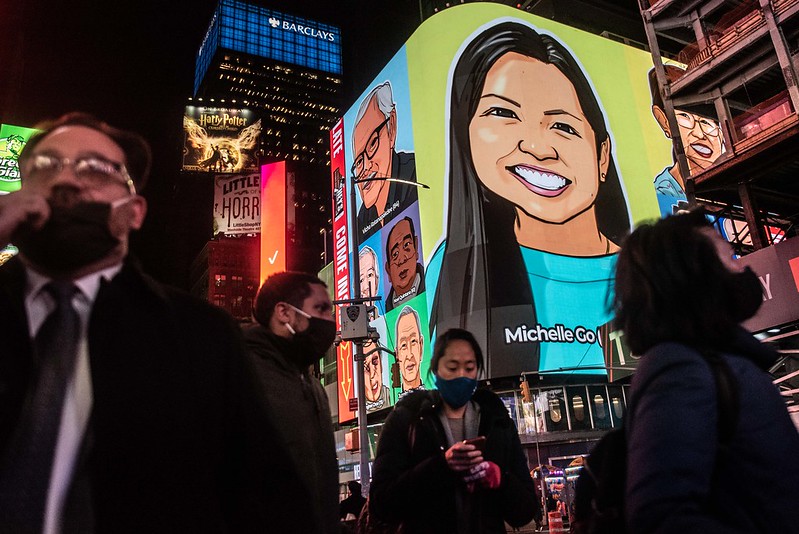 A remembrance for Michelle Alyssa Go (photo: Michael Appleton/Mayor's Office)
---
Over Dr. Martin Luther King Jr. Day weekend, 40-year-old Michelle Alyssa Go was pushed from the Times Square subway platform to her death. This tragedy follows a year that saw a 361% increase in anti-Asian hate crimes and came less than two weeks after Mayor Adams announced his plans to increase police presence in the subway system. Much like the federal response to the March 2021 Atlanta spa shootings, where money poured into local police departments under the guise of fighting anti-Asian hate crimes, we are once again seeing our government prioritize turning to the police to solve issues of public safety.
Around the country, Asian Americans have grappled with what community safety might look like amid a pandemic, a rise in anti-Asian hate crimes, and calls to defund the police. But in response to tragic and awful incidents of violence against Asian Americans, as Murad Awawdeh of the New York Immigration Coalition correctly argues, "we can't police our way out of this."
Not only is throwing more police at the problem of anti-Asian violence incongruous after sustained uprisings against police brutality, but it also does little to prevent this violence. The root of anti-Asian violence is not individual acts of hate or even so-called "random attacks," but rather white supremacy and austerity that seeds systemic violence. Instead of expanding policing, New York City must turn its attention to budget justice.
In addition to divesting from the police, the road to justice requires direct democracy on how and where to spend public dollars. Direct democratic initiatives like participatory budgeting (PB) can help us articulate concrete, tractable policy demands for community safety for all New Yorkers.
Through PB, everyday residents, rather than elected representatives, decide how public dollars are spent. Gathering online and in person, residents connect with one another, weigh community needs, and develop new projects.
This year, for example, the New York City Civic Engagement Commission, with leadership, brainstorming, and decision-making from young people ages 9 to 24, invested $100,000 in youth organizations to make the city safer. Past projects funded through other PB programs include innovative bystander/"upstander" training for those hoping to safely intervene when they witness harassment or violence. In City Council District 39, residents voted to fund self-defense workshops for Bangladeshi and Muslim women. They did so as a true statement of racial solidarity; neighbors helping neighbors get what they need.
In 2019, we saw a record breaking 33 City Council members participate in PB to bring direct democracy to their districts. However, due to COVID-19, funding and participation was cut short in 2020 and the project was shelved when our communities needed help the most. But thankfully, vocal advocacy has renewed this vital form of community engagement and this year 15 Council members are running PB.
The connection between budget justice and racial justice is not a new idea. During the summer of 2020, Occupy City Hall to Defund NYPD camped out in front of City Hall for more than a month, asking for at least $1 billion to be cut from the police budget and invested back into communities. The Movement For Black Lives (M4BL), a coalition associated with the Black Lives Matter movement, has also articulated direct democratic community control, and specifically PB, as central to anti-racist work.
New York City must combine participatory budgeting with calls to defund the police, to satisfy both the need to divest and invest parts of the budget justice equation. During summer 2020, a group of Brooklyn City Council candidates, including myself, wrote about how to use the power of City Council to defund the police, arguing that community control of public budgets includes the expansion and much-needed reform of participatory budgeting as well as removing police from social services and the school system. Only through investing in the services that heal our communities and address austerity can we create the conditions for real public safety.
In Council District 39 (represented by one of the authors), the Participatory Budgeting District Committee is currently leading its 11th cycle. It joins 14 other Council districts in implementing PB this year, despite difficult pandemic conditions. Whereas electoral politics typically engage with well-resourced constituents, PB can engage traditionally marginalized ones, including non-citizens, undocumented immigrants, and youth. In many districts, PB has successfully and intentionally centered marginalized voices and transferred power to women of color in meetings – often through simple, thoughtful acts like repeated invitations, childcare provision, and having appropriate snacks on hand.
Impressively, research coordinated by the Community Development Project shows that one-quarter of PB participants in New York City reported being ineligible to vote in regular elections, and that Asian American participation in PB was almost three times higher than in regular local elections.
Participatory budgeting needs more resources and thoughtful implementation to be successful. At its best, PB enables us to fund and practice new forms of critical care and racial solidarity. But without an explicit focus on equity and training for city workers as well as participants, PB can be set up to fail. Well-resourced groups can dominate the process, and innovative project proposals can be dismissed as "unrealistic" or discarded because of technicalities rather than substance.
The creative and impactful community projects highlighted above only came about when PB was expanded to potentially include short-term projects alongside long-term infrastructure. Participatory Budgeting is inherently political, and should be explicitly tied to budget justice and racial equity goals, such as those coordinated by the city's Racial Justice Commission. With citywide participatory budgeting's future now in limbo because Mayor de Blasio never adequately funded it, the new mayor and new Council speaker must resuscitate PB, with these priorities in mind. For the long-term safety of all New Yorkers, we can't afford not to.
***
City Council Member Shahana Hanif represents District 39, including the neighborhoods of Borough Park, Carroll Gardens, Cobble Hill, Columbia Waterfront, Gowanus, Kensington, Park Slope, and Windsor Terrace. Professor Celina Su is the Marilyn Gittell Chair in Urban Studies at the CUNY Graduate Center and a Professor of Political Science at Brooklyn College. On Twitter @celinasu and @ShahanaFromBK.
***
Have an op-ed idea or submission for Gotham Gazette? Email This email address is being protected from spambots. You need JavaScript enabled to view it.