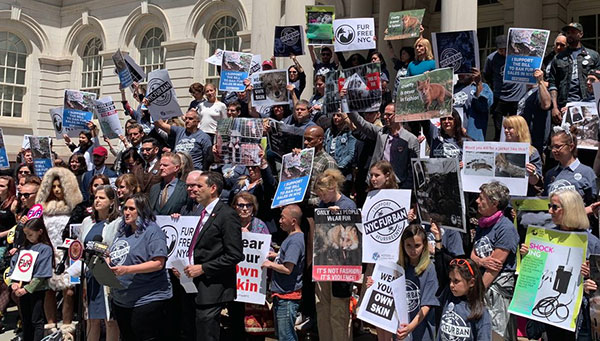 (photo: @theanimalvoters)
---
The world around us is changing. People are making more ethical choices concerning the environment and the welfare of other species. We're starting to use less plastic because of the impact it has on our oceans and ocean life. More and more people are choosing vegan milks and meats as they come to understand the ill effects that factory farming has on the planet.
A ban on fur in New York City would be a step in the same ethical direction.
New York has long been considered a fashion Mecca. We have always set the pace for others to follow, but on the issue of fur, we're falling behind while everyone else is moving ahead.
Fur farms all over the world are already closing. Cities like Los Angeles, San Francisco, and West Hollywood have already banned sales of new fur items. Famous designers including Prada, Versace, Michael Kors, Armani, Gucci, and so many others are saying "no" to fur. New York is behind the curve. In 2019, wearing the skin of other sentient beings is simply unacceptable.
Two years ago, my daughter asked me for a Canada Goose coat. I told her, "Taj, you know I'd do anything for you, but you're not getting that coat. You have a choice. Animals don't." I explained to her how coyotes are caught in steel traps and left in pain, struggling and crying, until a trapper finally arrives to shoot them or beat them to death—just so their fur can be used for the trim on a jacket hood. After I explained this to her, she didn't want the coat anymore, and she asked me, "Daddy, why don't they just use fake fur?"
That's a question I want everyone reading this to think about. Why are we not using faux fur, especially when sustainable, vegan materials, such as faux fur made from hemp or recycled plastic bottles, are kinder to animals and the environment? Why are we putting profit over ethics?
Animals are not "things" to be used for our own ends any more than people of color are "things" to be used by whites.
I say this as a descendant of African slaves, who were brought to this country and used as a commodity. It disturbs me greatly to see other fellow sentient beings have their freedom and lives taken from them and be used as commodities for human gain.
Why would a people with a history of violated human rights approve of the unfair treatment of others? We should be speaking up for the most vulnerable among us.
To those in the African-American community who say that a fur ban is "racist" and a form of discrimination, please remember that you are not the victim. The victims are the millions of animals killed every year for what is rightfully theirs—their very skin and fur.
And to those in the African-American community who believe that a fur ban is an attack on our culture, you're disregarding our own history of oppression. If you speak of freedom, but it's only in regard to others who happen to look like you, is it really freedom? Shouldn't we want freedom for all sentient life?
Banning fur is not an issue of race. It is an issue of rights. As humans, our morals can be judged by how we treat those who are the most vulnerable. That's why I encourage everyone in the city to stand on the right side of justice and support the proposed fur ban. Oppression is oppression regardless of who it is happening to, and when we have the opportunity to end one form of injustice, we must seize it.
***
Stewart Mitchell is a leader in the animal rights movement in Brooklyn, author, and father.
***
Have an op-ed idea or submission for Gotham Gazette? Email This email address is being protected from spambots. You need JavaScript enabled to view it.