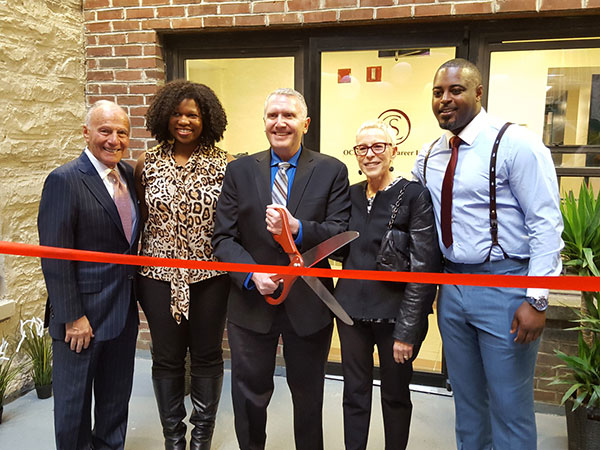 Opportunity Charter School leader Leonard Goldberg, middle, the author
---
A new report from the city's Comptroller showed once again that the City is unable to fulfill its responsibility to provide the necessary services to students with disabilities, failing to track $84 million allocated for disabled student services. Worse still, these findings come on the heels of the Public Advocate's report that revealed a troubling trend whereby the city offers parents vouchers instead of the necessary, required services for children with special needs. Troubling, but not surprising.
It's no secret that the city's public schools are not designed or equipped to properly serve the individual needs of students with disabilities, particularly those in low-income communities. In fact, while roughly half of all vouchers issued citywide go unused, this rate climbs dramatically in lower-income communities. District 8 in the Bronx, for example, has the highest rate of vouchers going unused at 91 percent.
This is why so many Bronx parents turn to Opportunity Charter School (OCS), a Harlem-based charter school that disproportionately serves children with special needs from communities of color. At OCS, we have been providing wraparound services since our founding in 2004, and focus on providing comprehensive clinical services to students and their families.
The majority of our students live in the Bronx, making the commute every morning because they can't find the support they need in traditional public schools. And in spite of this, the city's Department of Education has tried relentlessly to close our middle school, even after a Manhattan Supreme Court judge cautioned that the DOE would be wise to take a closer look at how to better evaluate a school as unique as OCS.
The trouble is there's a gap between these schools in theory and in practice.
The students, who enter our middle school after years in the public system, are among the lowest performing in all of New York City, and well over 60 percent have a moderate to severe learning disability. These are the students who benefit most from the extra support OCS provides, and the same students that the city has previously failed to help.
At OCS, we work hard to help these students catch up, develop critical life skills and prepare for post-secondary success. Our individualized approach to learning pays off. In fact, this year, 86 percent of OCS students graduated on time, including 82 percent of students with disabilities. But the city, which is responsible for holding the 51 charter schools it authorizes accountable and renewing their charters, relies on a flawed system to make these judgements. The city bases decisions largely on the percentage of students in each grade that achieve "proficiency" on state tests, without acknowledging the makeup of the student body or how much progress individual students are making over time.
Meanwhile, the tests themselves are not designed to measure achievement among students with disabilities. Even DOE Chancellor Carmen Fariña acknowledged as much, going as far as to say that students with disabilities are 'never [going to] get to a certain level on this kind of test' and would consider opting out her own child if she were the mother of a student with a disability. This accountability system advantages students and schools with a history of academic success; bolstering charters that curate their student bodies and punishing those that take in struggling students. In other words, the current system is designed to enforce the status quo.
Each student with an IEP is different. Some have relatively minor disabilities, such as a speech impediment, but others face more significant obstacles, such as a severe learning disability. At our school, we don't take a one-size-fits-all approach to teaching, and neither should the city.
Better alternatives are available. For example, the State Education Department, as well as other state authorizers have created systems tailored to evaluate schools that focus solely on serving at-risk student populations. Authorizers can allow charter schools this flexibility in measurement and it is important that they use this function properly. The DOE, despite its rhetoric, chooses not to apply this sensible approach.
If the city really wants to help students with disabilities, its leaders are going to have to rethink their entire approach, from the supports they provide to measuring growth. It's past time for the New York City DOE to concentrate its efforts on supporting the city's most vulnerable children and getting them the help they need, rather than unfairly targeting the institutions that make these kids a priority.
***
Leonard Goldberg is the Founder and Head of School at Opportunity Charter School.
***
Have an op-ed idea or submission for Gotham Gazette? Email This email address is being protected from spambots. You need JavaScript enabled to view it.
Note: this column has been updated with more recent data than originally published.