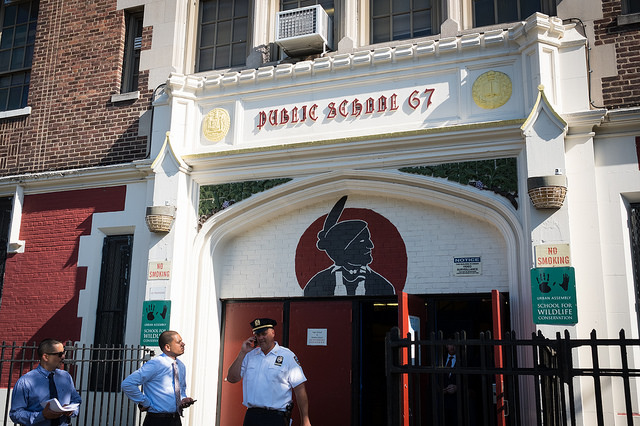 (photo: Edwin J. Torres/Mayor's Office)
---
Two boys' lives are obliterated after Abel Cedeno, age 18, used a switchblade to stab Matthew McCree, 15, and another boy who had reportedly been bullying Cedeno during their history class, as classmates looked on. McCree was pronounced dead shortly after. Cedeno was arrested on charges of murder, attempted murder, manslaughter, attempted manslaughter, assault and criminal possession of a weapon. After a brief court appearance Cedeno was held without bail and his lawyer requested a psychiatric evaluation and that he be placed on a suicide watch.
This extreme incident of school violence and loss of a young life is shattering to many, including students and teachers in the school -- the Urban Assembly High School for Wildlife Conservation in the Bronx -- and students and teachers across New York City who imagined this horrific event as the media presented it to us.
The murder of a student in a school, the very institution that is charged to educate and nurture children, underscores that current policies leading to high concentrations of poor students, many with special needs, in de facto segregated schools, do not allow schools to safeguard children's lives, let alone meet their potentials as democratic organizations and pillars of our society.
But without politicians, education leaders, and the public acknowledging the core issues at play in such schools -- devastating poverty, unemployment, stress of the working poor, violence, underprepared and emotionally traumatized youth, among others – and calling for an end to Department of Education practices that place high concentrations of poor and special needs students in segregated schools, there will continue to be disastrous failure. As education scholar and activist Pedro Noguera put it, school reforms cannot "ignore the unmet social needs of children" related to concentrated poverty. When they do, students fail and are failed by the school system.
When the tragic story in the Bronx broke, the most immediate and loudest response was demand for more metal detectors. Why did the school not have them, devastated and outraged parents wanted to know. What went wrong? Who is to blame?
There are those who blame inadequate school security, including the lack of metal detectors. Others accuse the two boys who allegedly taunted Cedeno in class. Others blame the attacker's family, his background, his mental state. Others accuse the new principal of poor leadership. They all miss the central lesson of this tragedy. Ultimately, a deprived school culture is at the heart of the horror that led to the death of a student at Wildlife.
Incidents like these rarely happen in the moment but are the result of weeks, months, or years of intersecting and harmful factors at play. To have a full understanding of what went wrong that day, a multidimensional examination is required, as this incident is embedded in economic, social, demographic, historical, political, and educational factors that, when entangled, lead to less publicized tragedies in schools across this city.
Relevant demographic data about the 585 students at Urban Assembly High School for Wildlife Conservation includes: the student body is 71 percent Hispanic, 24 percent black, and 27 percent students designated learning disabled in some way. Nearly one-third of the students in the school have special psychological or cognitive needs. Fully 100 percent of the children in the school are eligible for free or reduced lunch, meaning that all of them are poor.
The school's college readiness rate is only 23 percent, meaning that less than one in four students are prepared for college upon graduation. Seventy-four percent of the kids report there is bullying in their school. Only 21 percent of the kids say classmates treat one another with respect. Just 31 percent of the teachers in the building report that they trust the leadership, including the principal. The leadership had essentially been a revolving door for three years, with an exodus of teachers and instability infiltrating the school community at every level. (Data found on Insideschools.org.)
Based on news accounts, comments by former teachers at the school and independent reviews by Insideschools.org, Wildlife has a culture shaped by poverty, segregation, neglect, attitudes from inside and outside the school building about poor kids of color from the Bronx, and a system that "dumps" high concentrations of students in poverty, many with special needs, in one building and not another.
In this school, as in other New York City public secondary schools I have taught in or visited over nearly 30 years, many teachers care deeply about students and work tirelessly to help them succeed. But, no matter how deeply a teacher wants her students to succeed, teachers' work is inevitably shaped, and limited by, the social, economic, historical, and political dynamics of the school itself, by the approach to school leadership employed, available resources, and oftentimes school size (small schools can offer adolescents a sense of community, which they usually require to thrive).
The teachers at Wildlife work in a school where the vast majority of students do not experience success in an academic setting, many repeat Regents classes and exams, and many struggle with reading, writing, and meeting grade-level standards, which many of them feel are unattainable, impossible, perhaps futile. Rather than having a culture of success, schools such as Wildlife become environments where both students and teachers learn to cope with degrees of failure, with the "opportunity gap" often the elephant in the room.
One can enter a school building and know fairly quickly whether or not it is an effective and positive place for learning, teaching and kids. School leadership experts describe positive school cultures as having "a shared sense of purpose and values" and supporting "continuous learning and improvement."
Ultimately, a "good school" has a caring and positive school culture ensuring that students are heard, seen, cared about and pushed to develop. In a "good" school, all adults understand that relationships matter in learning and the leadership supports the development of positive and caring relationships among teachers, students, and their families. This includes a commitment to viewing students as multifaceted young people who are more than their test scores and school preparedness, so they can be supported to develop in positive ways through adolescence and into adulthood.
In the business community, it is widely accepted that efforts toward building a positive work culture can lead to increased innovation and productivity. Such truths are well-known, but how they can be applied to a high-poverty school setting is merely an academic exercise if the school faces a barrage of stressors -- including high percentages of kids with cognitive or psychological needs, high concentrations of underprepared and underachieving students, emotionally traumatized youth, violence, and de facto segregation -- as is encountered at Urban Assembly High School for Wildlife Conservation every day.
Schools like Wildlife face a "perfect storm" that cannot be tackled by strong school leaders, devoted teachers, and installing metal detectors. The problems Wildlife faces were created over time by a multitude of attitudes, policies, and practices that link with societal issues confronted by poor, minority communities across New York City, and originated beyond the walls of the school building. Who or what is to blame for the killing of a boy in school? The destruction of these two young lives call for an answer to this question and the search for honest solutions.
***
Sonia E. Murrow, a former social studies teacher in New York City, is an associate professor of education at Brooklyn College.
***
Have an op-ed idea or submission for Gotham Gazette? Email This email address is being protected from spambots. You need JavaScript enabled to view it.