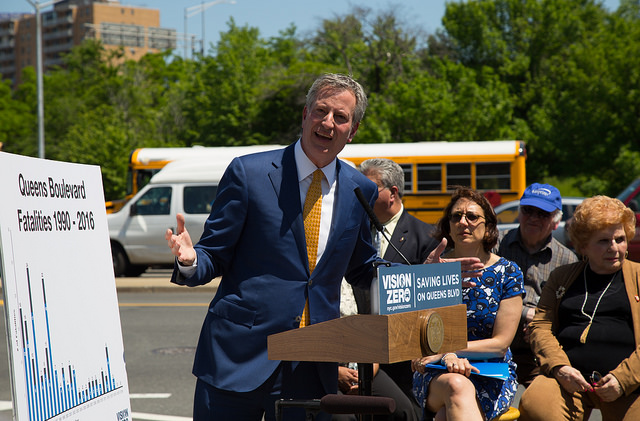 Mayor de Blasio and Vision Zero (photo via DOT)
---
Vision Zero is a singularly successful legacy project for Mayor Bill de Blasio. It would be more successful if his safety projects were decoupled from parochial interests.
In 2011, Transportation Alternatives and the Drum Major Institute published Vision Zero: How Safer Streets in New York City Can Save More Than 100 Lives a Year, the first Vision Zero report in the United States. In 2013, thanks to that report and assiduous follow-up advocacy by the victims' group Families for Safe Streets, candidate de Blasio adopted Vision Zero as a key campaign promise, pledging to eliminate traffic fatalities by 2024. Many saw this as an impossible goal, especially after the impressive safety strides made during Mayor Bloomberg's three terms in office. How much further could traffic fatalities really decline?
Mayor de Blasio officially launched Vision Zero at PS 54 in Woodside Queens on January 15, 2014, just two weeks into his term. Since then, traffic fatalities in New York City have declined 23%.
Whereas 290 used to die annually in New York City traffic crashes, today that number is about 240. It is difficult to overstate the significance of this success. If the pre-Vision Zero average annual traffic death rate had continued over the past four years, 122 more New Yorkers would be dead today and many thousands more would have been seriously injured. Considering that nationwide traffic deaths are up 17% over this same four-year period, the mayor's effort is even more impressive. If New York City's Vision Zero program were a vaccine, it would be heralded as a miracle drug.
What is more remarkable is how little the streets have changed to achieve this massive reduction. While the Mayor has championed transformative redesigns of many notoriously dangerous streets, the vast majority of known dangerous streets have yet to be affected by the DOT's modern menu of traffic safety fixes such as pedestrian friendly traffic signal timing and protected bike lanes.
Queens Boulevard, the former "Boulevard of Death," which used to kill a dozen New Yorkers every year, has not seen a single fatality in the past two years since being redesigned. Yet there is a backlog of more than 150 dangerously-designed streets and nearly 300 intersections that still need fixing. This long list of dangerous streets, outlined in the DOT's own Vision Zero Pedestrian Safety Action Plans, represents an opportunity to save hundreds more lives. If Mayor de Blasio is re-elected, clearing this backlog of known-dangerous streets should be his first priority.
To help clear this backlog, the mayor recently increased the Department of Transportation's budget by $1.6 billion. The problem is this: while the agency shows remarkable results at calming traffic and reducing crashes on any given street, it is moving at a snail's pace to complete those projects. Now that his agency has the money, Mayor de Blasio must empower the DOT to deliver safety projects much more quickly and insist that it happens.
Today it takes a minimum of three years for the DOT to turn a dangerous highway-like city street into one that is designed for safe walking, cycling, and driving. Actually redesigning and repaving a street can happen in as little as a few months. Most of that three years is taken up walking on eggshells; the DOT attempts to anticipate and placate every parochial concern, as though safety infrastructure were a hot-button issue, and not a life-or-death public health concern. We've seen simple safety projects take years longer than they should, like the protected bike lane on 5th Avenue in Manhattan, which the community first requested in 2013, or get watered down to be less safe, like with Woodhaven Blvd., or get tied into petty power-brokering, like on 111th Street in Queens.
Before Vision Zero safety projects were proven life-savers, Mayor de Blasio could be forgiven for his timidity. Now, with the data strong and getting stronger (see Manhattan Institute's recent report Vision Zero and Traffic Safety) it is time for the administration to elevate these projects to the urgent public health imperatives that they are. This means giving DOT freer reign to complete safety projects more quickly and break a few eggs, or rather break the hearts of a few petty power-brokers who care more about parking than people.
To further reduce preventable death on our streets, the mayor should also reconsider his opposition to congestion pricing.
More than just a way to fund transit and thin traffic so buses can move, congestion pricing is an effective safety tool. With fewer traffic jams, there can be more space for expanded safe pedestrian space and bike lanes. After congestion pricing was implemented in London, traffic crashes declined by 40%. A similar reduction in the proposed pricing zone in Manhattan would save dozens of lives per year.
And, as Mayor de Blasio doubles down on data-driven traffic-safety policies that work, he should cease those that do not. Every officer tasked with outfitting senior citizens' canes with reflective tape or writing tickets to cyclists is one less officer assigned to rein in reckless drivers, who kill pedestrians hundreds of times more often than reckless cyclists do. (In fact, a cyclist has not killed a pedestrian since 2014.)
Targeting cyclists and pedestrians in the name of Vision Zero may placate some vocal complainers but it does nothing to make streets safer. In fact, evidence shows the opposite: the more walkers and bikers are harassed the less safe we all are -- bikers bike less, for example. It's the opposite of the "safety in numbers" effect, well-documented by researchers, showing that the more people there are on the streets, the more motorists habitually exercise caution and care, even if they are a little bit annoyed. The only way to improve bicyclist and pedestrian behavior that has been proven to work is to build better, safer infrastructure.
Vision Zero is not "traffic safety as usual." Rather, Vision Zero says that protecting human life is more important than preserving parking spaces or speeding drivers. It's time for Mayor de Blasio to make this principle the rule, not the exception, and empower his agencies to manage traffic and deliver safety projects accordingly.
If Mayor de Blasio is re-elected, and launches his second term by doing what I've laid out here, he will save at least 100 more lives per year. He will be a hero. Nothing else that Mayor de Blasio did in his first term has gained him as much national recognition as Vision Zero, as dozens of cities are following in New York's footsteps. It's time for him to show the city, and the nation, the way forward again.
***
Paul Steely White is executive director of Transportation Alternatives. On Twitter @PSteely & @TransAlt.
***
Have an op-ed idea or submission for Gotham Gazette? Email This email address is being protected from spambots. You need JavaScript enabled to view it.