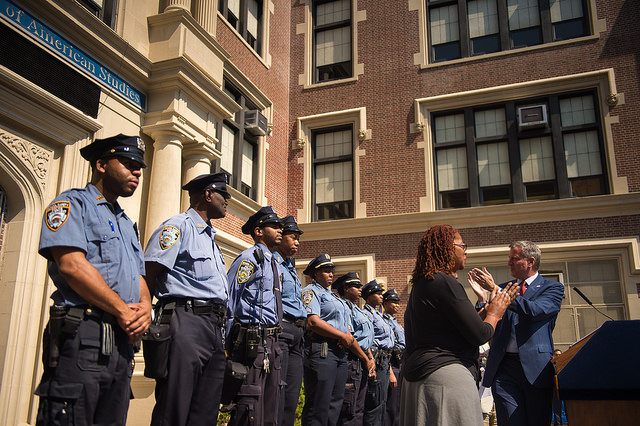 (photo: Rob Bennett/Mayoral Photography Office)
---
Recently, many news outlets have sensationalized the declining use of suspensions in New York City, framing young people negatively and attempting to discredit the progress that has been made. These stories discount the needs of students most impacted by punitive discipline, who have been very clear about the urgency around redefining what school safety really means.
And while suspensions are down across the city, too many schools still use ineffective tactics, choosing to exclude students rather than seeking to better understand them. Relying on tactics like suspensions, or even metal detectors, handcuffs, surveillance cameras, installing gates on windows, and hiring more school safety and police officers only fosters feelings of turmoil.
As two students currently enrolled in Brooklyn high schools, we understand the circumstances and we understand the impact of suspensions and policing on young people. We must end the school to prison pipeline for the sake of ensuring a better future for the next generation of children.
On March 20, we testified before the New York City Council to draw attention to both the financial and social cost of criminalizing young people in school. Last year the city adopted a budget that was going to spend $373 million on the School Safety Division of the NYPD. The mayor's new preliminary budget shows a $30 million increase in that funding, now expected to reach $403 million. This would be the most that the city has ever spent on school policing. This isn't a step in the right direction. This is a crisis.
The city needs to redirect funds toward positive and healing alternatives that work, such as more guidance counselors, clinical social workers, school psychologists, and access to restorative justice that all can boost the morale of students across campuses and increase the academic engagement of students to help them graduate.
The Department of Education recently released its 2019 data report on the number of guidance counselors and social workers in all New York City schools. According to that report, across 913 school sites covering grades 6 through 12, there are 449 schools listed that do not have a single social worker, and 40 school sites that do not have a single guidance counselor. Schools are too ready to push towards more desperate, punishing measures when it would be more positive and transformative in the long run to invest in what helps students feel whole.
Funneling public money towards ensuring students are policed in schools is not safety. Ensuring a future where people respond to problems with criminalization is not the answer.
We've both been to Albany to advocate for the Safe and Supportive Schools Bill that would encourage schools across all of New York State to shift away from punitive practices. We are both committed to helping build the schools people need to thrive. Supportive, respectful schools where students are treated with dignity is what will bring us safety.
***
Gary Edwards is a high school senior and Khushayah Morris is a high school sophomore. Both students are education justice advocates with the Children's Defense Fund - New York, and members of the Dignity in Schools Campaign of New York.
***
Have an op-ed idea or submission for Gotham Gazette? Email This email address is being protected from spambots. You need JavaScript enabled to view it.