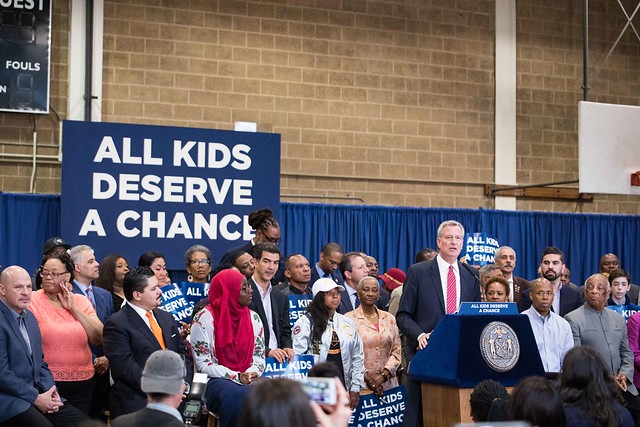 (photo: Benjamin Kanter/Mayoral Photo Office)
---
Last year, nearly 38,000 New York City students arrived in the classroom having woken up in a shelter. That's more students than the total enrollment of the Buffalo public schools, the next largest school district in the state.
Many had been exposed to domestic violence, one of the driving forces of homelessness. Many were forced to transfer schools mid-year, some multiple times, after being placed in a shelter in an entirely different borough. Some were in placements with no kitchen or laundry machine. More than half missed the equivalent of an entire month of the school year due to absences.
Imagine being dropped abruptly mid-year into a classroom where you know no one and have to get used to a new school—all while wondering how long your family will have to stay in a shelter. Imagine having 50 students in this situation—two full kindergarten classrooms of children—come into your school every day, and not having any additional staff to focus on supporting them.
For many students and schools, this is reality.
As the number of children experiencing homelessness has skyrocketed, it is essential that schools serving large numbers of students living in shelter have trained professionals dedicated to meeting their needs.
Three years ago, Mayor de Blasio launched a program to place 33 "Bridging the Gap" social workers in schools with high concentrations of students living in shelter. This year, with additional funding from the mayor and the City Council, there are 69 Bridging the Gap social workers. These social workers provide much-needed counseling to address the trauma that can interfere with the school performance of students living in shelters and work to address barriers to regular school attendance.
However, far too many schools still lack this critical support. In fact, 100 schools have 50 or more students living in shelter and no Bridging the Gap social worker.
We were baffled that, for the third year, instead of increasing funding for Bridging the Gap social workers, Mayor de Blasio omitted all funding for this program from his preliminary budget, jeopardizing its continuation.
Following an outcry from Council members and advocates, the mayor restored funding for 53 of the 69 social workers in his executive budget last month. While we were pleased that the mayor included long-term ("baselined") funding for the 53 social workers, ending the annual budget dance, we were disheartened that 16 social workers remained at risk, especially when we need even more than 69.
Following further criticism, the administration announced that it would restore funding for the remaining 16 social workers just before the City Council began its executive budget hearings last week.
The administration has cited the restoration of the Bridging the Gap social workers as a key way that it has been responsive to the Council's priorities. But the Council has asked for an increase—not merely a restoration—of the program.
In fact, 35 Council members, as well as shelter providers and education advocates, have called on the mayor to add $5 million to the budget to increase the number of Bridging the Gap social workers from 69 to at least 100.
Cutting funding for the program and then restoring it should not be viewed as a victory when thousands of students living in shelter lack access to the crucial help Bridging the Gap social workers can provide.
Schools alone cannot end homelessness. But, with the right support, schools can transform the lives of students who are homeless. As Mayor de Blasio has stated, a quality education is "the most powerful tool we know for lifting one's life chances."
To break the cycle of homelessness, the city must devote more attention and resources to the education of students living in shelter. The mayor should start by providing funding for at least 100 school social workers for students living in shelter in this year's budget.
***
Kim Sweet is Executive Director of Advocates for Children of New York. On Twitter @AFCNewYork.
***
Have an op-ed idea or submission for Gotham Gazette? Email This email address is being protected from spambots. You need JavaScript enabled to view it.