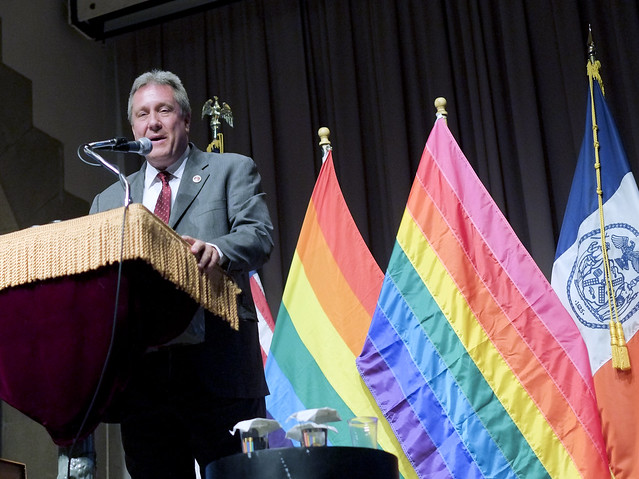 Council Member Daniel Dromm, the author (photo: William Alatriste/City Council)
---
New York City is among the most diverse places in the country. It is home to more than 3 million foreign-born residents, 200 languages, 80 religious affiliations, and countless individuals who are part of the lesbian, gay, bisexual, transgender, and queer (LGBTQ+) community. Our city should celebrate the diversity that defines New York, including teaching young people about our extraordinarily rich history and culture.
Fortunately, there is already a model that can show us the way forward. Culturally responsive education (CRE) aligns educational curricula with students' backgrounds and life experiences. The education with which we equip the next generation should enable our students to connect their classroom studies to their lived experiences. Moreover, it should instill confidence in our students of their own identities so that they may see how others like themselves have contributed to America's history.
This Sunday, we celebrate the 50th anniversary of the Stonewall Uprising and the birth of the modern LGBTQ+ movement. Out of this movement emerged two prophetic voices: Sylvia Rivera and Marsha P. Johnson. Both of these transwomen of color were at the Stonewall Inn during the clashes with police and participated in numerous protest rallies and marches in the aftermath.
They were known for founding STAR (Street Transvestite Action Revolutionaries) and supporting LGBTQ+ homeless individuals. The city will soon immortalize Johnson's and Rivera's places in history with a monument in Greenwich Village. However, too few New Yorkers, including students in our schools, know about these civil rights heroes and their work protecting and empowering the most marginalized and vulnerable members of our society.
CRE asks us to view the accolades of historical figures such as Harlem Renaissance performer Gladys Bentley and 1963 March on Washington architect Bayard Rustin in the context of their lives. They were queer people of color who overcame tremendous obstacles, long before Pride marches and Black Lives Matter. They are fascinating figures worthy of study precisely because of the multiple identities and the various environments they had to navigate.
Recognizing the complexity of such persons and promoting their stories allow the youth of New York City to find themselves in history. Amending school curricula and changing reading lists to reflect the contributions of a wide variety of Americans creates an environment that celebrates the richness of New York's many communities. It also fosters a more welcoming classroom and an education that is personally relevant to our students.
In this way, CRE is truly student-centered learning. It keeps our students – particularly those who feel least included – engaged in and attuned to the accomplishments of those sidelined by the traditional narrative of American history and culture.
City Schools Chancellor Richard Carranza has agreed to accept the School Diversity Advisory Group recommendation to have CRE imbedded into all schools for all grades, welcome news indeed. I encourage the New York City Department of Education to implement it as soon as possible and ensure that sexual orientation and gender identity are fully integrated.
We deprive our students when we do not tell them the truth about who we are, where we came from, and where we are going. All of our schools need to embrace CRE and prepare the next generation for a future where well-informed, critically-thinking citizens and residents will be even more desperately needed.
***
Daniel Dromm is a former New York City public school teacher and represents the communities of Jackson Heights and Elmhurst in the City Council. On Twitter @Dromm25.
***
Have an op-ed idea or submission for Gotham Gazette? Email This email address is being protected from spambots. You need JavaScript enabled to view it.