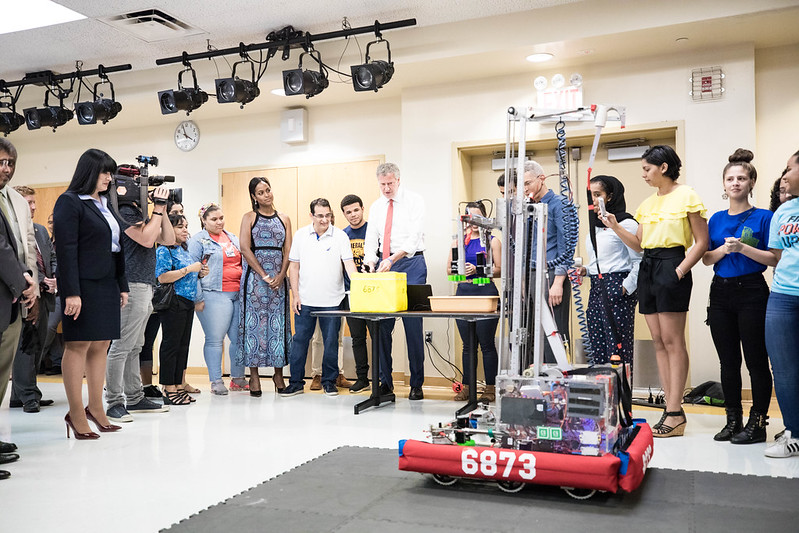 (photo: Benjamin Kanter/Mayoral Photo Office)
---
Late last year, Mayor Bill de Blasio and City Schools Chancellor Richard Carranza proudly announced "record increases" in internet bandwidth in public school buildings – an important milestone because in a digital world, every school deserves good internet access.
But, the announcement invited more questions than it answered, especially in light of the Department of Education's other recent announcement of planning to create or redesign 40 schools "of the future."
What is a "school of the future"? If it's just faster internet, new computers, and fresh branding, it's not going to create the kind of opportunity or change the system needs. We need to think bigger if we're serious about giving public school students a chance to compete in a digital world.
What new skills and knowledge will graduates need to find jobs in 10 years? What new kinds of literacy will they need to make sense of the world in 20 years? What social and moral education do kids need to live in a digital society?
If our schools can't answer these questions, we're making cosmetic changes to the same outdated model.
Take a recent report by Burning-Glass Technologies, a premier labor market analyst. Burning-Glass looked at millions of job postings and identified 14 "New Foundational Skills" that translate to more money and more opportunity in the digital economy. Specifically, they found that skills in data analysis, computer programming, creativity, critical thinking, and project management are now essential across most good jobs.
Yet, our schools today are not designed to teach, develop, or assess for most of these skills. Classrooms look nothing like the modern workplace, and the basic content required to graduate high school in New York State has barely changed in 50 years (though the state is finally starting down the long road to change these requirements).
School schedules are a good example. Right now, students learn in 45- or 60-minute lessons, "punching in and out" of subjects, often working and being graded independently. In today's workforce, most good jobs don't work on shift schedules and almost everyone works in teams.
Consider testing. So much of the debate revolves around whether or how often to test – not necessarily on what to test and why. How does the English Regents exam, a graduation requirement, assess writing? It asks kids to write a literary essay – an opening, a thesis, and a five-paragraph structure interpreting a novel. Good writing is critical for long-term success. But, when was the last time most of us wrote a literary essay at work?
As the founding principal of the Urban Assembly Charter School for Computer Science (Comp Sci High for short), we're working to do things differently – what and how kids learn, develop in-demand skills, and generate a pipeline of tech talent in the Bronx. We're attempting to build a school of the future, and we're showing that schools can teach history and HTML, that we can focus on integers and internships.
We're looking at trends in the labor market and in society and working backwards to redesign curricula. Policymakers and school designers should do the same.
First, we need to build in more flexibility. School isn't a factory and kids aren't identical cogs in a machine. Flexibility starts from both a curricular standpoint and a scheduling one. We must recognize that within a class of 30 high school students, kids will grasp concepts at different rates and have different interests. Consequently, learning in the classroom and course pathways in a school need to be more personalized. Why, exactly, does everyone still need to learn chemistry but not computing?
Instead, content and curriculum can and should be personalized using technological tools and creative scheduling.
Next, we need to redesign curricula with a focus on both skills and knowledge. Understanding how to work on a team, to delegate, to work collaboratively and independently, and solve open-ended problems – these are a few of the core skills that aren't included in most academic standards or curricula.
We also need to modernize graduation requirements to align with preparedness for the labor market. If foundational skills – human skills, digital building block skills, and business processes – are valued by employers, then we need to rethink not just what we're teaching but what we're testing. School isn't only about getting a job. But, that should be part of the promise we make to kids when we tell them to stay in school and work hard. And yet, right now we have many thousands of high school and college students graduating with few career prospects and a lot of debt.
We need a clearer relationship between what kids learn in school and what they might do afterward. That means rethinking what and how kids learn from top to bottom. Without that level of change, school really will become just an academic exercise.
***
David Noah is the Principal of Urban Assembly Charter School for Computer Science, the city's first career and technical education charter school.
***
Have an op-ed idea or submission for Gotham Gazette? Email This email address is being protected from spambots. You need JavaScript enabled to view it.