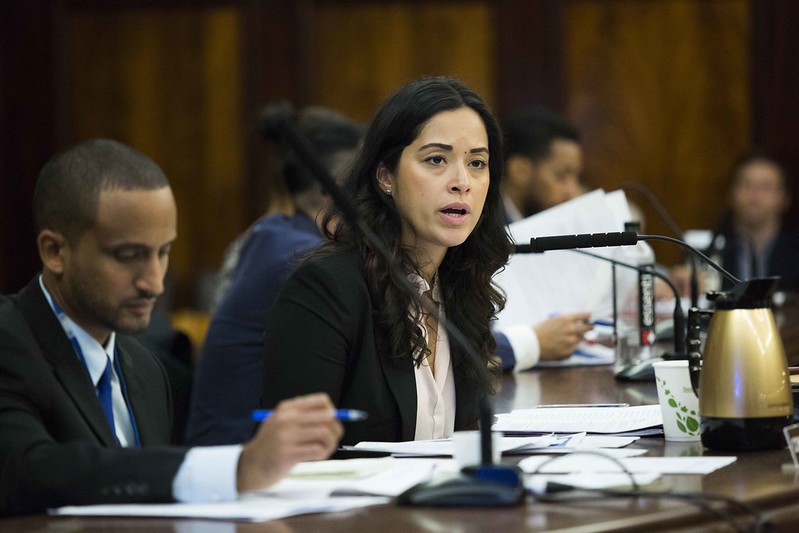 Council Member Carline Rivera, the author (photo: Emil Cohen/City Council)
---
Like most New Yorkers who lived through the height of the COVID-19 pandemic, I am still reeling from the trauma and chaos we experienced this spring. But until I set foot on Rikers Island last week, I had an incomplete understanding of what the true horrors of COVID-19 were for some of our most vulnerable New Yorkers.
At the height of the pandemic, Rikers saw an infection rate seven times higher than the rest of the city. The Department of Correction (DOC) was forced to reopen a shuttered facility on the island to quarantine suspected covid patients when existing isolation wards and clinics reached capacity. Numerous incarcerated New Yorkers, Correction staff, and health care workers died as limited use of PPE and testing allowed the virus to spread like wildfire in closed, poorly-ventilated cell blocks.
Today, with low infection rates citywide, many may view the risk to those at Rikers to be over, but if a second wave does arrive this winter, as many scientists predict, Rikers will once again be directly in the disease's crosshairs. It's clear to me from the stories of whistleblowers and the conditions I just saw at the jail that there are many vulnerabilities that still exist - from inconsistent use of PPE and social distancing by staff, to sleeping situations that still place some incarcerated individuals just a few feet apart.
Even if DOC commits to adopting solutions at a City Council hearing I am holding on this issue, there is only so much we can do to protect people housed in this decrepit facility.
The de Blasio administration already recognized that, when in April they began a dramatic increase in early release for incarcerated individuals. The Mayor's Office and DOC worked quickly to identify individuals for early release, including older adults, those with underlying health conditions, those being held on technical parole violations, and those serving city sentences of under a year. In a few short weeks, we went from 5,557 people in Department of Correction custody to only 3,800 - a population drop that had previously been projected to take years to reach (the census has since crept back up to just over 4,100). And analyses show these early releases saw fewer repeat arrests than would be expected for normal release populations pre-covid.
Even with the rapid reduction, jails like Rikers have still been scrambling for space to social distance. Over the last few months, the city's Correctional Health Services recommended more than 1,500 additional individuals be released, including hundreds who meet the same requirement that were provided for early release in April. Unfortunately, many of these recommendations continue to be rejected by DOC, which refuses to release the total number of approved releases.
Continuing to release people in DOC custody, while implementing policy solutions to reduce arrests overall, will save lives not just on the inside but in New York City as a whole. Justice and public health advocates have identified the "jail churn," the phenomenon by which people are cycled through jails for short periods of time, where they risk exposure to covid, and are then released back into their communities.
But one day COVID-19 will come to an end, and with the plan to close Rikers and open four smaller borough-based jails delayed until 2027 by the city's shrunken budget, we should take this opportunity to consider how we can safely reduce the city's current jail population beyond the pandemic, while interrogating how the physical structure of jails negatively impacts public health, and what any new jails will look like in terms of safety and scope.
This won't happen overnight, but we can take steps while prioritizing safety and public health. First, we as a city and state must take every possible action to reduce the number of arrests made, remove officers with histories of police misconduct, and work to dismantle the system that enables the 'blue wall of silence.' The state can also pass laws to remove unnecessary criminal statutes (like the "Walking While Trans" Ban) and reinstate the portions of historic bail reforms that were sadly rolled back in the wake of pressure from police unions. And we can continue to redistribute funding from our police departments towards community programs proven to be more effective at reducing recidivism.
At the same time, the Mayor's Office could work with DOC to compile an annual report on city jail populations and corresponding recommendations on how to reduce that overall population in a time-sensitive manner beyond the census projected for the post-Rikers borough-based jails. Since demolition work at the proposed jail sites has yet to begin, these reports could influence the size of the currently proposed local jails each year before construction begins.
COVID-19 has completely changed how we view our society and work to address its failings, including the systemic and racist inequities that ravage communities of color. There's no reason that we shouldn't use this opportunity to ensure we are constantly reviewing our criminal justice reform efforts, from Rikers today and into the future.
***
City Council Member Carlina Rivera represents the 2nd District in Manhattan and chairs the Council's hospitals committee. On Twitter @CarlinaRivera.
***
Have an op-ed idea or submission for Gotham Gazette? Email This email address is being protected from spambots. You need JavaScript enabled to view it.