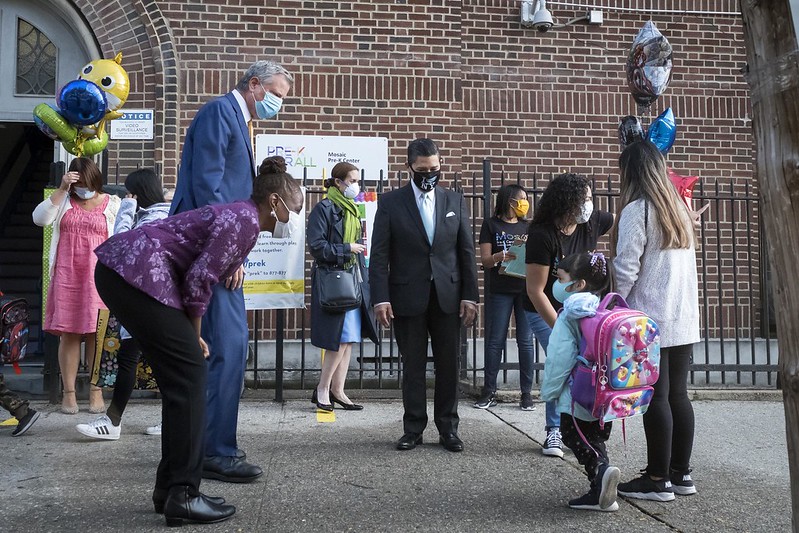 Mayor and Chancellor on first day of school (photo: Ed Reed/Mayor's Office)
---
This city continues to fail us as we attempt to begin the school year safely. Not utilizing any of the months since March to make a safe, equitable reopening plan is unacceptable, and the constant changes to the plan are throwing the lives of many families and educators into complete disarray. It's time to chart a better path.
Each week brings daily changes as leadership continually pulls the rug out from under students, parents, and educators. Late last Tuesday evening, the night before teachers were set to meet their students online, the mayor announced yet another change to the remote learning policy: students in the hybrid learning model will no longer be guaranteed live remote instruction. Some students will learn from a computer while at school.
The number of teachers and administrators testing positive for COVID-19 has continued to rise, increasing the concern that positive cases only grow as students and teachers come back to school.
Next, just four days before school was to start in-person, the mayor announced another delay, pushing the start of school back to the beginning of October for many students.
As a special education teacher in our public school system and the parent of two young children, as well as a candidate for City Council, I have been speaking out about the inexcusably poor handling of this disjointed reopening planning for months. There is no doubt that the mayor and the Department of Education completely neglected their responsibilities to our students, our educators, and their families.
Throughout the processes of the closure and reopening of schools, shortsighted planning has been incredibly harmful and led to confusion and stress for our educators and families. Educators need to plan how we will meet the social-emotional, mental health, and academic needs of our children, while families want the best for our children and need to be able to plan for our own work schedules. This lack of planning has been an all-too-frequent hallmark of the current administration, which has let down students, educators, and most New Yorkers on schools and much more.
Instead of treating every student as if they have the same needs, our City needs to reimagine how we're approaching school reopening, just as we need to reimagine every aspect of our city's recovery to ensure it is both deliberate and just. Here are four key steps:
Clarify safety standards. According to the Department of Education's website, a classroom can be cleared by having "at least one functioning method of ventilation," which could be "a window that opens, a type of mechanical ventilation (exhaust fan, supply fan, unit ventilator) or a combination of the both." However, even Donald Trump's EPA notes that "Even with an open window or door, natural ventilation can be limited if inside and outside temperatures are similar and there is little wind." We must have rigorous and transparent standards regarding our safety if we are to build confidence and trust in a school's ability to host in-person learning.
Recognize the dual roles of schools as places of learning for our next generation and of child care so parents can go to work, while understanding that different students and families have different needs. We should prioritize in-person learning for students with disabilities, young students, English language learners, students from high-need homes (homeless, food insecure, etc.), and students from families with other major needs, allowing them to have as many days and hours of in-person learning as possible.
With that in mind, older students who are more self-sufficient and independent -- mainly high school students, with exceptions for high-needs students and families -- should have all-remote learning, with the opportunity to participate in counseling and extracurriculars as needed. After all, a 5-year-old with a disability has a greater need for more robust in-person learning than a 16-year-old student. Their educational and emotional needs are not the same, and a family's child-care needs are not the same with regard to different age groups.
I agree with the latest decision by the city to phase in in-person learning beginning with the students that need it most, but it is insulting that they announced the change days before school was to start in-person for everyone participating in blended learning. Even with this, there would still be many families who want their children to learn remotely, which would be feasible as there will still be teachers who will teach remotely.
Be resourceful in maximizing our space, especially as the weather changes. While there are many avenues to utilize outdoor spaces like recess yards, NYC Parks, and closed off streets, this is only viable until it becomes unsafe to spend extended periods of time outside. If fewer high school students are in attendance, those buildings can be put to use for younger students or students with additional needs. If we want to further consolidate the number of school buildings in use, we can also be flexible with scheduling for older students, which is made easier by the fact that many high schools' in-person models do not have students in attendance for a full school day anyway.
Provide more consistent guidance and recognize the hardship parents, students, and teachers are dealing with as we adjust schedules and teaching plans last minute. The mayor and his administration have continually disrespected parents, students, and teachers with plans changing at the last minute. Once we begin in-person learning, deadlines must be given and held. Teachers and parents deserve to know the benchmarks and timelines for ensuring school is safe and meeting the needs of all students.
For weeks, students, parents, and educators have been sounding the alarm about the city's preparedness for school, and it is incredibly frustrating that the city's leadership continues to fail us. Parents made decisions based on promises from the city, and the city's inability to plan adequately reflects the incompetence of the planning and implementation of a coherent plan.
We can't have a functioning city without consistent guidance and residents trusting city leadership. We need leaders who listen to New Yorkers and who can reimagine the way we educate our children -- and we deserve better, more creative approaches for those who feel forgotten by the bureaucracies at the Department of Education and City Hall.
***
Eric Dinowitz is a special education teacher and a candidate for City Council in the 11th District in the Bronx. On Twitter @EricDinowitz.
***
Have an op-ed idea or submission for Gotham Gazette? Email This email address is being protected from spambots. You need JavaScript enabled to view it.