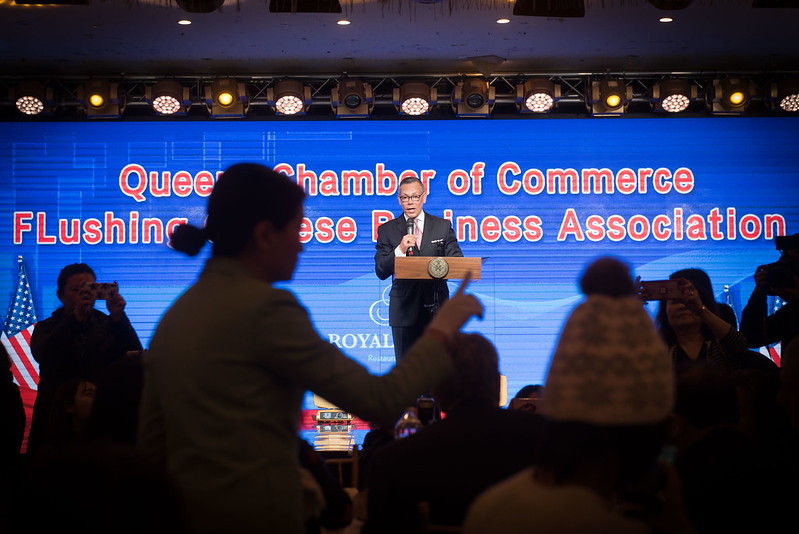 A celebration in Flushing, Queens (photo: Michael Appleton/Mayor's Office)
---
When I first entered office in 2013, I joined other elected officials in the time-honored tradition of attending ribbon-cutting ceremonies. Most of the time, these were for hotels, fancy restaurants, and even luxury condos.
Hard-hat and shovel in hand, I said the usual things about economic growth and prosperity that these projects would hopefully bring to Flushing, and we were all rewarded for this "insight" by the media.
This was the status quo—enabling private industries to launder their reputations through our offices while our constituents received corporate giveaways, free dinners, and other privately-subsidized handouts. Win-win, right?
But over time, it became impossible to ignore that the fulfillment of these promises of economic growth and prosperity was plunging large swaths of people into poverty. As more and more luxury condos began construction, we saw more and more homelessness in the streets. As more and more mega-malls neared completion, more and more elderly were digging for scraps in the trash.
Flushing is truly a tale of two cities: limitless opulence and wealth just blocks away from make-shift homes for the homeless.
The Pew Research Center recently reported that Asian-Americans lead all racial groups in wealth inequality. Those at the top earn nearly ten times more than those at the bottom – the highest among all ethnicities. This is why I am now calling on all Asian-American elected officials and candidates to join me in addressing wealth inequality.
Since my first election, there have been at least three life-altering experiences for me on this topic. These cases compelled me to focus entirely on the economic trauma now affecting the most marginalized people, many of Asian immigrant descent, in my district.
The first incident was in 2014. An older gentleman, early seventies with no family, entered my office using a walker. He could barely see due to his cataracts. He told me that he rode a casino bus every day to collect a $15-$20 voucher, and used that money to pay rent. He needed proof of residence to qualify for benefits, but lived in an illegally converted 1-bedroom apartment with five other seniors. How could this be?
The second took place the same year. We held an affordable housing town hall in the basement of a church, expecting 100 people at most—and nearly 1,200 came. Mostly seniors and older adults, many of them waited several hours before even entering. How could this be?
And lastly, in 2017, there was the tragic life and death of a migrant sex-worker named Yang Song. She was targeted and harassed for months, all because she tried to report being assaulted and raped by undercover police officers. They made her life a living hell until, one day, the police raided her massage parlor and she died fleeing from her abusers. A local real estate developer mocked her death on Facebook as just another "hooker splattering." How could this be?
This economic trauma and dehumanization is directly linked to soaring wealth inequality. How else can we justify children starving in our own backyard as we enjoy their favorite dim sum? How else can we justify walking past the scores of homeless folks and crowded food lines while rushing off to brunch?
We live under a myth that pathologizes the poor and glorifies the rich. When you are poor, there is something inherently "bad" about you—fundamentally deficient. And when you're rich, you're a hard worker, a "good person" entitled to all the world can offer.
But it's our system that sustains wealth inequality to such an extreme degree. It's our system that rewards leaders for their short-termism, extractivism, and exploitation to advance "economic priorities."
Case in point: a group of real-estate developers has proposed a 3 million-square-foot luxury development in Flushing, the Special Flushing Waterfront District. The threat of displacement for thousands of working class people is all too real. Yet not one local politician has joined me in speaking out against this travesty.
I know that for some it is easier to turn to the wealthy for handouts disguised as solutions, rather than hold them accountable for the worst economic divide among all groups.
But as Asian-American leaders we must come to terms with the crises of our times. We need to fight for tax justice and a fair, equitable relationship between business leaders and our community.
Our current tax codes reward big real estate developers. They are incentivized to raise and transfer tax-free capital, creating artificial community "value" while displacing our most vulnerable residents.

We need to progressively tax real wealth, inheritance, and capital gain to the point that it no longer makes sense for private investors to simply hoard vast fortunes. Make it more viable to re-circulate their money into local economies, instead of stockpiling it for their families to roll over into tax-free capital investments—which only further inequality.

Lastly, every mega-project must start with a labor agreement, a minimum of 25% real affordable housing, and a public environmental review.

The next time you venture down Roosevelt Avenue and Main Street -- or the thoroughfares in your neighborhood -- don't look away from the homeless seniors, day laborers, and migrant workers. Let their suffering open your mind and heart, and make you care enough to change the conditions that led them there.
If you're able to pass them without a second thought, I hope you enjoy your brunch.
***
Ron Kim is a member of the New York State Assembly from Flushing, Queens and adjunct professor at Cornell University. On Twitter @rontkim.
***
Have an op-ed idea or submission for Gotham Gazette? Email This email address is being protected from spambots. You need JavaScript enabled to view it.