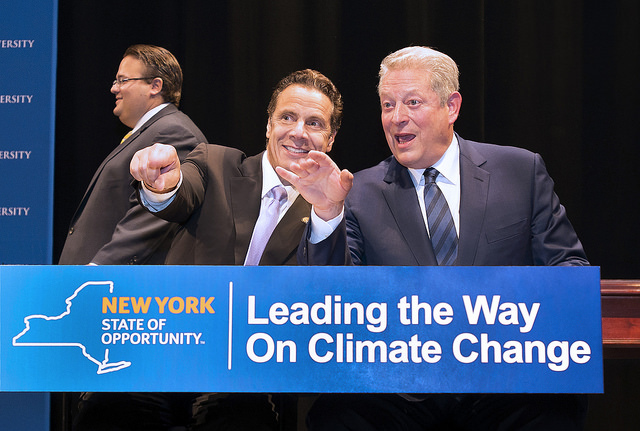 (photo: Kevin P. Coughlin/Office of the Governor)
---
Think of it: a bold vision that simultaneously addresses the greatest existential threat facing humanity while providing thousands of good jobs across New York. Want an added bonus? There won't be a need to increase taxes on ordinary New Yorkers.
A "Green New Deal" for New York could mean thousands of jobs and a pathway to 100% renewable energy, which will be necessary to stave off the worst effects of climate change, all paid for by charging a fee on corporate polluters that pump greenhouse gases into the atmosphere.
We are coming off a record-breaking forest fire season on the West Coast while Hurricane Florence has ravaged the Carolinas, a year after Maria devastated Puerto Rico. And, at least in the short term, national leaders will keep their heads in the sand and continue to collect campaign donations from the fossil fuel industry. States have the opportunity to set the model for how to tackle climate change, and New York can and should be one of these states.
While Governor Cuomo has taken important steps to address climate change, including banning fracking in the state and creating the United States Climate Alliance (the coalition of states that committed to the Paris Accords following the country's exit), New York actually lags behind other states. Only 5% of New York's energy come from renewable sources -- compared with California's 25% and Vermont's 40% -- and there are multiple plans to build more fossil fuel infrastructure, guaranteeing a continued reliance on dirty energy.
To truly be a climate leader and make the state the progressive model he often says it is (and position himself for any aspirations beyond Albany), Cuomo needs to pass bold legislation that puts New York on a path to 100% renewable energy. After all, just last week, Governor Jerry Brown of California signed into law major legislation that will do just that. What's more, with the victories of a progressive wave of state senators on primary day, September 13, state government may be ripe for bold climate legislation this session. And that legislation already exists.
Two bills with strong support among grassroots and labor organizations, the Climate and Community Protection Act (CCPA) and the Climate and Community Investment Act (CCIA), would put New York on a trajectory towards 100% renewable energy. The CCPA calls for a just and equitable transition to a clean energy economy, while the CCIA would force those most responsible for climate change to foot the bill by charging a fee on corporate polluters.
These bills would not only set a strong climate agenda, but would also launch a necessary jobs program at a time where there's national concern over loss of jobs due to automation and outsourcing. By investing in renewable energy and energy efficiency, New York could create thousands of jobs that pay a living wage including retrofitting buildings, installing solar panels, and updating our energy infrastructure. We could also put people to work making our state more resilient, and fix crumbling infrastructure that is increasingly vulnerable due to superstorms and sea level rise. By charging a fee on oil, gas, and coal, this all will be paid for by the fossil fuel industry, without a need to raise taxes on New Yorkers.
A "Green New Deal in New York" could be the benchmark for other states and eventually the country to follow. It is no longer enough for politicians to claim that they "believe" in climate change. We need a real, comprehensive agenda to address this challenge head-on. In order to demonstrate climate leadership, Cuomo, assuming he wins reelection, should work with the Legislature to pass the CCPA and the CCIA as quickly as possible and set the example for the rest of the nation.
***
Ari R. Lieberman is an attorney and the legislative coordinator for 350Brooklyn, a grassroots climate change organization affiliated with 350.org. On Twitter @the_greenmarble.
***
Have an op-ed idea or submission for Gotham Gazette? Email This email address is being protected from spambots. You need JavaScript enabled to view it.