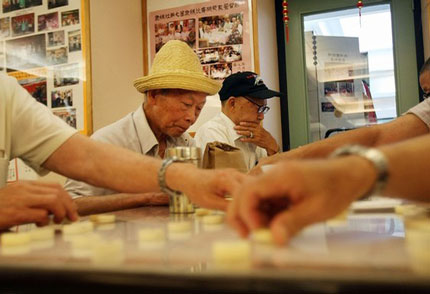 While rest of Lower Manhattan grumbled through a Monday, the basement of 100 Gold Street was hopping. In one brightly lit room, a cluster of Chinese immigrants practiced English. Next door, others gyrated in unison to folk music. In the dining hall, scores of guests chattered while a replay of the Olympics closing ceremony flashed on an overhead screen.
Between bites of glazed salmon and bok choy, Yu Chiao Ho Leung, 71, said she started coming to the City Hall Senior Center, run by the community organization Hamilton Madison House, after she lost her job at a garment factory following 9/11. The dancing and mahjong give her a reason to stay active, she said. Otherwise, "I'd be at home watching television. That would be stifling."
At a nearby table, Muriel Gursky, 80, marveled at a study sheet for the test immigrants must take to become naturalized citizens, circulated by her Chinese tablemates. "That's very advanced," she said. "The Constitution and all that... This is very hard stuff."
That same afternoon, a more somber senior gathering took place up the street, on the steps of City Hall: a protest against budget cuts to senior centers in the city's public housing projects.
Standing behind Brooklyn Borough President Marty Markowitz, who likened the closure of senior centers to "the bulldozing of [a] town square," elder protesters held up a hand-written sign: "Don't break up our family-Marlboro Senior Center."
This is a challenging time for aging New Yorkers - and for the organizations that care for them. As services for seniors are more needed, and perhaps more endangered, than ever, the Bloomberg administration seeks to dramatically change the way these programs work.
Shaking Up the System
By 2030, one in five New Yorkers will be 60 years old or older as boomers retire, immigrants become grandparents, and medical advances continue to lengthen life spans.
The demographic surge looms over a well-worn, tightly stretched network of agencies that have fed, entertained and counseled the city's elderly for generations. Facing the "gray wave," the Department for the Aging wants to implement a plan the administration believes will make programs more comprehensive and better coordinated.
This involves reshaping three "core services": meal delivery to homebound older people; case management, which coordinates care and benefits; and senior centers that have long anchored older adults in their communities.
Many senior centers grew organically out of local civic and faith organizations, said Caryn Resnick, the aging department's deputy commissioner of external affairs. Now, she said, they need restructuring to adapt to emerging needs - from promoting fitness, to engaging immigrant communities, to reaching out to elderly gay people.
"A lot of it is being able to work with existing resources with really just a different mindset," she said.
But while service providers and officials around the country agree that the aging process is evolving, the city's plan has met resistance from some organizations, who fear it will undermine homegrown, grassroots programs and impose a stiffer, corporate model.
"You do your best job when you can provide meals [and] services locally," said Bobbie Sackman, public policy director with the Council of Senior Centers and Services, "so you understand the community, you understand the culture, you know where the resources are."
The administration's initiative, she said, "is moving away from, 'What does it really mean to be community based... What does it mean to really have a presence within a community?'"
The New Old Age
The rumpled patchwork of senior programs has begun incrementally reworking itself. The city has already launched a new case-management system, and meal delivery is currently being restructured.
The city's plan makes case managers "gatekeepers" who connect seniors to other programs, like meal services, legal help and home-based care. In April, the Department for the Aging initiated new contracts under a revised geographic scheme that reduced the number of case management regions from 32 to 23. Agencies will cover broader swaths of the city, which might encompass various language and cultural groups.
A number of service providers fear the consolidation does not adequately consider the personal and cultural nuances that form the bedrock of more localized programs.
As agencies turned their clients over to new case managers, some groups criticized the handover as abrupt and bureaucratically haphazard, leaving both staff and seniors disoriented.
In Chinatown, seniors who previously received less formal case management from local groups - in tandem with meal deliveries - are now served by a larger organization not based in the Chinese community. Some advocates worry that the new case managers may not be as attuned to Chinese seniors' everyday lives as neighborhood-based providers.
Hong Shing Lee, chief operating officer with the Asian American Federation, which represents community agencies, said cultural competency is a key concern. Even a bilingual provider could be out of touch with cultural norms and fail to monitor clients comprehensively. Under the previous system, which integrated case-management assessments with daily meal delivery, staff would have a "more holistic" view, he said. "They would know where the gaps are."
Meal programs, meanwhile, also are being reshaped. To boost efficiency, the Department for the Aging has consolidated service districts so that providers may ship meals, fresh and frozen, over larger regions. Critics worry that the attention to economies of scale will chill the warmth of traditional, locally rooted programs that deliver hot food from local kitchens, often within the same neighborhood, catering to dietary preferences from Hindu to Kosher.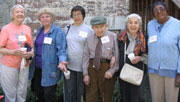 Photo (c) Henry Street Settlement and Sari Weintraub
Henry Street Settlement, a Lower East Side-based organization, has partnered with other local groups to apply for a contract under the new scheme. The agencies hope this will enable them to keep delivering meals while maintaining community ties. But administrator Janet Fischer worries that the city is departing from a relatively intimate approach to a "bigger is better" concept.
Under the new contract system, she predicted, "you'll lose the sense of community. You'll lose the sense of involvement... 'Bigger and better' may be great as a machine, but it takes away everything that human service organizations stand for."
Senior Centers of the Future
A basic premise driving the city's plan is that the traditional senior center, which served as a simple gathering spot for meals and conversation, does not fit the lifestyle of increasingly active older adults.
"Today, seniors are looking for volunteer opportunities, they're looking for health promotion programs, they're looking for lifelong education," said Ron Soloway, of UJA-Federation of New York. "So there is a need to transform the senior centers that exist in the city up to the next level."
To upgrade senior centers, Resnick said, the city will establish "a very flexible model that would go from being citywide... to the community." Smaller centers would focus on local services and health-related activities, while larger "multi-service centers" would offer a wider array of programs on a larger scale. In light of the concerns that community groups voiced about the case-management restructuring, the city has slowed down the plan for senior centers and says it has been consulting with community groups to ease the transition.
Covering the Costs
Much of the anxiety the providers express may not stem specifically from the overhaul, but rather from the overarching budget crises that could cripple many senior programs. While budget strains affect the state government, on the city level, aging-services providers face a 3 percent cut to contracts. Federal funds for public housing have also crumbled, threatening scores of senior centers in public housing projects. (About a third of city Housing Authority households are headed by people over age 62.) It is unclear how all this will affect the restructuring efforts.
The idea of modernizing in the face of the fiscal crunch seems unreal to Fischer of Henry Street Settlement.
"Maybe if we're lucky, we'll win this program contract," she said, referring to the group's bid for the meal program. "On the other hand, we may not have a senior center to work from. It's crazy."
"We're setting up systems that continue the basic inadequacies," said Sackman, pointing out that many programs have long waiting lists. The city's overhaul would have been more beneficial, she said, if "it had brought with it maybe some additional funding, maybe lower caseload sizes, maybe a way to do more intensive case management for people that need it. But none of that exists. We just rearranged boundaries."
Nancy Wackstein, executive director of United Neighborhood Houses, an umbrella group, said the dollars lag behind the rhetoric of modernization.
"It's great to talk about enriched services. It's great to talk about expanding needs," she said, "but we haven't seen any plan that talks about how those are going to be addressed and paid for."
Resnick acknowledged the current fiscal uncertainties, but said that service providers could fulfill the aging department's goals while staying within current budget limitations. Ultimately, the city promises to improve services and ensure efficient spending by developing new ways to track the performance of programs.
Citing statistics on meals served at senior centers -- a measurement that critics say is too limited -- the city concludes that more than 40 percent of centers are "chronically underutilized."
"It's very hard to say we need to bring additional dollars to bear when, in fact, we weren't spending the dollars that were actually in the network," Resnick said.
Many providers say that they too want to revamp programs, but that funding gaps impede change, as groups struggle to make even basic improvements, like boosting staff and renovations.
Isabel Ching, who helps run senior services at Hamilton Madison House, wants an opportunity to build on her group's own ideas for innovation, such as offering educational programs, fitness initiatives and group travel overseas. "We can make it a bigger and better program," she said, "but give us that flexibility, give us resources."
Stuart Kaplan, chief executive officer of Selfhelp, which manages several senior centers in Queens, said the modernization is moving in the right direction, but faces "the perfect storm."
"The population's growing, the dollars are down, and innovation is supposed to go up," he said. "Well, it sounds like this triangulation will make it more challenging to achieve the objectives."
Michelle Chen is a freelance reporter in Manhattan and a native New Yorker.Â