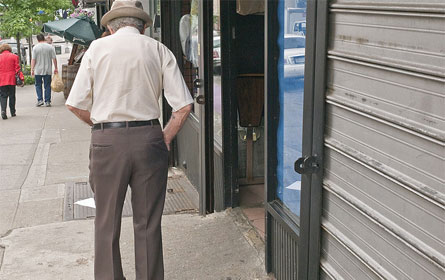 Photo (cc)
About 300 times a year in the five boroughs, a senior with Alzheimer's Disease goes missing, says Jed Levine, executive vice president of the Alzheimer's Association in New York City.
Yesterday, the City Council tried to make it easier to find them.
The council unanimously approved (Intro 270-A) legislation to establish a citywide alert system for those seniors with Alzheimer's or other dementia-related diseases who leave a caregiver and then can't find their way home. Modeled after the city's Amber Alert, the "Silver Alert," according to Council Speaker Christine Quinn, will require the city relay identifying information to the media, social service providers, hospitals and other organizations after it receives a report of a missing person.
Information could be spread via email, telephone, text, television or radio.
"We want to put 16 million eyes and ears to work," said Councilmember Jessica Lappin, the bill's primary sponsor.
There are 250,000 New Yorkers diagnosed with Alzheimer's, according to the City Council. Research shows, Quinn said, that 60 percent of all Alzheimer's patients wander off alone at some point. If they are missing more than 24 hours, she added, more than half will emerge seriously injured or dead.
The council did not designate an agency to administer the new program, and left it up to the Bloomberg administration to decide.
Business-Friendly NYC
Following up on Quinn's state of the city address this year, the council approved a bill to require the city's Law Department review every rule proposed by a department or agency to determine whether it treats small businesses unfairly.
Currently, all departments or agencies have to do to create a new rule is put it through a public review process, including publishing it in the City Record.
The legislation (Intro 91-A), which was approved unanimously, comes out of a regulatory review panel established by the mayor and the council to study city rules that might hurt small businesses.
"From now on, government will have to take extra steps to make sure rules are not too burdensome or too costly for small business," said Quinn.
The legislation will require the department or agency proposing the rule to do outreach to the affected industry. The Mayor's Office of Operations will also have to make sure the city's proposed rules are written in plain language and aren't redundant with other city policy.