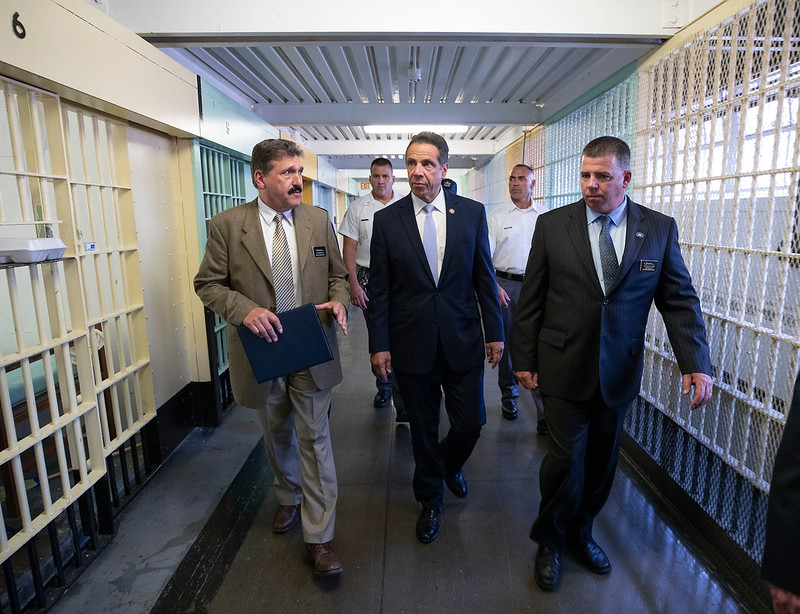 Gov. Cuomo visits a prison, pre-pandemic (photo: Mike Groll/Governor's Office)
---
While New York continues to expand the circle of groups eligible to receive a COVID-19 vaccine, people living and working in correctional facilities are being left out of the equation, despite early commitments from the city's Health Department and the heightened risk of infection in those settings.
With a limited supply of the vaccine, public health officials at the state and city levels have been developing a plan to prioritize populations that are most exposed and most vulnerable to the virus, which has killed more than 36,000 New Yorkers. Tracking guidance from the federal Centers for Disease Control and Prevention (CDC), inoculations began earlier this month for high-risk city and state health-care providers with direct patient contact, and state health officials have been working with city agencies to create a phased distribution scheme for other populations as more doses become available.
Governor Andrew Cuomo and the state Department of Health have been mum on the position of prison and jail populations in the ordering, but city Health Commissioner Dave Chokshi told lawmakers at a recent New York City Council oversight hearing that congregate settings, including jails and homeless shelters, would be prioritized in the first phase of distribution, which he said could extend into January and February.
Groups representing various categories of essential and frontline workers, from social service providers to cab drivers, have been pushing to ensure that they will be next in line to receive the vaccine. On December 21, residents and staff in the state's nursing homes, a congregate setting ravaged by the virus, began receiving vaccines. On December 23, Mayor Bill de Blasio announced EMS workers with the city's fire department could receive vaccines at three inoculation locations the city had set up for them. This week urgent care employees and residents in addiction rehab facilities will begin receiving vaccines, Cuomo said Monday.
The state's original plan placed ICU, emergency department, and EMS workers, as well as at-risk residents in long-term care facilities in the first round of vaccinations, and first-responders like police, firefighters, and "those living in other congregate settings" in the second. Jails and prisons are not named specifically in the state's vaccine phases, leaving many to wonder where incarcerated people and correctional staff might fall. Officials have not provided any clear answers.
There is urgency "to somehow try to articulate their voice in what seems to be a forsaken land, and a pandemic-friendly environment no doubt," said Anthony Dixon, an advocate with the Parole Preparation Project and Release Aging People in Prison campaign (RAPP), in an interview with Gotham Gazette. Whether or not incarcerated New Yorkers who also fall into other high-risk categories, like those over age 75 and with comorbidities, will receive a vaccine in the first round is unclear.
"Black people's lives matter, not only in death but in life," said Dixon, who is formerly incarcerated. "It seems like the only time that phrase is used is when one of us dies. What about keeping us alive?"
At least 20 people have died from COVID-19 in state prisons since the outbreak in New York began, including two in one mid-December week, according to a spokesperson for the state Department of Corrections and Community Supervision. That death count does not include people who have died in local jails, including the 11 facilities run by the New York City Department of Correction (DOC). Three people have died from the virus in DOC facilities, according to a spokesperson. There have been recent outbreaks at a number of facilities throughout the state.
"Throughout the pandemic, the Department has worked in consultation with the NYS Department of Health (DOH), following facts and science, as the entire incarcerated population was tested for COVID-19," wrote Thomas Mailey, a spokesperson for the state Department of Corrections and Community Supervision, which runs state prisons, in an email. "DOCCS is continuing to partner with DOH as part of the New York State COVID-19 Vaccination Program that was previously announced," he wrote. DOCCS has not responded to multiple requests for more detail on its vaccination planning.
At a December 4 oversight hearing, held jointly by the New York City Council committees on health and hospitals, Chokshi, the city health commissioner, said jails would be among the vaccine priority settings.
"Congregate settings beyond long-term care facilities have also been discussed at the federal level, in terms of the prioritization framework for phase one, and certainly the areas where there's greater risk. That includes prisons and jails, it includes homeless shelters, and certain other congregate settings, as well, will be part of the prioritization for phase one," Chokshi said at the time. (Phase one is broken down into three sub-phases, meaning a group's inclusion does not necessarily indicate it will receive vaccinations from the first tranche of doses.)
But since that time, preparations for other groups that had fallen under the state's latter phases to receive the vaccine -- like members of the NYPD -- are underway, while spokespeople for de Blasio and the city health department say they are awaiting further guidance from the CDC and the state on how to treat people behind bars and the guards who interact with them.
The latest CDC recommendations place high-risk non-health essential workers, including police officers and firefighters, in the second round of distribution. According to state budget director Robert Mujica, who is part of the team developing New York's vaccination plan, as of December 21 New York only had enough doses to inoculate a quarter of the roughly 2 million people who fall into the first category of eligible recipients -- "healthcare professionals, congregant care and nurses," he said at a press briefing with the governor.
Yet, members of the NYPD, an agency that has also suffered a significant number of casualties to the virus, may become eligible to receive vaccines this week, according to a memo recently obtained by the New York Post. The timeline leaves questions about when many other groups that have been designated top or high priorities will have access to the life-saving regimen.
A City Hall spokesperson said the police department may not be included in the first round of vaccinations, despite the memo, if the state does not approve it, the Post reported.
"When we have the prioritization for the next category then we'll communicate that to the public and come up with a process for individuals to have access," Mujica said at a December 21 press briefing with the governor.
New York State has received approximately 550,000 doses of vaccines developed by Pfizer and Moderna. By Monday, over 140,000 had been administered statewide, according to the governor's office.
"We're now talking about who's getting vaccinated, and let me be clear: there is no politics in the vaccination process," Cuomo said in a December 21 statement. "This is entirely done by medical professionals and our hospitals have already vaccinated more people than any state in the nation."
"There are so many people who need this vaccine. We are going to move very, very quickly to get that vaccine to everyone who needs it," de Blasio said at a December 23 press briefing.
Advocates say that incarcerated populations living in close quarters need to be expedited for vaccines, and that parole should be pursued more vigorously, especially for the system's aging population. A coalition of advocacy groups, has called on the governor "to ensure vaccine priority for all vulnerable people, including New Yorkers behind bars."
"While Governor Cuomo has condemned the federal government for ignoring communities of color in the national vaccine distribution plan, he must not ignore immigrant New Yorkers in ICE detention or incarcerated New Yorkers, who are disproportionately Black and Latinx," the coalition, which includes RAPP, Center for Community Alternatives, HALT Solitary Confinement, and the New York Civil Liberties Union, wrote in a statement.
Earlier this year, Cuomo ordered the release of people incarcerated for low-level non-violent convictions who were within three months of the end of their sentence, as well as those locked up for some low-level parole violations, and some pregnant and postpartum women. As of late November, roughly 3,100 people had been released under the orders. Working with local officials including district attorneys, de Blasio made a set of decisions related to those in city jails, allowing more than 1,600 to leave detention between March and April, many of whom were being held pre-trial. By November, however, the city jail census had grown by another 860.
Approximately 8,181 people incarcerated in state detention facilities are over the age of 50, according to DOCCS. A press release from RAPP, Center for Community Alternatives, and others states that over 4,000 people total are currently eligible for parole, and more than 6,500 are within a year of their maximum sentence or up for release on good behavior, including five women with infants and one pregnant woman. DOCCS could not immediately confirm these figures.
While the NYPD and FDNY are forging ahead with plans to distribute vaccines to their members amid ongoing discussion at the city and state levels, a spokesperson for the city Department of Corrections said they were not aware of similar steps being taken in correctional facilities. "We have our covid plan in place and once we receive sign off from the state of any new plans for a vaccine then we will of course switch gears," the spokesperson said.
Officials at city and state health departments say they have not made any final decisions on where incarcerated people and facility staff fall in the vaccination line-up, and have not given details on the timeline for when they might receive vaccines (or even when a decision will be made). Some state lawmakers and advocates for incarcerated people have been pushing for details to no avail.
"Unfortunately, I have not heard from either the City or the State about their vaccination plans for incarcerated individuals," wrote Bronx Senator Gustavo Rivera, chair of the state Senate's health committee, in an email to Gotham Gazette. "It is critical that those individuals in correctional facilities are vaccinated imminently."
"Science and sound public health policy point to what we already know: all persons living and working in congregate settings in New York, including those incarcerated in correctional institutions, should have access to COVID vaccines as soon as possible," said Manhattan Assemblymember Richard Gottfried, who chairs the Assembly's health committee.
"COVID doesn't distinguish or discriminate between different kinds of congregate settings, and neither should the State of New York," he added.