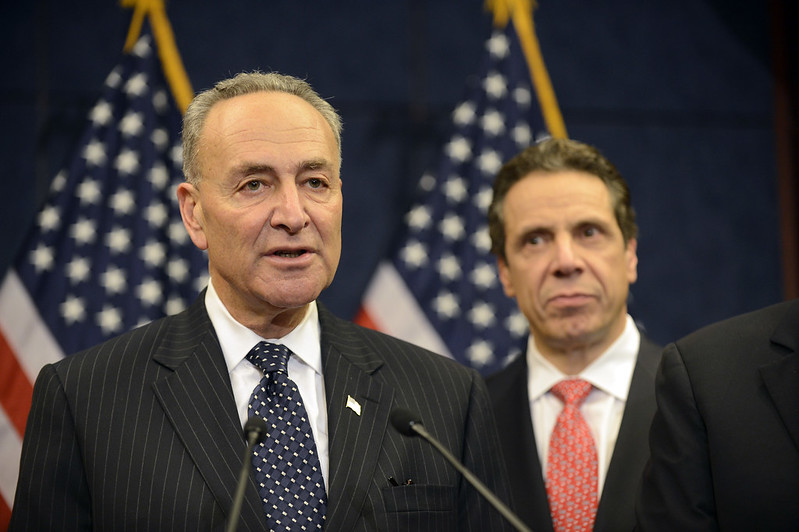 U.S. Senator Chuck Schumer (photo: governor's office)
---
With Democrats poised to win both seats in the Georgia United States Senate runoffs, Senator Chuck Schumer of New York is poised to be one of the most influential elected officials in the country, with enormous implications for his home state and city. After four years leading the minority conference, Schumer is on the verge of being able to set the agenda in the Senate under Democratic President-elect Joe Biden and in partnership with a Democrat-controlled House of Representatives under Speaker Nancy Pelosi.
After the November general election, Democrats held 48 seats in the Senate to Republicans' 50, with the two seats in Georgia undecided. In the runoff election that concluded January 5, Democrat Rev. Raphael Warnock was declared the victor on election night against Sen. Kelly Loeffler while Democrat Jon Ossoff leads against Sen. David Perdue by one point. Though there are votes that remain to be counted, most are from Democrat-heavy counties and Ossoff is expected to prevail. With the two parties holding an equal number of seats, the vice president -- soon to be Kamala Harris -- would cast the deciding vote on anything deadlocked before the Senate.
On Wednesday morning, Chuck Schumer declared himself the next U.S. Senate Majority Leader. If that declaration holds, it will be the culmination of a long and ambitious political career for the Brooklynite who was a member of the U.S. House of Representatives and New York State Assembly before being elected to the Senate in 1998. And it will likely be an immense boon to his home state and city, which are in desperate need of aid from the federal government stemming from the coronavirus crisis and several crises and challenges that pre-date the pandemic.
"President-elect Biden and Vice President-elect Harris will have a partner who is ready, willing and able to help achieve a forward-looking agenda and deliver help and bold change to the American people," Schumer said in a Wednesday morning statement.
The Democrats' likely one-party rule over the federal government is what New York and other 'blue' states have been hoping for after suffering a barrage of punitive domestic policies under President Donald Trump, the outgoing Republican president who has governed with an especially heavy focus on politics and appeared largely indifferent to the spread of and suffering under the COVID-19 pandemic. Starting with additional federal aid to shore up state and local government budgets, more funding for mass transit, and additional economic recovery stimulus, New York is looking for a new federal approach on everything from taxes to housing to transit to immigration. And in Schumer, the state and city will likely have one of their own at the helm.
"This was a very, very big win for the Democratic Senate and it bodes well for the state of New York," said Governor Andrew Cuomo, a third-term Democrat, at a news briefing on Wednesday as he congratulated Schumer on becoming majority leader. "Washington has abused New York State for four years, and that is not rhetorical."
"Brooklyn's own, New York City's own Chuck Schumer could not be better for this city and for this nation and Chuck Schumer working, of course, with Vice President Kamala Harris will lead the Senate and allow us to finally get the support we need to fully recover and move forward as a city, as a nation," Mayor Bill de Blasio, a second-term Democrat, said at his daily news briefing on Wednesday, where he said he was "feeling bubbly." "Senator Schumer has been tenacious defending the interests in New York City. He feels New York City in his heart, in his soul but he's also been a great leader for this whole country."
At a time when factions of the Democratic Party are often at war with each other – moderates like Pelosi continue to clash with progressives like the representatives of "the squad" and its New York co-founder, Rep. Alexandria Ocasio-Cortez – Schumer has shown himself as somewhat adept at accommodating the left, which has an especially active presence right in his backyard, and evolving to meet the wants and needs of a diversifying party. Though he was once a tough-on-crime and pro-Wall Street centrist, he's also been a staunch liberal on social issues and has more recently come to embrace the party's progressive wing, at least to an extent — the true measure may be how he navigates the upcoming waters in a new position of such great powers. Schumer remains popular in his home state, where he makes a concerted effort to visit every county and focus on local issues. He has a ubiquitous presence, speaking at college graduations and inaugurations for local elected officials, holding Sunday press conferences on quality-of-life issues, and popping up at fairs and other events. Schumer lives and breathes politics and has always played both the short and long games of garnering press attention and setting himself up for career advancement.
"Chuck is really in the driver's seat, both in the Senate and in his influence with the new administration," said George Arzt, a veteran Democratic consultant in New York. "Chuck is knowledgeable, has been around for a long time, knows the Senate backwards and forwards and is probably one of the few top officials who never forgot his roots."
Challenges lie ahead, however, for the likely next Senate majority leader. He will have to corral the ideologically divergent members of his own party just for the bare minimum of votes to pass legislation. "Everyone is going to have their hand out and rightfully so," said Dr. Christina Greer, political science professor at Fordham University. "The beauty and the curse of the Democratic Party for Chuck Schumer is that it is incredibly diverse in all senses of the word. And so he's going to have to negotiate all of the different shades of blue and all the sometimes competing interest from within the party."
Biden, Harris, Schumer, Pelosi, and their party have less than two years of runway to make an impact and hold their legislative majorities. Schumer is up for reelection himself in 2022 and, historically, the party and president in power tend not to fare well in the first midterm elections of a presidency. There's the vague threat of a primary challenge to Schumer, stoked by some on the left in New York who don't believe he has fought hard enough for major progressive causes like a Green New Deal and Medicare for All, neither of which he has endorsed. Ocasio-Cortez has been asked if she will seek to run against him and has repeatedly left the question open, though most political observers believe it is unlikely she would challenge him. He still may face a formidable primary opponent in the upcoming election, which will likely coincide with a fourth-term bid by Cuomo, a moderate known to attract a challenge from the left and whose fate is now far more intertwined with his home state senior senator.
Progressives have had their reasons to be skeptical of Schumer. He helped author the 1994 crime bill, voted for the Iraq war, supported the repeal of the Glass-Steagall Act in 1999 (a major New Deal banking regulation), and once supported building a border fence between the United States and Mexico.
Now, there are already progressive groups calling on Schumer to accede to their demands. Last month, members of the New York City chapter of the Democratic Socialists of America marched to his office to call on him to support a slate of progressive legislation, such as the Health Care Emergency Guarantee Act, a green jobs guarantee, and the Protecting the Right to Organize Act. On Wednesday, activist group Empire State Indivisible called on him to "deliver structural change commensurate with the moment."
"The road to recovery post Trump, amidst the raging COVID19 pandemic, must start with direct and immediate economic stimulus complete with critical state and local aid as well as a full commitment to passing Democracy reforms like HR1's For the People Act and statehood for the District of Columbia," the group said in a statement. "Senator Schumer must meet this historic moment with historic leadership. We will be watching to see if he is up to the job of leading us into a more progressive future. Our work has just begun."
Schumer has shown that he is willing to embrace some such progressive wish-list items, albeit at times in measured doses. For instance, last month, he stood with newly-elected Members of Congress Jamaal Bowman, Mondaire Jones, and Ritchie Torres to push for his plan to cancel up to $50,000 in debt for federal student loan borrowers. He also rallied with New York City Public Advocate Jumaane Williams, a hero of the New York left, and environmental justice groups to push for investment in green energy infrastructure.
"He's got great political instincts and he knows how to get consensus," said Arzt. "He's a person who knows the game and knows it well."
"I can't imagine anybody better," said Carol Kellermann, a friend and former staff aide to Schumer who has held a number of prominent roles in and out of New York government. "He's got boundless energy, he's got a great relationship with everybody in the caucus...If anybody is going to be able to marshal the troops to have a productive session, I think it's him."
An open question is whether Schumer will wield power with the same degree of political calculation as Republican Senate Majority Leader Mitch McConnell, whom Schumer is planning to succeed. Progressives have pushed Schumer to eliminate the legislative filibuster so they can pass bills with a simple majority, but he has so far been noncommittal.
"Democrats tend not to be good at offense. Republicans are great at it," said Greer. "I'm curious to see how long it will take Chuck Schumer to recognize that he needs to take power and take charge and set an agenda and be ruthless for the American people the way Mitch McConnell was ruthless against the American people."
For New York, the chief concern at the moment is another stimulus package that delivers billions in government aid. The state needed as much as $59 billion over two fiscal years to cover costs for state and local governments and, crucially, the Metropolitan Transportation Authority (MTA), which alone needed $12 billion to stay afloat and not make major cuts to subway, bus, and commuter rail services. The agency received $4 billion in the latest stimulus package, leaving it with an $8 billion hole.
Schumer has shown a deep concern for the MTA, as well as for broader infrastructure funding for New York including projects like the Gateway Tunnel, buoying the hopes of transit advocates.
"The Georgia Senate runoff results are shaping up to be very good news for public transit riders in New York and across the nation," said Betsy Plum, executive director of Riders Alliance, an advocacy group, in a statement. "With Brooklyn's own transit champion Senator Chuck Schumer as likely majority leader, riders look forward to winning more COVID aid and equitable investment in our common infrastructure. We are eager to work together to get public transit back on track and realize its potential to help meet the country's pressing needs for climate and racial justice."
Brooklyn City Council Member Brad Lander, in an interview last month, noted that the MTA has long been underfunded by the federal government and Schumer has always "doggedly" fought for it. "Having somebody from here who rides the subway, who knows that we have to save it, and who has a track record and a history of fighting for it, that's very valuable for New York."
Schumer has promised to advance legislation to provide another $2,000 in direct individual aid, which is sorely needed in New York at a time of high unemployment and an eviction crisis looming. Democrats could not convince Republicans in the Senate to approve more than a $600 payment in the recent, months-in-the-making round of stimulus and campaigned in Georgia on the promise of providing more should they win.
"I think his goal will be to hit the ground running, get the $2,000 checks passed," said Kellermann, noting that the funding was first championed by progressives but supported by moderates as well. "And that's kind of the best way to resolve the differences is to get everybody to work together in the beginning, at least on things that are acknowledged to be necessary...and things that everybody would agree on and kind of build bridges."
Schumer confirmed as much during a brief press appearance in Washington, D.C. on Wednesday, where he discussed the Georgia results and his likely ascension before heading into what promised to be a long and arduous process of finalizing the electoral college votes to put the final stamp on Biden's victory over Trump and turned into a day marred by a violent, pro-Trump insurrection at the Capitol, spurred on by the outgoing president himself.
"One of the first things that I want to do when our new senators are seated is deliver the $2,000 checks to the American families," Schumer said Wednesday. He added that he was not ready to get into further specifics, but that he was looking forward to seeing the certification of the presidential election as well as the Georgia runoffs, the seating of the new senators, and the transition of power on the presidential and Senate levels. "I'm excited," Schumer deadpanned in typical fashion.
"I was sitting at home in Brooklyn, watching my television," he told reporters when asked when he realized he was likey going to be the next majority laeder, "and at about midnight, having talked to Ossoff about three or four times and Warnock several times, I realized that even though he was behind then by about a couple of thousand votes, that all the votes that were coming in were going to be Democratic votes and the odds were very, very high that he would win. And wow, who would have thought? As I said, this is not the path we chose to get here, but we're here."
Of course, Schumer's ascension means that he will have to negotiate with up to 99 other members of the Senate as well as House and White House leadership on issues, spending, and legislation affecting the nation. New York's agenda may naturally fall more to the state's junior senator, Kirsten Gillibrand. "It's always good when we have someone at the table, but for local issues, I think that makes Kirsten Gillibrand's plate a little bit more full," said Greer.
Ben Max contributed to this story.