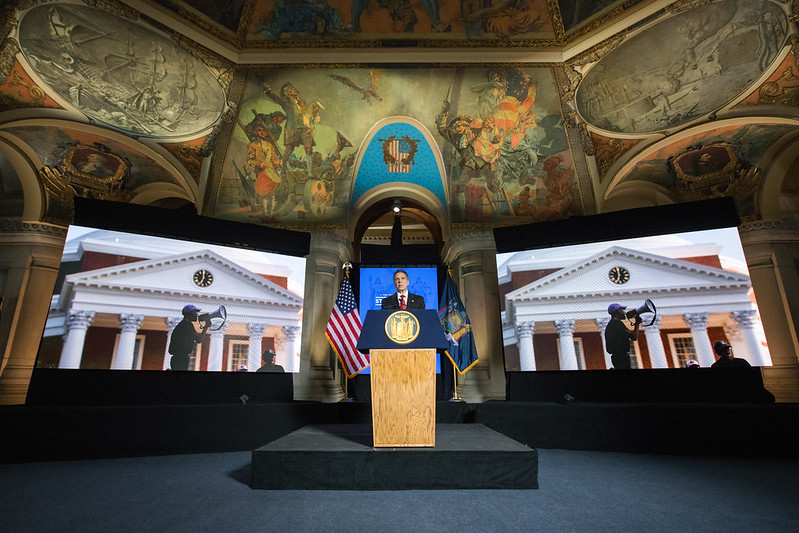 Governor Cuomo delivers his annual State of the State speech (photo: Darren McGee/Office of Governor Andrew M. Cuomo)
---
Governor Andrew Cuomo spoke like an army general rallying his troops as he delivered his first in a series of 2021 State of the State speeches on Monday, from the War Room of the state Capitol building in a virtual address necessitated by the ongoing coronavirus pandemic. Befitting its setting, Cuomo's speech was rife with metaphors of a state at war as he outlined a vision for a "post-covid reconstruction" of a "suffering" New York.
"Today I'm called on to answer what is in most years a straightforward question but at this time is anything but," he began. "What is the state of our state? Well, in some ways, it is like the state of the nation, and indeed the state of the world. We are hurt, we are frustrated, we are in mourning, we are anxious."
Repeatedly stressing the need for more federal aid to New York and expressing optimism about a Biden presidency with a Democratic Congress, Cuomo presented an overarching seven-point plan that entails beating the pandemic, vaccinating New Yorkers to achieve herd immunity, filling the state's large budget hole, planning an economic revival, promoting a transition to green energy, preparing for a post-covid society, and addressing the historic social, economic, and racial inequities laid bare by the coronavirus. The speech was the first of four that Cuomo will give this week, with each focused on a different theme.
"All of these plans must move forward simultaneously," Cuomo said. "It will be hard. It will be the greatest test for government since we mobilized to fight World War II. It will be the greatest opportunity for advancement since post-World War II."
Cuomo reiterated several specific proposals that he had previewed over the last week, re-upped some from previous years, and presented a number of new plans. Chiefly, he emphasized the need to improve the state's health care system. "We must realize that it is time for an entirely new way of thinking of our public health system. Our nation's public health system was just not prepared for this," he said, without accepting any responsibility for the state health system's own failures.
He urged the Legislature to pass the Medical Supplies Act that would incentivize companies to manufacture supplies in New York, and said that the state would give them priority when purchasing supplies. "Our nurses and doctors were heroic but our country couldn't provide them with enough masks and gowns. It was like sending soldiers into battle without bullets," he said.
He also proposed a series of legislation to expand telehealth services, including requiring Medicaid reimbursements for telehealth services by removing location requirements, interstate licensing reciprocity for Northeast states, eliminating in-person evaluation requirements for mental health and substance use disorder services, requiring that all commercial insurers provide telehealth programs, requiring insurers to create virtual emergency department platforms, and new programs for telehealth awareness and training.
The proposals were recommended by the governor's Reimagine New York Commission, which he created last year to focus on the state's digital divide, access to health care, and jobs in an increasingly digital economy.
Recognizing the herculean effort that will be required to vaccinate the state's 19 million-plus residents, Cuomo announced a massive expansion of distribution with thousands of sites across the state. He will also launch a New York State Public Health Corps, partnering with Cornell University and Northwell Health to hire and train 1,000 fellows who will work for a year to coordinate the state's vaccination program. He also announced a free online training program, aiming to certify 100,000 volunteers statewide so that they can assist in future public health emergencies.
One of the most significant obstacles the state faces in the short term is what Cuomo says is a $15 billion budget deficit for the current fiscal year caused by the coronavirus. In his speech, Cuomo placed the blame squarely on the federal government, railing against both its inaction during the pandemic and its policies that he says have forced New Yorkers to pay more taxes, specifically the cap on deducting state and local taxes (SALT) from federal taxes, which he said cost residents $30 billion over three years though that number has long been in dispute.
"New Yorkers were called on to flatten the curve created by federal failure. New Yorkers cannot now be asked to pay the financial bill for federal incompetence," he said, while repeating his monthslong calls for a federal aid package that directly fills the state's tax revenue hole created by the shutdown of economic activity due to covid.
Cuomo said that if the federal government needs funds to send to New York it should raise taxes on the wealthy, an argument meant in part to undercut the growing push for New York state tax increases, which Cuomo has opposed, arguing without evidence that such tax increases would cause significant flight among the rich to other states.
The most recent covid aid package passed by Congress did include many billions of dollars for New York, including a second round of bailout funds for the beleaguered Metropolitan Transportation Authority (MTA). And even if it did not directly earmark money to plug the state government's budget hole, much of the funding appears likely to have that effect, by replacing state aid to localities, though the governor has yet to acknowledge that. Cuomo's executive budget for next fiscal year, which begins April 1, is expected in the coming weeks.
The governor did on Monday outline several measures to raise revenue including legalizing the recreational use of marijuana for adults and allowing state-sponsored mobile sports betting.
He also expressed confidence that the Biden administration and Democratic Congress will repair damage done under President Donald Trump. "We expect SALT to be removed from our wounds fully and quickly and we expect to be compensated for our economic loss. We expect basic fairness from Washington," he said. Cuomo has had a long-standing close relationship with Biden and New York's senior U.S. senator, Chuck Schumer, is expected to be the new Senate Majority Leader, both of which many expect to help New York's fortunes immensely.
Cuomo is known for proposing splashy infrastructure investments at his State of the State speeches and on Monday, he promised to launch "the most aggressive construction and transportation development program in the United States of America." He announced that the state will enter into a public-private partnership with Brookfield Property Group to extend the High Line on the west side of Manhattan from 10th Avenue and 30th Street to the recently-opened Moynihan Train Hall one avenue over.
Preparing for a post-covid economy, he said the state would invest in making broadband more affordable and that he intends to make New York the "green energy capital of the world" by building new renewable energy infrastructure, expanding manufacturing capacity, and training thousands of workers for the green economy. Details were limited -- the governor typically puts out a policy booklet then actual legislation with much more information than is in his speech and those are expected at some point -- and the state's broadband effort, much like New York City's, is well behind previously announced promises.
Though he only mentioned it in passing in his speech, the governor earlier unveiled a set of election reforms including extending early voting hours, allowing voters to request an absentee ballot 45 days before an election rather than 30 days, and mandating that absentee ballots are processed as they are received and are counted starting on Election Day, as opposed to the current weeklong wait. The Legislature appears ready to move on those reforms.
Cuomo has also promised to urge the Legislature to pass a second resolution to allow no-excuse absentee ballots, following a resolution that was approved last year. The proposal would amend the state constitution and would have to be approved through a ballot referendum in the general election this year. The governor had in essence created such a system under emergency powers during the covid crisis, allowing for massively expanded absentee balloting.
Though he proposed no new ideas, Cuomo did speak of police reform and public safety, noting that municipalities have only weeks left to submit plans to reform policing that he mandated by executive order after the Black Lives Matter protests last year. But he also linked the issue with the state's recovery, taking a shot at New York City, which saw shootings dramatically increase last year. "There can be no economic revival without effective public safety," he said. "This is especially true for our cities. If the attractions of a city are reduced and crime is increased, urban decline is inevitable."
In sweeping nonspecific terms, Cuomo offered other fixes as well. He pledged rent, eviction, and mortgage relief for renters, homeowners, and small businesses. He noted the struggles of undocumented New Yorkers, who have not received covid aid, and their families, saying "The Federal government should provide these undocumented New Yorkers with hardship funding, and if they won't do it they should at least allow New York to do it."
The governor didn't mention several proposals that his office released over the last week -- he often doesn't list every plank of his policy agenda, and he has three more speeches this week to go. He has proposed reforms to the Department of Health's Office of Professional Medical Conduct, which oversees state-licensed physicians, and intends to introduce bills mandating stronger discipline for misconduct and to reform the investigation and hearing process. Other bills would create new renewal requirements for state licenses and provide the public with information on state-licensed professionals and ongoing investigations. Cuomo also proposed legislation that would give nurses in the state priority admission to CUNY and SUNY programs.
Another State of the State proposal would ban utility companies from disconnecting services during a state of emergency. The bill would cover companies that provide electric, gas, water, telecommunications, cable, and internet services.