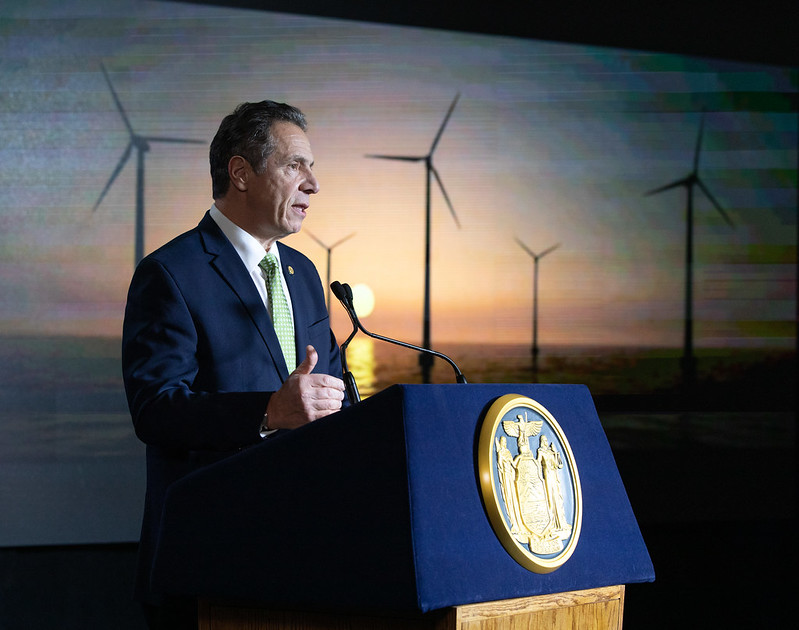 (photo: Mike Groll/Office of Governor Andrew M. Cuomo)
---
Governor Andrew Cuomo delivered his third of four planned State of the State speeches this week on Wednesday, detailing a strategy to fuel the state's recovery from the coronavirus pandemic with a green energy infrastructure and jobs program.
The transition to a green economy is a part of Cuomo's broader 2021 State of the State agenda that he unveiled on Monday and has elaborated on in subsequent speeches. On Tuesday, he outlined an economic recovery plan that includes a mass rapid testing program to help people get back to work and for businesses to reopen safely, investments in arts and culture, a proposal to mandate affordable broadband internet, workforce development programs, and conversions of underused commercial spaces into affordable housing.
In Wednesday's speech, Cuomo emphasized that the post-covid economy presents the perfect opportunity for the state to tackle the looming threat of climate disaster while creating jobs for New Yorkers. "As the world economy resets and as change is a necessity, there's an opportunity to raise our efforts to the next level and New York should seize this moment," he said. "We can establish ourselves as the nation's leader for renewable energy, innovation and production, and we will secure the jobs of the future right here at home for New Yorkers."
He laid out a four-part plan that includes construction of green energy projects, building manufacturing capacity for green technology in the state, developing energy transmission capacity, and training the workforce for green jobs.
"All four elements must be simultaneous and synchronized in order to achieve scale in a viable system," he said. He estimated that the entire green energy program would create 12,400 megawatts of green power for 6 million homes, directly lead to 50,000 jobs and invite $29 billion in private investment across the state, though he did not specify over what timeline. "Green energy is a prime economic opportunity and a pressing moral imperative," he said.
Though he did not specifically mention the state's Climate Leadership and Community Protection Act, passed in 2019 as a version of a Green New Deal for New York, the projects and goals Cuomo discussed on Wednesday appear to be in keeping to the provisions of that law.
The governor also reiterated the urgency of addressing the historic racial and social inequities exposed by the "low tide" during the coronavirus. He spoke of ameliorating the environmental racism that has led to higher polluting industries being situated in communities of color, leading to disproportionately worse health outcomes and, consequently, higher death rates from COVID-19. Though he insisted that new green energy projects would meet inclusion targets for Minority- and Women-Owned Business Enterprises (M/WBEs) to benefit communities of color, he did not offer any concrete solutions for environmental injustice. "We want to make sure economic opportunity reaches all New Yorkers. The tide must lift all boats and environmental justice must be done," he simply said.
Cuomo announced a massive $26 billion public-private partnership to construct nearly 100 renewable energy projects. Of those, he said 68 are already underway, as he announced another 24 new projects. "These projects will not only create power, but bring needed economic opportunity to struggling parts of our state," he said, promising an accelerated siting process and the creation of about 11,000 jobs in upstate New York.
He detailed several new projects including two massive offshore wind farms, the country's first offshore wind tower manufacturing facility which will lead to 500 construction jobs and employ 300 high-skilled workers, and an offshore wind turbine hub at the South Brooklyn Marine Terminal which will lead to 1,200 jobs.
The combined offshore wind and land-based renewable projects, Cuomo said, will reduce carbon emissions by nearly 16 million metric tons annually, and bring in the $26 billion in investment and create more than 17,000 "good-paying" jobs.
Cuomo said the "single greatest stumbling block" to a green energy economy has been the challenge of setting up transmission lines between upstate regions where energy is produced and downstate where it is most needed. In his speech, he announced a competitive bidding process for three new transmission projects to build a green transmission grid. "We're asking the market to come up with creative solutions," he said. He also unveiled three new transmission projects that will break ground this year and a "state of the art" battery storage facility in Franklin County in Northern New York which is under construction.
Cuomo's plan wouldn't be complete without workers to serve the new budding industries the state and the private sector will invest in. He announced a $20 million program for a new offshore wind training institute at SUNY Stony Brook and Farmingdale State College, which will certify and train 2,500 workers this summer. He promised that new green economy jobs would also come with prevailing wage requirements and project labor agreements.