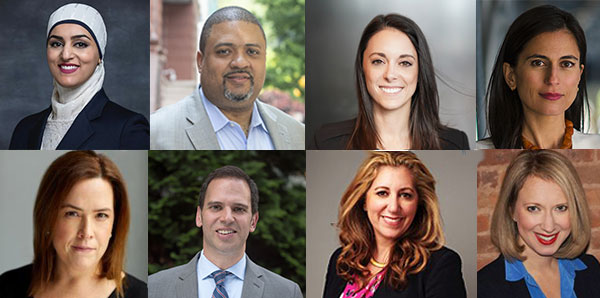 Top (l-r): Tahanie Aboushi, Alvin Bragg, Eliza Orlins, Tali Farhadian Weinstein
Bottom (l-r): Liz Crotty, Dan Quart, Diana Florence, Lucy Lang
---
It seems more and more likely that Manhattan District Attorney Cy Vance will not run for reelection as he has not fundraised for his campaign even as a crowded field of Democrats is seeking the party's nomination in the June primary. The eight candidates running active campaigns and Vance all just filed their latest mandatory campaign finance disclosures, showing their fundraising and spending for the last six months and setting the stage for the final five months before the all-important primary vote.
The winner of the primary in heavily-Democratic Manhattan is all but certain to become the next New York County District Attorney.
Vance, a third-term Democrat, has just $4,193 in his campaign account, according to his latest filing – he raised $2,022 in the last six months and spent only $3,247. Though he has been a progressive in some ways, he has faced criticism for declining to prosecute wealthy defendants and mishandling other high-profile cases, and has also been entangled in campaign finance scandals that seemed to deter him from running again.
The eight Democrats attempting to replace him are civil rights attorney Tahanie Aboushi; former Principal Deputy State Attorney General Alvin Bragg; former Manhattan Assistant District Attorney Liz Crotty; former Manhattan Assistant District Attorney Diana Florence; former Manhattan Assistant District Attorney Lucy Lang; public defender Eliza Orlins; Assemblymember Dan Quart; and Tali Farhadian Weinstein, the former general counsel to Brooklyn District Attorney Eric Gonzalez.
Weinstein, also a former state and federal prosecutor, has far surpassed the rest of the field, raising $2.26 million and spending about $628,000, leaving her with $1.6 million in cash on hand as of the filing. She has received significant funding from wealthy donors. For instance, 11 donors each gave her $35,400 and another four donors gave $35,000. Of the more than 2,000 contributions that she received, her campaign said that more than 1,700 were of $200 or less.
The Manhattan District Attorney race operates under state election and campaign finance laws, not those of New York City, given it is technically a state position.
Bragg is in second place in fundraising, having raised $1.33 million overall since he launched his campaign in 2019 and having spent about $249,000. He has about $1.07 million in cash on hand as of the filing. In just the last six months, he raised about $578,000 and spent only about $97,000. His campaign said he received 3,889 donations, and claimed that he is the only candidate that hasn't received contributions from corporations.
Assemblymember Quart, who was one of the earliest candidates to jump into the race, has raised about $488,000 and spent about $272,000. But he's also transferred about $765,000 from previous state and city campaign accounts, which means he had about $940,000 in cash on hand at the filing, putting him almost on par with Bragg.
Lang has raised $716,000, spent about $134,000, and had about $533,000 on hand as of the filing. Her campaign said she had about 900 donors, 80% of whom gave less than $250.
Orlins, a criminal defense attorney with the The Legal Aid Society, has overall raised just under $600,000 and spent about $163,000. She had about $407,000 left as of the filing. Her campaign boasted of broad grassroots support, claiming to have received more than 7,300 individual contributions, with roughly 3,770 contributions in the last six months alone. Her campaign estimated that more than 95% of contributions were of $100 or less.
Aboushi has raised a total of about $771,000, of which $346,000 came in the latest filing period when spent about $153,000. She transferred a balance of about $367,000 from a previous campaign account which was transitioned to a narrower committee account for public reporting purposes, her campaign said. She had about $561,000 on hand as of the filing. Her campaign noted that she received 2,377 contributions, 87% of which are under $200.
Florence has raised $355,000 overall and spent about $132,000. She had about $238,000 in cash on hand as of the filing. She has also refused donations from corporations and real estate developers. Crotty has raised just under $280,000, spent $108,000 and had about $166,000 on hand at the filing.
Note - this article has been updated to provide clarity about Aboushi's campaign transfer from a previous account.
Note - this article has been updated to note that Diana Florence is also not taking corporate donations or those from real estate developers.