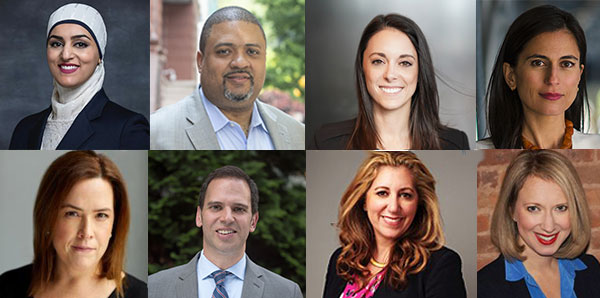 Top (l-r): Tahanie Aboushi, Alvin Bragg, Eliza Orlins, Tali Farhadian Weinstein Bottom (l-r): Liz Crotty, Dan Quart, Diana Florence, Lucy Lang
---
The eight candidates running in the 2021 Democratic primary for Manhattan District Attorney convened virtually on Thursday for a panel discussion to offer their plans for a reimagined District Attorney's office. While all the candidates are talking about extensive reform, some want to go far further than others, and the candidates' resumes inform those distinctions and, in combination, offer significant differences for voters to choose from in the upcoming June primary.
The candidates are running to succeed Manhattan District Attorney Cy Vance, a Democrat who was first elected to the post in 2009 and has not declared whether or not he will run for reelection, but has not appeared at early events or begun significant fundraising with under five months until primary day. Thursday's forum — hosted by the Benjamin N. Cardozo School of Law chapter of the National Lawyers Guild and the Floersheimer Center for Constitutional Democracy — allowed each of the candidates to highlight their experiences and key objectives, revealing differences among them as they moved through topics including bail reform, discovery reform, the 2020 increase in shootings in Manhattan, and plans for holding members of the NYPD accountable, among other topics.
The candidates participating in the forum, all eight of the Democrats running active campaigns, included: civil rights attorney Tahani Aboushi; former Principal Deputy State Attorney General Alvin Bragg; State Assemblymember Dan Quart; public defender Eliza Orlins; Tali Farhadian Weinstein, the former general counsel to the Brooklyn District Attorney and a former federal prosecutor; and former Manhattan Assistant District Attorneys Liz Crotty, Lucy Lang, and Diana Florence.
Perhaps indicative of the turn of the calendar into 2021 and the rapidly-approaching vote, several candidates appeared somewhat more pointed in talking about their competitors or trying to differentiate themselves to voters.
Throughout the conversation Bragg led with his upbringing in Central Harlem to differentiate himself from the pack, highlighting his personal experiences with drug-related violence, police brutality, and the prison system. He additionally pointed to his management experience overseeing 12,000 people while working at the attorney general's office.
"We've heard people talk about community partnerships, about their clients, about their legislation. This is my life," Bragg said. "I'm the only one here who has lived an entire life in a neighborhood that's been overpoliced, Black and brown folks have been my neighbors, my family, my loved ones my entire life — so I've paid bail, I've woken up in the middle of the night with collect calls from prison. I've lived this."
As they have throughout the race, Aboushi and Orlins took the most progressive and far left stances, including when, in response to a yes or no question, they were the only two candidates to support cutting the NYPD budget by half. Aboushi called for overarching reforms to dismantle the prison industrial complex and hold police accountable. She also pointed to running a community-led campaign as an indication of how she would manage the district attorney's office.
Orlins made efforts to juxtapose her career as a public defender with the prosecution records of the other candidates.
"I'm the only public defender in this race and I'm the only one with both the authentic commitment and the experience to transform this system," Orlins said. "The difference between me and everyone else in this race is clear. Anyone can recite progressive talking points. I hope that you'll all look beyond the answers in this forum and look at who has walked back policies after being criticized by public defenders, look who is endorsed by prosecutors who have locked up children of color using gang conspiracy laws and led to their deaths."
Florence presented herself as the candidate for the working class, pointing to her career of prosecuting crimes of power and holding the wealthy accountable.
"In choosing your next DA comes ultimately down to the work and who can get the job down," Florence said. "My vision comes directly from my work because I've done it. More than a dozen labor unions have endorsed me because they know that no one in this race has my record of standing up to power and there is no one who has fought harder on behalf of working people."
The forum started with a discussion of New York's major bail reform passed at the state level in 2019 and subsequent partial rollback in 2020. Lawmakers had eliminated cash bail for 90% of low-level arrests, drastically reducing the number of people held in jail before trial. Certain violations were re-added to the list of bailable offenses in changes made last year, drawing the ire of some reformers, including several of the candidates for Manhattan District Attorney, though not going far enough in the other direction for many law enforcement officials and more moderate or conservative critics of the changes made previously.
All candidates agreed on abolishing cash bail for misdemeanor arrests, however Crotty highlighted that the question of cash bail becomes more complicated when looking at defendants with established criminal records who may pose public safety risks.
"There comes a point when you have to look at what the scenario is. What is the rap sheet, what is the likelihood that they will come back to jail, what is the public safety risk? These are the questions that should really be asked of people," Crotty said.
Florence attempted in several ways to establish herself as a defender of the working class, including by pledging to work towards a system that would ask bail of the wealthy who have ample means to flee, while utilizing alternative pre-trial options for the majority of cases. She cited a text messaging system as the least restrictive cash bail alternative or electronic monitoring as a more restrictive choice. Farhadian Weinstein stated that ideally there would be no cash bail, but added that there did need to be a mechanism to hold people before trial who are a risk to others in the smallest number of cases.
"We must abolish cash bail; it doesn't make us safer. I've had clients in on $250 bail that may as well have been a million," Orlins said. "It simply should be for the purpose of assuring someone's return to court and we're being sold this false choice between public safety and incarceration."
Quart added that the current system of cash bail continues to disproportionately impact communities of color.
"If you don't end cash bail, if you ask for cash bail then you are going to allow for a system of judicial discretion and a dangerous standard," Quart said. "We know that these twin issues are the things that led to nearly 78% of people in Rikers Island being people of color."
The conversation quickly moved to discovery reform and the same pattern of sweeping change, followed by some rollbacks that occurred in 2019 and 2020 at the state level. The rollbacks allow prosecutors more time before turning over evidence against the defendant to their counsel. Previously, the prosecution was required to hand all evidence over to the defense within 15 days after arraignment, but the new legislation allows prosecutors between 20 and 35 days.
Lang, Florence, Farhadian Weinstein, and Crotty all advocated for open-file discovery, but voiced a need for utilizing protection orders for witnesses who may be put at risk through participating in the prosecution. Bragg, Orlins, and Aboushi all called for open-file discovery with extremely cautious use of protection orders, arguing that the orders are often abused by prosecutors looking to withhold evidence from the defense.
"We need to also talk about abuse of protection orders by prosecutors. I've seen that as a defense lawyer, I've seen that as a civil rights practitioner," Bragg said. "We have to talk about true public safety concerns and not let prosecutors abuse protection orders."
Starker divisions among candidates arose when asked about the Office of the Special Narcotics Prosecutor, an organizational quirk of New York City and, apparently, the only office of its kind in the nation. The office is responsible for prosecuting only narcotics offenses across the five boroughs and acts separately from the five district attorney offices. The office is known for a 'tough on crime' approach and wields a $25 million budget.
Crotty defended the Special Narcotics Prosecutor as vital and important, stating that it goes after big fish. She rejected the notion that the office pursues low-level drug crimes, the prosecution of which is often attributed as one cause of mass incarceration.
"Special Narcotics does not go after street dealers, that's not what they do. They go after the big top players in the drug industry on top of going after doctors who over-prescribe," Crotty said. "I think we have to look at how drugs work and where they're targeting their efforts. It's not as much on street crime as everyone likes to say. It's really looking from the top, from the doctors offices and looking at how drugs have infiltrated our city in different ways."
Aboushi and Bragg took a harder line against the office. Aboushi supports abolishing it and said she would remove the 57 Assistant District Attorneys employed there from the Manhattan DA's office. Bragg said the special narcotics office prosecutes kinds of cases that he would avoid and categorized narcotics as a public health issue. He added that a non-elected special narcotics prosecutor should not be handling those cases, the elected district attorney should.
"I am in favor of doing away with the Special Narcotics Prosecutor's Office and I would also withdraw my ADAs from that office," Aboushi said. It's just another layer of mass incarceration and prosecution that disproportionately falls on communities of color and one way to allow jurisdiction under the DA's office is to stop spending hundreds of thousands of dollars prosecuting poverty and issues that really belong from a public health department."
Another source of concern during the pandemic has been a roughly 100% increase in shootings in New York City in 2020 compared to 2019. Some, including NYPD Commissioner Dermot Shea, have connected the spike with bail reform, a claim that is largely unsubstantiated by the data. Mayor Bill de Blasio has blamed the shutdown of court trials, but that has also been debunked. The mayor has at times pointed to the broader social implications of the pandemic, disruptions to daily life, major loss of work, and other changes to patterns in the city, as a significant potential cause.
Weinstein called getting the shootings under control one of the top priorities of the district attorney. She advocated for cracking down on gun trafficking and for bolstering community resources to curb the issue. Florence, Bragg, and Aboushi joined in the call for investing in community resources to combat gun violence. Aboushi renewed calls to resist calls for throwing many more people in jail and instead focused on the NYPD budget.
"These statistics are alarming but we can't allow this to serve as an opportunity to maintain our systems of mass incarceration and mass criminalization of communities of color," Aboushi said. "We have to understand that these statistics are present while we have a recklessly bloated NYPD budget as well as a recklessly bloated district attorney budget. For those who are accustomed to falling back on the only thing they have been trained to do — police and prosecute more — we have to do something different. People need resources, we are in a pandemic where bad situations have only turned worse."
Crotty again separated herself from the pack by taking a more moderate stance, insisting that a key way to get guns off New York City streets is through the work of the NYPD. She argued that guns are coming into New York in private vehicles, making it necessary for properly trained NYPD officers to investigate the sources. She added that New Yorkers need to be clear that there will be serious consequences for illegal gun ownership.
Candidates also answered the question of how to approach prosecuting members of the NYPD. After members of the Minneapolis police department killed George Floyd, New York State passed the George Floyd Policing Act and New York City passed a law that went even further outlawing chokeholds by law enforcement, as well as other acts that could restrict a suspect's breathing. Police unions and their allies have strongly opposed that law, and District Attorneys in the Bronx, Queens, and Staten Island have indicated that in some cases they may not prosecute certain instances where the law might be violated incidentally or when an officer's life appears in danger, according to the moderator.
Bragg and Weinstein laid out plans to establish free-standing police accountability units that would report directly to them while Orlins and Aboushi highlighted their experiences going after police for misconduct.
Quart was the only candidate to call for bringing in an independent prosecutor to evaluate the facts of each serious injury case to determine whether or not an offending officer should be prosecuted. He argued that there is a conflict of interest between the district attorney's office and the NYPD given the two offices work in tandem on countless cases. Aboushi strongly disagreed with pulling in a special counsel and instead advocated for the district attorney's office handling the cases directly.
"I'm the only candidate here that has gotten officers terminated, disciplined, or criminally charged for their conduct and that's because I have the guts to do it and I put no badge or bank account above the law."
Crotty struck a different note on police accountability, highlighting both her experiences defending individual police officers and suing the NYPD in excessive force cases.
"I think we have to remember that NYPD are people," she said, "and they should be looked at as people and when they break the law they should be held accountable and they should be held accountable in every instance."
Candidates moved from police accountability to how to hold perpetrators accountable for racially-charged and racist incidents. In December, Miya Ponsetto was caught on camera tackling a Black teenager in a SoHo hotel after falsely accusing him of stealing her iPhone. After rousing public outcry, Ponsetto was charged with third-degree attempted robbery, grand larceny, acting in a manner injurious to a child and two counts of attempted assault. Similarly, in May, Amy Cooper called 911 on a Black bird-watcher in Central Park and falsely accused him of assaulting her. Cooper was charged several weeks later with filing a false police report. The moderator asked candidates how they would handle prosecuting incidents like these.
"I am a Palestinean Muslim woman in New York City. I know about hate crimes very well," Aboushi said. "Not only did Trump run on a platform of banning Muslims he tried it and we fought it. While I understand the pain, humiliation and frustration of hate crimes that are not only a process of the DA's office, but are actually widely accepted by people across this country as we've seen by the attack on the capitol, I am committed to decarceration. We can't incarcerate our way out of hate and we're not going to incarcerate our way to education. We need to invest in communities we need to promote education."
Bragg indicated more willingness to prosecute hate crimes and stated his belief that the district attorney's office could both charge offenders for hate crimes and still be committed to restorative justice.
"All of those cases came from a place of hate and need to be [prosecuted], but also in Manhattan," Bragg said. "We have to call hate hate and you can charge something and still have a restorative justice process, but if we don't document and call hate hate the next person who does it will be emboldened."
Florence cautioned that prosecuting hate crimes cannot be motivated only by public outcry, but must be proactively handled.
"Hate crimes need to be taken seriously and it can't be when its public outcry," Florence said. "When it comes to Amy Cooper the current DA waited six weeks to charge something we all saw within moments of it being posted on Twitter, so what we need to be doing is proactively making sure that if there is hate crimes that are committed that we do them quickly. We also need to be looking at the groups like the Proud Boys who have committed crimes ehre in Manhattan and not only going after the cases reactively after they've happened but looking at their underlying funding."
The forum also covered gender-based violence. The moderator said sexual assault crimes are among the easiest to get away with because victims are often afraid of reliving their trauma or not being believed, which results in underreporting. These crimes additionally are under-prosecuted, meaning low conviction rates, the moderator said, also pointing to high-profile cases in cluding Harvey Weinstein andn Jeffrey Epstein.
"Those cases are an example of how the current district attorney's office defers to power and created a concierge system of justice where certain people get a pass and others are over-criminalized. That's never been the way I have conducted myself," Florence said. "I am the only person in the race who has decades of experience prosecuting crimes of power and I have the most experience of doing the actual gender-based cases. I spent five years prosecuting domestic violence."
Aboushi was the only candidate to mention sex work in her answer to the question.
"I would stand with advocates to disband the NYPD vice unit that has used the guise of prosecuting and arresting sex work to meet quotas, to get overtime and to abuse their power and require secxal favors," Aboushi said. "Sex work is work and I will work to decriminalize sex work."