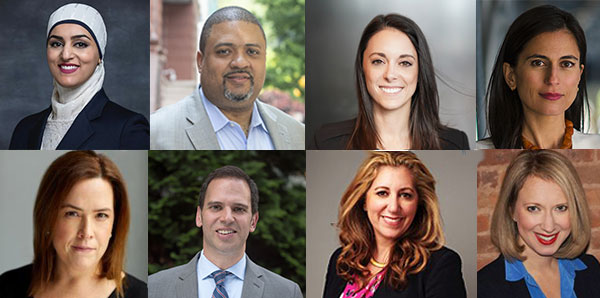 top (l-r): Tahanie Aboushi, Alvin Bragg, Eliza Orlins, Tali Farhadian Weinstein; bottom: Liz Crotty, Dan Quart, Diana Florence, Lucy Lang
---
Eight candidates are seeking the Democratic nomination for Manhattan District Attorney this year as it becomes increasingly likely that incumbent District Attorney Cy Vance, a third-term Democrat, will not run for reelection. As the candidates appeal to voters across a variety of platforms and appearances, outlining their resumes and plans for the office, they have been trying to draw distinctions about the support they are receiving ahead of the all-important June primary. These efforts also included how some touted recent fundraising totals at the mid-January filing deadline with the State Board of Elections.
A deeper look at the Manhattan District Attorney candidates' latest campaign finance reports shows a wide variance in contributions and contributors from Manhattan itself. The numbers help indicate what kind of support candidates are seeing in the borough they hope to represent as the top prosecutor and law enforcement officer.
While some candidates may have raised far more money for the race, the source of their fundraising is a different story. Some candidates have fewer but wealthier donors, while others have droves of small-dollar supporters. Some candidates' fundraising has largely come from donors within Manhattan, and yet others have far fewer contributors who are residents of the borough.
The eight candidates are former Principal Deputy State Attorney General Alvin Bragg; former Manhattan Assistant District Attorneys Lucy Lang, Liz Crotty, and Diana Florence; civil rights attorney Tahanie Aboushi; Assemblymember Dan Quart; public defender Eliza Orlins; and Tali Farhadian Weinstein, the former general counsel to Brooklyn District Attorney Eric Gonzalez and a former federal prosecutor.
The top fundraiser in the race has been Farhadian Weinstein, who worked under then-U.S. Attorney General Eric Holder and has received his endorsement. Weinstein has raised a whopping $2.26 million for the race in total. Of that, about $1.74 million, or about 77%, came from donors within Manhattan.
"In just six months since declaring her candidacy, Tali also raised more than previously collected by all other candidates, combined," said Jennifer Blatus, a campaign spokesperson, in a statement. "The fact that she has more support from Manhattanites than any other candidate shows that people living and working in Manhattan know Tali Farhadian Weinstein is the candidate who will deliver on justice and fairness, and – critically – safety to the borough."
But unlike the higher percentage of total money raised that came from Manhattan, as of the recent filing, Farhadian Weinstein had 2,361 donors, with 1,170 of them Manhattan residents, or about 49.5%.
Bragg is the next highest overall fundraiser, having pulled in a total of more than $1.33 million, of which about 58% or just over $770,000 came from Manhattan donors. But he also has vastly more individual donors, both in and out of the borough, topping out at 3,893 in sum, including 1,973 from within Manhattan, about 51%.
"We are excited by the energy, enthusiasm, and support we are building across Manhattan resulting in receiving more than 50% more donations from Manhattan than any other candidate, while being the only candidate to get 100% of our donations from individuals, and not a dime from corporations, police unions, or lawyers who have had a case before the Manhattan District Attorney in the last four years," said Richard Fife, a spokesperson for Bragg's campaign. "We are the only campaign that continues to grow, and every single day we are building the support we need to win this race to transform the Manhattan DA office to make us safer by ending racial disparities, increasing police accountability, and delivering one standard of justice for all."
Orlins raised nearly $600,000 for her campaign, of which about $163,000, or 27%, came from residents of Manhattan. Though she had the most donors of any campaign, an enormous 7,332, 1,294 were from Manhattan, or only about 17.6% (though still a slightly higher raw number of Manhattan contributions than Farhadian Weinstein). Orlins has something of a national following given she appeared on two seasons of the reality show Survivor as well as on a season of The Amazing Race.
"Because Eliza is publicly and fiercely committed to fighting for the people of Manhattan and overhauling a system that punishes the poor, communities of color, LGBTQIA+ people and so many others for simply existing, her message resonates with people across the country," said Daniel McNamara, Orlins' campaign manager, in a statement. "Manhattan can lead the way in implementing much-needed reforms in our criminal legal system, and people see that Eliza is the one to lead that charge."
Quart has accumulated more than $1.25 million for his campaign, much of which has come through transfers from previous city and state campaign accounts. In total, according to his campaign, about $690,000 or 55% came from Manhattanites. He had a total of 813 donors, and 512 were Manhattan residents, about 63%.
"We are extremely proud of the momentum our campaign is building," said a spokesperson for Quart's campaign. "Voters and donors from across Manhattan are joining Dan Quart, as they trust that as our next District Attorney, he will fight to protect all New Yorkers and dispense justice fairly by focusing the Office's resources on major offenses and violent crimes, while ending the unjust prosecution of low level offenses that all too often unfairly target the most vulnerable among us."
Aboushi has raised about $771,000 in total, including about $81,000, or only about 10.5%, from within Manhattan. Her total number of donors was not available on the state Board of Elections website and the campaign could not provide the number.
"In the last 6 months, the donations that we have received from Manhattan residents has been predominantly small-dollar contributions — unlike other people's mega Wall Street donors," said Carina Chacon, a spokesperson for Aboushi's campaign, in a message. "In fact less than 10% of them are over $200. All of this even as Tahanie is not accepting contributions from corporate PAC's, real estate developers, or law enforcement. These numbers are telling of Tahanie's fundraising efforts and the attention, both local and national, that our campaign is receiving."
Lang, who was also executive director of the Manhattan DA Academy under Vance and more recently led the Institute for Innovation in Prosecution at John Jay College of Criminal Justice, has raised more than $716,000 for her race, including nearly $369,000 from Manhattan, about 51.4%. She had 861 donors, of which 372 were from Manhattan, or about 43.2%.
"We are proud that in only five months our campaign has nearly doubled the first filing period of all of but one candidate and out-raised the majority of the field in this race, demonstrating a broad base of support among Manhattan residents and those most impacted by the justice system," said Matthew Koos, Lang's campaign manager, in a statement.
Florence has raised about $355,000, including nearly $163,000, or about 45.7%, from Manhattan donors. She had 620 donors and 207 of those, about 33.3%, were from Manhattan. "Our people-powered campaign is thrilled to have the backing of thousands of workers, neighbors, friends, and those who believe that this office for too long has had a concierge service of justice for the rich and powerful," Florence said in a statement. "Our donations speak for itself— more than half of our contributions came from small donors and a third came from labor. While some of my opponents' contributions come from monied interests such as big real estate and Wall Street, I vow to go after crimes of power, and stand up for every day New Yorkers who have been harmed and overlooked by this DA."
Crotty, who has for years since leaving the DA's office been practicing criminal defense work, has raised a total of about $279,000, of which just over $200,000 or 72% came from within Manhattan. She had 419 donors as of the recent filing, including 209 from Manhattan, about 50%.
"I think it's a testament to the solidity of our support," said Michael Oliva, a spokesperson in a brief phone interview. "Liz isn't running for special interests, she's not running to be the flavor of the month and she's not running for people who don't live in the city. She's running because she wants to ensure the safety and wellbeing of Manhattanites and their families. She's running because she'll make it her business to get justice for victims of crime. She's running to bring our city back from the ashes of the pandemic and to a better future. These are the priorities that she holds dear."
Asked about other candidates who had a smaller percentage of donations from Manhattan, Oliva said, "I think that it's not always about how much you raise but who gives you the money. And I think that when the majority of your contributions come from within the borough it shows that they people from within the borough are the ones who are responsive to your message. [Liz is] running to represent the people of New York County. She's not running to represent the people of Kansas or the people of California or Florida...It's really about where your support comes from in the long run."
The Manhattan District Attorney Democratic primary is in June, the general election is in the fall.
Note - this article has been updated with a statement from Diana Florence.