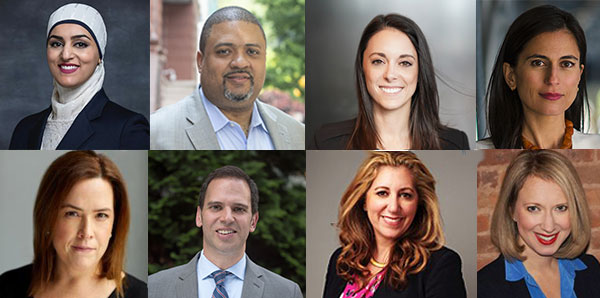 Top (l-r): Tahanie Aboushi, Alvin Bragg, Eliza Orlins, Tali Farhadian Weinstein; Bottom (l-r): Liz Crotty, Dan Quart, Diana Florence, Lucy Lang
---
All eight candidates currently running for Manhattan District Attorney gathered virtually last week for a reform-focused forum. The race to be Manhattan's top prosecutor is taking place as incumbent District Attorney Cy Vance has not stated whether he will seek reelection, but has not been raising money or making campaign appearances. All eight candidates in the running are, like Vance, Democrats, and plan to appear on the June primary ballot.
The event was hosted by a large coalition of progressive groups pushing for the next Manhattan District Attorney to bring sweeping change to the office to reduce its footprint and the number of New Yorkers who are prosecuted and jailed. The groups included Color of Change, Vocal-NY, New York Communities for Change, the Brooklyn Community Bail Fund, the Working Families Party, and Sunrise Movement NYC, among others. The moderators posed pointed questions, pressing the candidates for how they would change policies from the Vance administration, and drawing viewers' attention to the differences in what candidates were — and weren't — willing to promise. Questions were directed to select candidates instead of being posed to the whole field.
The candidates include civil rights attorney Tahani Aboushi; former Principal Deputy State Attorney General Alvin Bragg; State Assemblymember Dan Quart; public defender Eliza Orlins; Tali Farhadian Weinstein, the former general counsel to the Brooklyn District Attorney and a former federal prosecutor; and former Manhattan Assistant District Attorneys Liz Crotty, Lucy Lang, and Diana Florence.
In response to moderators' repeated requests for specificity, candidates leaned on their legal backgrounds, highlighting experience in handling complex cases and fighting for reform, sometimes from within 'the system' and sometimes from the outside. Bragg highlighted his work at the New York Attorney General's office, Weinstein her work at the Brooklyn District Attorney's office; Florence highlighted support she has from labor unions based on her work prosecuting wage theft cases while in the Manhattan District Attorney's office; and Lang focused on her work as a national criminal justice reformer, including in her recent position as Director of the Institute for Innovation in Prosecution at John Jay College of Criminal Justice, CUNY.
Aboushi directed attention to her work suing the NYPD and plans she has released for an arrest review unit and sentencing review unit. Orlins continued to highlight the cases she has worked as the only public defender in the race; Quart leaned upon criminal justice reform legislation he has helped pass during his years in Albany, and Crotty her work as both a prosecutor and defense attorney.
Aboushi and Orlins separated themselves early on in the discussion by being the only two candidates committed to cutting the Manhattan district attorney's budget by half. That budget stands at over $120 million per year.
Aboushi stated that she would decline to prosecute as many cases as possible and Orlins agreed, saying under her leadership almost no misdemeanor cases would be prosecuted. Orlins added that she would let go of prosecutors to help shrink the budget.
"A lot of the budget for the Manhattan DA's office was increased to actually handle criminal justice reforms and a majority of it went to data collection, IT enhancements, and more staff to prosecute," Aboushi said.
Aboushi added that she would disband the early case investment bureau and replace it with an arrest review unit, which would be focused on declining to prosecute cases instead of figuring out how to make charges stick.
The next question was addressed to Quart, Bragg, and Weinstein, who moderators said had in the past failed to say they would decline to prosecute cases that were built upon police-initiated efforts including "buy and bust" tactics where plain-clothes officers pose as customers to uncover and arrest street drug dealers.
"When I was growing up in Harlem my mom used to tell me if someone asked me where the drug location was on our block, which I knew where it was, never to answer. I didn't understand then but the reason was these NYPD tactics of gotcha!" Bragg said. "These things where they are essentially entrapment, folks I would not do any of those cases. I would instruct the police commissioner don't bring these cases to my office because I'm not going to do them; they are fundamentally unfair."
Bragg added that 82% of all cases prosecuted in New York City are either misdemeanors or non-criminal offenses and that 80% of those cases are brought against people of color. Quart said he would avoid bringing misdemeanor cases to criminal court.
Farhadian Weinstein said the district attorney's office must be careful and transparent in what it prosecutes, in addition to providing a list of what the office will decline to prosecute. While she committed to not prosecuting "lucky bag" cases—cases where the evidence against a defendant springs from a police tactic where officers plant a purse, backpack, or wallet in a public place and then arrest those who remove valuable items from the article—she was less committal when it came to "buy and bust" arrests.
"I'll say about buy and busts, it is a public health crisis. We're not trying to go after people who have chemical dependencies, but I can tell you having been a prosecutor of drug conspiracies, that really created a lot of violence, when I was working for Loretta Lynch sometimes you have to start with the small cases in order to be able to build the big cases," Weinstein said.
Attention then turned to Aboushi, Orlins, and Quart, who moderators said had suggested the most significant reforms to the current district attorney's office. Just before the forum, the Five Borough Defenders coalition of public defenders released its extensive assessment of the eight candidates' reform plans, knowledge, and ability to enact their promises, ranking Orlins and Quart at the top of their rankings focused on the office doing the least harm. Moderators asked how Aboushi, Orlins, and Quart would respond, manage, and overcome backlash to their policies once in office.
Quart called for personnel changes that extended beyond the leadership team in order to bring in people who would be more in line with his vision. Orlins relied on her experience as a public defender, often battling against the district attorney's office, stating that she has seen first hand the damaging effects of prosecutorial misconduct and understood the office well enough to implement her plans.
"I have gone up against this office," said Orlins, who works for the Legal Aid Society. "I know the bureau chiefs, I know the assistant district attorneys, I know the deputies, I know the people there and I know who will be in line with my vision for what this office looks like when it's decarceral and trying to actively not do harm and destroy families and incarcerate people, and that's due to my experience. I think the ethical obligations of a prosecutor have really not been upheld and I think the Manhattan District Attorney's office needs real reform and I plan to staff it with people like public defenders and people who have left that office because they didn't want to perpetuate the system."
Aboushi claimed that she is the only candidate with experience going against large agencies like the NYPD and seen that individual officers were charged for crimes committed on the job. She expressed a determination to make sure the district attorney's office runs independently of law enforcement by "cleaning house" and installing both campaign and community partners.
After Orlins had earlier stated that her campaign was consulting with a team of experts, including a criminologist, to put together a list of misdemeanor charges that the office would still prosecute and that they had only added a handful of crimes to the list, Aboushi took a jab at her, saying that when one cuts the community out and hires expert criminologists to tell them about discriminatory aspects of the system they end up with unreliable responses because the data and facts they work with are manipulated.
Orlins had said that under her leadership most misdemeanors would not be prosecuted, while Aboushi argued that the district attorney's problem is that it "overcharges felonies like it's giving out candy."
The conversation moved to holding police accountable despite the close relationship between the NYPD and the district attorney's office. Farhadian Weinstein, Bragg, and Florence all called for establishing a separate, independent police accountability unit. Farhadian Weinstein highlighted her work installing the conviction review unit while working for Brooklyn District Attorney Eric Gonzalez. She was one of several authors of a report produced by the Brooklyn District Attorney's office and The Innocence Project that analyzed the first 20 exoneration cases, resulting in 25 exonerations from the review unit. The report also called out police and prosecutors for the damage caused.
"Community demands are welcome because we have to work on this together because we are in an intolerable place," Farhadian Weinstein said. "All of us should feel ashamed to live in a city where some people feel safer when they see the police and some people feel less safe when they see the police and it starts with working together on solutions. It starts with honesty from the DA's office."
Bragg drew attention to the work he did at the Attorney General's office, saying he sued state police for excessive force, prosecuted an FBI agent for lying, and led partnerships with communities. As he said he did at the Attorney General's office, Bragg said he would create a unit staffed outside of the DA's office composed of lawyers, social workers, and community members that would report to the public in order to hold law enforcement accountable.
Lang led with the endorsement she has received from Valerie Castile, the mother of Philando Castile, who was killed during a police stop. She advocated for partnering with the city's other agencies to investigate police-related fatalities, publishing investigations into police misconduct, and ensuring that every allegation is investigated.
"One way to address police misconduct is to limit the amount of police contact in communities and that starts with community-based initiatives and with all of the strategies I previously described to shrink the criminal justice footprint," Lang said. "The district attorney's office also has to be active in NYPD training and policy."
Crotty, who appeared distracted at times during the event and whose politics seem furthest from that of the host groups, explained that the Manhattan District Attorney's office already has a separate office to prosecute public corruption cases including police crimes. She said that office needs to be strengthened. Florence said that while there is already a separate office that prosecutes public corruption, it is highly ineffective.
"Yes there is an existing independent unit and that's true, but we need to have a unit that does something and the way we're going to do that is by getting the information by partnering with community-based organizations," Florence said.
Moderators shifted the conversation to how the Manhattan District Attorney's office could handle exoneration cases. New York State has the third highest number of exoneration cases, with 303 people exonerated since 1989, they said. They asked candidates their opinion of Manhattan's conviction assessment unit and if, in addition to wrongful conviction cases, candidates would return to reviewing sentences that had arisen from cases involving jury discrimination or discredited forensic techniques, including those used in arson cases or cases built on bite marks.
Bragg argued that the conviction integrity unit in Manhattan needs to be completely redone as an independent agency with open-file discovery. Florence echoed Bragg's sentiments, but also attempted to separate herself.
"Conviction integrity units are only as good as what they're willing to do and the current DA's office version is just a PR stunt and we have to call it out for what it is," Florence said. "I think any of the candidates here would have a better platform, mine though goes further than most."
Florence outlined her plan for a conviction integrity unit with independent leadership and an office staffed with attorneys who had never touched cases within the district attorney's office. She added that the office needs to be fully open to the fact of wrongful convictions as well as being open to reviewing cases where the thinking has changed, like cases involving marijuana. She said New York should be leading expungement efforts in cases where marijuana was involved in the charges.
Quart argued the Manhattan District Attorney's office will never be reliable when it comes to reviewing its own cases, regardless of who is elected. He called on New York State to establish its own conviction review agency. But acknowledging that a statewide review agency is unlikely, Quart outlined the rest of his thinking.
"We have to go deeper and create a conviction integrity unit that looks broadly, not just at cases that have gone to trial, because as we know 98% of cases end in plea bargains, there is no trial transcript," Quart said. "We need to take a broad view on what we're second-looking at the DA's office, but real reform will only come with a statewide agency that creates a second look from the DA's office that secured the conviction in the first place."
Next, candidates were asked if they would support a pending bill to ban police deception during interrogations of suspects. Orlins was quick to say that she would support it and push for further interrogation protections. She stated that defense counsel should always be present during interrogations. Quart, Weinstein, Lang, Florence, Aboushi, Orlins, and Bragg all said they would support the bill. Crotty said that she would want to read the bill before committing, but that it "sounded good."
Moderators then expressed concerns about charges brought against defendants based solely on police reports. They asked candidates how they would aim to resolve cases outside the courtroom. Orlins highlighted her career experience and sought to counter Aboushi's repeated claim that Aboushi is the only candidate in the race who has gone up against agencies like the NYPD.
"I have time and time again seen circumstances where police reports are used as the only reason why someone is indicted, charged with a felony, removed from their home, had their lives destroyed, their families destroyed," Orlins said. "That's why we cannot rely solely on police officer testimony. This must be something that is a priority and as someone who has also gone up against the NYPD every day of my career I have routinely held the police accountable."
Crotty disagreed with the question's premise that charges were brought solely based on police reports. She explained that indictments always occur after review by a grand jury, adding that the job of the district attorney is not to get convictions, but to get it right by proving cases either way with proof beyond a reasonable doubt. Farhadian Weinstein agreed with other candidates that the district attorney's office cannot rely solely on police reports.
"Of course we can't just routinely elevate or ever elevate a police report into an indictment. The police are our partners in public safety, we are not their instruments," Farhadian Weinstein said. "We have an independent ethical obligation to evaluate all of the evidence that comes to us, whether it's testimony, something recounted in a report, video documents, what have you, before we decide to take this case to the grand jury."
Aboushi argued that the NYPD must be separate from prosecutors and stated that her opponents' "follow the facts" approach is faulty, arguing that facts are often manipulated by officers. She stated that she would replace bureau chiefs and supervisors, returning to her promise of "cleaning house" at the DA's office. She added that she would expand the decline-to-prosecute list.
Attention then turned to parole reform, which moderators said District Attorney Vance has not been supportive enough of. They asked if candidates would support bills like the Less is More Act — which eliminates incarceration for the most technical parole violations and provides more avenues for an early end to parole — and the elder parole bill, which permits the Board of Parole to evaluate for parole all inmates over the age of 55 who have served at least 15 years in prison.
Aboushi said she had already signed on in support of both bills, adding that she would support reentry efforts by not prosecuting cases and diverting resources back to communities. Orlins reaffirmed her disavowal of the death penalty, including "death by incarceration" and committed to not seeking sentencing over 20 years under any circumstances.
Florence also said that reentry efforts must start when people are charged and that reforms surrounding charging and sentencing are the first step to tackling questions of reentry. Quart echoed other candidates in supporting the elder parole bill and said that the Less is More bill is critical but doesn't go far enough.
"So many of the services provided under parole are useless fleecing of the taxpayer, waste of money, no social benefit really," Quart said. "I would push in Albany, as I already have, for greater reforms on the parole system."
Moderators then asked Bragg and Farhadian Weinstein to explain stances they had taken prior to the event stating that they would continue collecting information on and surveilling youth through the Manhattan District Attorney's office and support youth programming led by the NYPD, during which officers at times gain information to be used against youth in court.
Bragg countered the question saying that he is not going to be using evidence gathered by the NYPD against youth, including the department's gang database, which has long been subject to scrutiny as advocates have argued that it is racially discriminatory and uses overly-broad criteria to categorize youth as gang members, leading to long lists of suspected young men of color. There is also little transparency when it comes to how the NYPD gathers or uses the information.
"The gang database is garbage in, garbage out -- I won't be using it," Bragg said. "I will continue my community work. I'm a Sunday school teacher, I'm a Harlem little league coach, I'm going to evaluate folks who come to my office as whole people and I want them to be actively engaged in the work of the community."
Farhadian Weinstein committed to being vigilant that data collection systems are not being abused and working with advocates to make sure that they are being used responsibly. She did not disavow data collection and did not mention youth specifically in her response.
"We should not confuse places where we put information and leads and whatever we are gathering with actual evidence of crimes. We have to interrogate and we have to really do the work before we transition," Weinstein said. "When it comes to the second part about communities, I think all of us do have to stay engaged in communities, including police officers, including law enforcement, which is why I did not think that we would want law enforcement and police officers to withdraw from being present and supportive of their communities, the communities in which they work."
Moderators then argued that most criminal justice reforms relate only to non-violent crimes, but that ending mass incarceration will require a broader approach. They criticized the fact that crimes like burglary are treated as violent crimes with harsher sentences attached, even though they often cause no physical harm to another person. They asked candidates if and how they would prevent long sentences for cases that are categorized as violent, but do not involve causing physical harm to another person.
Lang emphasized that she would stop a reliance on mandatory minimum sentencing and cancel three-strike rules that call for mandatory life imprisonment if someone is convicted of a serious violent felony and has two or more previous convictions in federal or state courts.
"We all know that ending mass incarceration, as we must, means doing things drastically differently when it comes to violent crime. It means stopping the prosecution of non-violent offences as violent, including for example burglary in the third degree, it also though means where there is some measure of violence reducing the length of sentences so that means stopping the reliance on mandatory minimums, that means stopping the reliance on the three-strikes law, and it means assessing cases and not bringing the egregiously long sentences that we have seen in the past that have contributed to mass incarceration," Lang said. "Doing that requires that we build out a robust responsive set of protocols that includes availing ourselves of the rich community based resources that we have in New York City to pair people appropriately with responses and also develop a robust set of restorative practices to help make everyone whole."
Bragg also discussed careful review of charging, saying that his own brother was charged unfairly with gun possession in a case that should not have been brought at all or at most at a lower level. He called for sentencing look-back procedures and more robust restorative justice options.
Aboushi said she would avoid charging felonies to avoid triggering mandatory minimums, and create a sentencing review unit to look at all sentences beyond 10 years, sentences involving people who are immunocompromised, and those at the end of their sentence to ensure early release wherever possible.
Crotty stated that she supports not charging felonies when it comes to burglary in particular, in some cases. She added that she supported putting misdemeanors on every indictment, in order to give district attorneys leeway to act as necessary based on the facts and circumstances of their case.
Moderators moved the discussion to interpersonal violence charges, stating that all candidates, with the exception of Crotty, had committed to discontinuing current internal policies preventing assistant district attorneys from considering alternatives to incarceration based on charges and instead allow for community mediation, mediation programs, or restorative justice options. They asked candidates to assess the current district attorney's office and explain what they would do differently.
"The problem was and continues to be these blanket policies which disqualify people without knowing anything about them, that has never been my approach," said Florence. "I have always looked independently at the survivor of the crime and the person accused of the crime and we need to fashion our disposition based on those facts."
Lang cited tremendous promise of restorative justice, adding that it has to be scaled so that it is implemented system-wide. She said that in the past the district attorney's office approach to restorative justice had been too "ad hoc" and that whether or not defendants were paired with services was based on guesswork. She called for restorative justice options to be greatly expanded and applied with the input of clinicians and social workers.
Crotty reminded attendees that she left the Manhattan DA's office in 2006 and that when she worked there the only alternative to incarceration was probation, which she regularly sought when the facts dictated. She added that she has been a trained mediator and completed a course from the New York Peace Institute, a non-profit conflict resolution organization.
"I think mediation and restorative justice are really the way to go in cases where the victim and the defendant are known to each other, and there is not a condition of extreme violence, where they can work it out between themselves and not with the district attorney's office," Crotty said. "I applaud restorative justice when the facts are appropriate for it."
Moderators then called attention to Bragg's and Farhadian Weinstein's work as prosecutors for the Southern District of New York and the Brooklyn District Attorney's office, respectively. The moderators asked what had been done wrong when it comes to prosecuting violent crimes in those offices and what these candidates would do differently as Manhattan District Attorney.
"I dealt with a case of a man convicted in the early '90s for three robberies he committed in the course of a week, he stole $100 worth of stuff. He was addicted to crack cocaine and he was homeless when he did this, and he got 32 to 65 years because these were classified as violent crimes because in two of them he had a knife and in one of them he threw a punch," Weinstein said. "We did what we could, I built the first post-conviction justice bureau in the country and we supported him for clemency and parole and he ultimately did get parole after 25 years, but of course that's too little too late. So we start with a reckoning of a case like that and we have to go back and say 'are we charging properly?'"
Bragg highlighted that as a member of the public corruption unit at the Attorney General's office his work focused on prosecuting corrupt politicians and even an FBI agent, rather than prosecuting violent crimes. However, he stated that in the violent crime prosecution cases he did work on, centering the response around the trauma of survivors was something that could be improved upon across the board.
Moderators singled out Orlins, Quart, and Aboushi as the three candidates who had laid out the clearest commitments to reducing incarceration in general. The three were asked how they would approach serious interpersonal violence cases and how they would tell if their approach to decarceration was working.
"We will evaluate the cases based on the numbers and we'll make sure we're reaching our goals of actual decarceration," Quart said.
He added that he would commit to an 80% reduction in pretrial incarceration, additionally he would push for legislation in Albany that would eliminate cash bail. Orlins said a carceral approach to even cases classified as violent are not helping anyone. She said the district attorney's office should create reforms across all cases regardless of their classification and that this is the only way to actually keep communities safe.
"While I think I was criticized earlier for having experts on my campaign, I am very grateful to have a criminologist who evaluates all of the data, all of the arrests in New York over the last decade or so and it supplements my institutional knowledge of being a public defender and working for over a decade in the trenches in the courtroom," Orlins said, referencing Aboushi's criticism from earlier in the event. "So I know that a majority of the cases brought are misdemeanors and these are not cases that we need to be worried about."
Aboushi said she would partner with organizations like Court Watch to ensure assistant district attorneys are compliant and that there is a direct line of communication between the defense bar and the district attorney's office.
"There can't be accountability and we can't shrink the footprint of this office unless we let the public in," Aboushi said. "That is the only way this is going to work."
The discussion moved to collateral consequences of indictments, including immigration consequences. Crotty expressed support for immigrants and highlighted her experience getting defendants ready for credible fear interviews so that they could acquire asylum status.
"Immigration consequences are only one of thousands of consequences that attach to criminal conviction," Lang said. "Under my administration assistant district attorneys will review all collateral consequences at the charging stage and every stage thereafter to ensure that no collateral consequences unduly impact the people who are charged."
Lang added that the district attorney's office must consider immigration impacts on victims as well as defendants. She highlighted that she was an advocate for keeping ICE out of courtrooms two years before the law changed. Florence struck a similar note and said she had built trust with communities and worked with organizations to consider collateral consequences. She also supported considering these consequences starting at the charging phase and maintained that defendants should never be asked their immigration status.
Lang said she would catalog the full slate of collateral consequences and ensure assistant district attorneys are aware of what they are. Crotty said consideration of these consequences needs to go into each and every case, and said she has been doing that for the past 13 years.
The moderator directed the next question to Aboushi, Farhadian Weinstein, Quart, and Orlins, each of whom, the moderator said, has committed to making district attorney office policies and procedures open to the public, including data regarding charging, plea offers, and sentencing.
"You can't have public trust without transparency and I don't trust prosecutors to watch prosecutors just like we don't trust officers to hold officers accountable," Aboushi said. "Data and transparency and the collection and analysis is going to be important if we're really going to transform this office and protect Black and brown communities from being the face of crime."
Orlins said that her career as a public defender has made her intent on creating data transparency within the district attorney's office. She shared that she had a client who the Manhattan District Attorney wouldn't deter from offering a 90-day split, meaning 90 days in jail followed by five years probation, even though the defendant was a single mother willing to take a plea of the charge in order to receive probation only. Orlins lamented not being able to find any precedent for receiving only probation on that particular charge and had to accept the word of the district attorney's office saying they don't offer that. She resented having to dig for information among colleagues to determine if certain offers were being made.
"It is completely unjust, it does not do anything but perpetuate the racist nature of the system and that is why we will be fully transparent with all of our data," Orlins said.
"Our core mission is to treat like cases alike so we need the data to tell us if two people charged with a crime get different plea agreements, if two victims of the same crime are being dealt with differently," Farhadian Weinstein said. "You asked why haven't DAs offices done this before. I think that there is a culture of secrecy which has something to do with protecting discretion."
The next round of questions moderators handed over to people who have been in contact with the Manhattan District Attorney's office. Anna of the Freedom Agenda shared that she has lived in Manhattan for 37 years and that her son was detained pretrial on Rikers Island for six years before accepting a plea deal and serving four more years at a prison upstate. She asked Lang, Quart, and Bragg if there will be any exception to their policies against pre-trial jailing or canceling bail. She also asked if they would institute alternatives to bail like electronic monitoring or supervision.
Lang expressed her commitment to end cash bail and build out supportive release infrastructure. Bragg said he is the only candidate who has posted bail and supported a relative while they were out on bail, adding that he too opposes cash bail and would provide supportive services to those awaiting trial. Quart also reaffirmed his commitment to ending cash bail.
"We cannot end cash bail and replace that with expanding remand that's not progress that's the antithesis of progress," Quart said. "We're going to reconnect people to their communities so they can make rational decisions in their neighborhoods with their families about their future."
None of the candidates asked addressed the question of alternatives to bail like surveillance or electronic monitoring.
Sojourner, a member from Survived and Punished, next posed a question to Farhadian Weinstein, Orlins, and Florence. She shared that she is a survivor of sexual violence, member of Survived and Punished, and member of an abolitionist defense team pushing back against the Manhattan District Attorney's office's prosecution of survivors. She introduced Tracy McCarter, a Black woman, nurse, mother, grandmother, and survivor who they said is being prosecuted by District Attorney Vance's office after her estranged husband came to her apartment, demanded to be let in, and then attacked her. The altercation led to McCarter, in what she said was self-defense, stabbing her estranged husband once in the chest, killing him. Sojourner asked candidates if they would commit to dropping charges against her and not prosecuting all survivors of sexual violence including those criminalized for their acts of survival.
Farhadian Weinstein started by saying that she cannot make a commitment about an open case in the Manhattan District Attorney's office, but stated that she stands with survivors of sexual assault and domestic violence. She added that she led the program at the Brooklyn District Attorney's office where the office reviewed sentences issued against defendants like McCarter.
Orlins also said it would be inappropriate to comment on McCarter's case specifically, but argued that she is the only candidate who has represented a client and utilized the Domestic Violence Survivors Justice Act in order to get a reduced sentence in court.
"I think prosecutors here want to say that they stand with survivors, they care about survivors, but what they don't recognize is that those are the people they end up prosecuting and seeking years and years on," Orlins said in reference to several of her competitors.
Florence said her experience had included fighting alongside survivors, which meant sometimes taking non-traditional approaches. For example, not prosecuting assault but instead prosecuting another charge so that victims did not have to testify.
The final question of the evening came from Eileen M, a member of Vocal-NY who explained that she had been prosecuted in Manhattan and threatened with an extremely long, illegal sentence by an assistant district attorney if she went to trial. As a result, she felt her only option was to take a plea deal. She asked Quart, Crotty, and Aboushi how they would eliminate bullying practices to force plea agreements.
Quart said he would start with sentencing reform, including a policy to stop assistant district attorneys from seeking sentences exceeding 20 years. As for bullying assistant district attorneys, Quart said he would create a higher degree of regulation and real ramifications for that behavior, including termination. Crotty pointed to a mentality change she would institute in the office, focused on getting cases right and looking at the facts instead of securing convictions.
"If you do it right and investigate every case you will get fair results," Crotty said. "The mandate from the leadership is to get it right and not to convict."
Aboushi outlined a slate of new checks and balances that she would introduce to the district attorney's office to ensure predatory practices are weeded out.
"We simply need to create an office-wide policy that people will not be penalized for invoking their constitutional rights," Aboushi said. "I will have checks and balances, i.e. the public, PD, civil rights attorneys organizations that are going to watch ADAs who engage in this behavior will report directly to me on a consistent basis to identify ADAs who are engaging in this problematic behavior."
Earlier in the evening, candidates underwent a "lightning round" of questions that were either yes/no or only required a few words to answer. When it came to defunding the police, Crotty and Farhadian Weinstein were the only candidates to respond with a no. Florence said she couldn't answer yes or no because she didn't believe in the word "defund."
All of the candidates, except Crotty, have pledged to release a list of charges that won't be prosecuted. Lang, Aboushi, Quart, and Florence said their lists were posted. Farhadian Weinstein, Bragg, and Orlins said their lists would be released shortly. Crotty said she would not have a list.
On the NYPD gang database, Farhadian Weinstein and Crotty were the only candidates who said they would not completely ban its use. Crotty said she would use it only based on convictions. All candidates agreed on ending the trial penalty and most agreed on eliminating the vice squad, which handles crimes relating to gambling, narcotics, and, most often, prostitution. Farhadian Weinstein said vice should be replaced with a different part of the police department and Crotty said that the vice squad would stop conducting undercover prostitution investigations under her leadership, but as to the other elements of vice she was unsure of what the question was referring to.