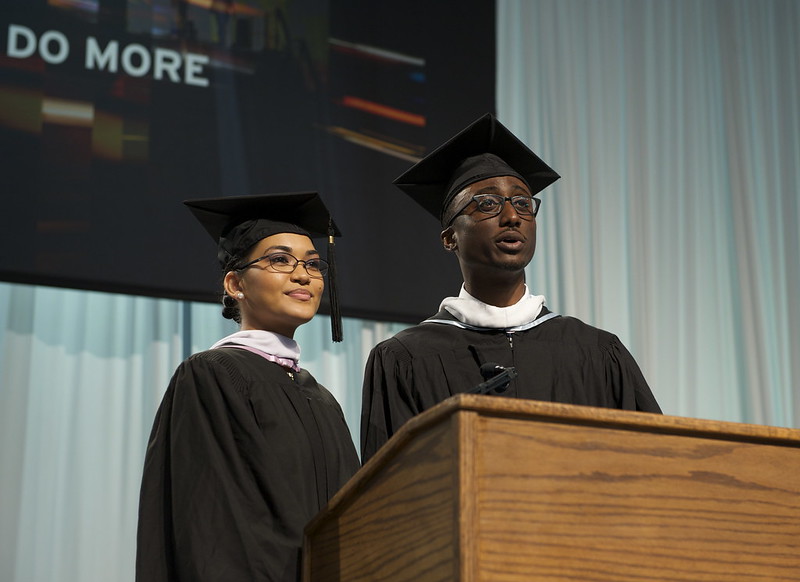 CUNY graduates (photo: CUNY)
---
Brooklyn State Senator Andrew Gounardes, Bronx Assemblymember Karines Reyes, the CUNY Rising Alliance, and others are holding a virtual press conference Friday to promote the proposed "New Deal for CUNY."
The New Deal for CUNY includes three main goals that deal with the university's funding, spending, staffing, and campuses, would be implemented over the course of five years, and would make CUNY tuition- and fee-free for New Yorkers.
Gounardes and Reyes are the prime sponsors of the legislation that would accomplish the key goals of a CUNY New Deal. Representatives of CUNY faculty and staff union, the Professional Staff Congress (PSC CUNY), leaders from the University Student Senate (USS), and a long list of State Senators and Assembly members from the city will also participate.
CUNY Rising Alliance is a coalition of advocacy organizations and individuals who aim to improve CUNY and garner more funding for the sprawling public university system that educates hundreds of thousands of New Yorkers every year at four-year and two-year schools as well as a graduate center.
"The communities and constituencies we work with are the most hurt by policies of austerity and disinvestment from public institutions like CUNY," reads the PSC CUNY website, in describing the CUNY Rising Alliance. "Living in a city with record income inequality and profound, systemic racial disparities in education, our constituencies depend on a quality CUNY education to begin to level the playing field of opportunity."
The centerpiece of the New Deal of CUNY is more funding for the university system from all three levels of government so that conditions and outcomes improve for faculty and students alike.
"New Yorkers have always thought big," the policy's opening statement reads. "More importantly, we have had the courage to face challenges, to reimagine public life when necessary, and to make visionary investments of public money to support the change we need. We have understood that government at its best invests in the health and wellbeing of those most in need, and in doing so enriches life for us all. It is in this tradition of public commitment that New Deal for CUNY legislation reimagines federal, state and city investment in the City University of New York and makes the country's premier urban public university a central component of New York's public health and economic recovery."
The CUNY New Deal's first goal is to increase the ratio of full-time professors to full-time students, in addition to "professionalizing" adjunct professors' and lecturers' salaries. Adjuncts are part-time faculty members with temporary contracts who get paid less than full-time faculty.
According to the plan's concept paper, the nation-wide average full-time faculty to full-time student ratio is 1-to-14, as was reported by the National Center for Education Statistics. CUNY's current ratio is 1-to-29, or 35 full-time faculty to every 1,000 full-time students.
CUNY Rising Alliance is calling for work to improve the ratio so that it is 65 full-time faculty to every 1,000 full-time students, which is the equivalent of a classroom ratio of 1-to-15.
The two main reasons the proportion of full-time professors to full-time students is so stark is because the university system relies heavily on adjunct faculty and because class sizes tend to be larger than those of private universities.
"No single factor is more important in student success and a university's academic stature than the student/faculty ratio," the concept paper says. "As a result of decades of inadequate public funding, the number of full-time faculty at CUNY has plummeted by more than 4,000 positions even as enrollment has soared. Full-time professors have been replaced by temporary, part-time instructors, adjuncts. Even tuition increases of more than 50 percent over the last ten years at both senior and community colleges have been insufficient to offset the loss of public funds."
"New York cannot accept a substandard ratio of full-time faculty to students and unprofessional compensation for adjunct instructors," the plan continues. "They hurt our students and they hurt our state. The New Deal for CUNY mandates public funding to lift the ratio of full-time faculty to undergraduate students and close the equity gap between full-time and part-time pro-rated salaries."
CUNY currently employs more than 12,000 adjunct faculty members and only 7,500 full-time faculty, the paper says.
The alliance is arguing that this is detrimental to students, as adjuncts have less time to spend on courses and office hours, since many have to work multiple jobs to support themselves. They also typically have less time to spend on research, which can deprive students of an opportunity to learn from their professors' active work.
PSC worked with CUNY administration to come up with a salary increase for adjuncts last year, but these part-time workers are still paid less than full-time faculty members, and thousands of adjuncts were let go amid the budget tightening and uncertainty of COVID-19.
The New Deal for CUNY lays out a plan for hiring 5,000 more full-time faculty members, with special preference for current adjuncts, within the next five years. It also has a plan for increasing adjunct salaries to equal those of the full-time and tenured faculty.
The total cost for this initiative over five years is expected to be $636.5 million, according to CUNY Rising Alliance.
Another New Deal for CUNY goal is to make CUNY tuition and fees free for all in-state undergraduate students across its 19 senior and community college campuses.
"Now, when the national conversation has shifted back to CUNY's original great idea of providing free college education to all, it is time for New York to define the national higher education agenda again," the plan says. "Nothing is more important in taking leadership than instituting genuinely free tuition. Reintroducing free tuition at CUNY would be especially powerful as a public investment in communities currently under attack because of rising racism, anti-Semitism and anti-immigrant bigotry. Free undergraduate tuition at CUNY would send an unmistakable message to the rest of the country that New York believes that 'the children of the whole people,' regardless of origin, race or citizenship status, should be educated together and with equal resources."
CUNY Rising Alliance proposes the university phases out tuition and fees for so many of its students by eliminating students' eligibility for the New York State Tuition Assistance Program, or TAP, and using that funding toward free tuition for all.
CUNY Rising Alliance estimates this would cost a total of $796 million over the five years.
The final component of the New Deal for CUNY plan is to increase the number of mental health counselors and academic advisors at the university.
"More than 60 percent of CUNY undergraduates have family incomes under $30,000 a year. 80 percent are people of color. 42 percent report food insecurity. Many are parents, and more than half work at least half-time. For thousands of CUNY students, every day is a struggle with poverty, hunger, racism, homelessness, low-wage work and parenting," the concept paper states. "That CUNY students absorb the stresses they do and nevertheless persist in their college education is testament to their hunger for knowledge and commitment to transforming their lives. They know what is at stake in earning a college degree."
The plan is to hire enough mental health counselors and then distribute them fairly among the colleges to reach the national standard, which is a counselor-to-student ratio of 1-to-1,000. CUNY currently has a ratio of about 1-to-2,700.
Additionally, CUNY would retrain its current financial advisors — whose roles would become obsolete with the end of college tuition — as academic advisors, so that it's easier for students to get appointments with academic advisement.
According to the New Deal for CUNY concept paper, the Center for an Urban Future recently recommended an academic advisor-to-student ratio of 1-to-600, and the successful CUNY ASAP program has an academic advisor-to-student ratio of 1-to-150.
The total cost over five years for this initiative of mental health counselors and academic advisors would be $40 million.
Along with Gounardes and Reyes, legislators slated to participate in Friday's press conference include State Senators Alessandra Biaggi, Jabari Brisport, Brad Hoylman, Robert Jackson, John Liu, Shelley Mayer, Julia Salazar, and James Sanders Jr., and Assemblymembers Kenneth Burgos, Harvey Epstein, Phara Souffrant Forrest, Jessica González-Rojas, Richard Gottfried, Marcela Mitaynes, Michael Montesano, Robert Rodriguez, Linda Rosenthal, Nadar Sayegh, Jo Anne Simon, Al Taylor, and David Weprin.