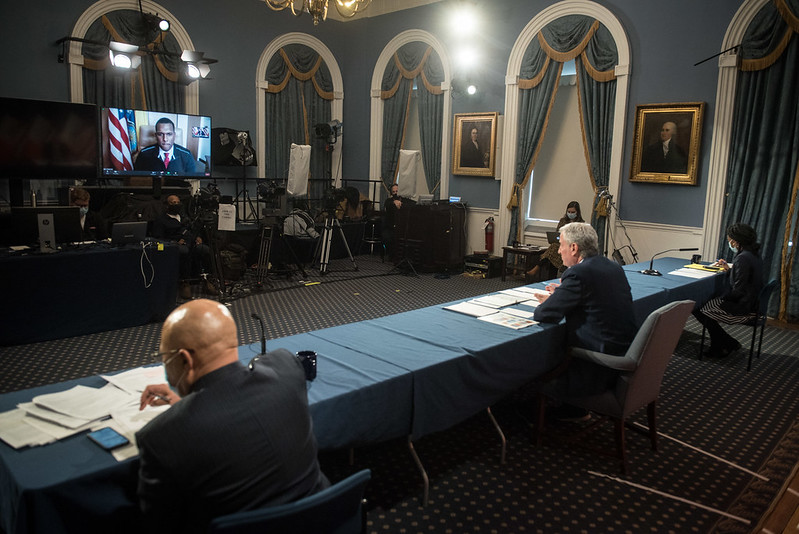 Mayor de Blasio testifying remotely (photo: Michael Appleton/Mayoral Photography Office)
---
Mayor Bill de Blasio pleaded to state legislators on Thursday to protect New York City from hundreds of millions of dollars in cuts and cost shifts in Governor Andrew Cuomo's Executive Budget for the next fiscal year, warning that the damage could be worse if federal stimulus aid is not delivered on time.
In his annual, and final, appearance before the state Legislature to testify about the governor's budget plan and the city's state agenda for the year, the mayor painted a dire portrait of the fiscal wreckage left by the coronavirus pandemic and cautioned against any further fiscal impositions on the city by the state. Those concerns included both the potential cuts and cost shifts, as well as the governor's "supplantation" of hundreds of millions of dollars more in federal funds, and also several Cuomo policy proposals.
De Blasio noted that the city has lost an estimated $10.5 billion in tax revenue over fiscal years 2020, 2021, and 2022 and has spent as much as $6.1 billion on covid-related expenses, of which he said about $685 million will not be reimbursed by the federal government.
According to de Blasio, Cuomo's budget -- which is now the subject of legislative examination and negotiation before a deal is due by April 1 -- would cut or shift about $310 million for the city in upcoming fiscal year 2022 (about the same amount being cut or shifted in the current fiscal year, he said), while also supplanting about $800 million in federal funding for education for the city (after supplanting about $700 million in federal education funding in the current fiscal year). And Cuomo's Executive Budget is also predicated on the state receiving about $6 billion in additional federal relief funds, without which localities could lose much more state aid.
"Regardless of what happens in Washington, calling on working New Yorkers to forgo essential services is wrong," de Blasio said, pushing the Legislature to increase taxes on the wealthy as a way of filling budget gaps -- something he's done in each of his eight years as mayor to no avail, though this year's budget challenges make it the most likely yet.
The mayor pointed to specific cuts or cost shifts that would strain the city's already struggling finances. They include $279 million in charter school spending that the city would have to bear between the 2021-22 fiscal years. Another $473 million cut to Health + Hospitals over the two fiscal years could mean "closing 19 H+H clinics, which treat 140,000 patients a year and losing 900 doctors and nurses, resulting in longer wait times for patients," the mayor claimed. He also criticized cuts to public health infrastructure spending, substance abuse and domestic violence services, youth foster care and senior programs. "We can't let our most vulnerable be victims of austerity," he said.
Last year, when there was significant uncertainty about how the city's revenue would be affected by the pandemic, the mayor went to the Legislature with a request to allow the city to borrow funds for operational expenses. Without the ability to borrow, he had warned then that the city would have to resort to firing as many as 22,000 municipal workers. This year, however, he neither made the request nor did he predict the need for mass layoffs short of a "nightmare scenario" where the state does not receive federal stimulus. "We're going to be putting all options on the table if that were to happen. But today I am not asking you specifically for borrowing authority. I'm hoping we can find much better solutions," he said.
The Cuomo administration disputed de Blasio's testimony. "Let's be clear: In the midst of a global pandemic and the worst economic downturn in generations, funding in the Executive Budget for New York City goes up $1.3 billion, including a 13% increase for schools – significantly higher than the statewide average," said Freeman Klopott, a spokesperson for the state Division of Budget. "Washington right now is debating a $350 billion package for state and local governments and it must include $15 billion for New York State to close our deficit that was caused entirely by the global pandemic the federal government failed to stop. Raising taxes is best done at the federal level so as not to pit one state against another and right now we all need to keep our focus on Washington to ensure the critical resources it is poised to deliver to the state and the City are fair."
Funding for New York City schools in the governor's budget is up nearly $1.5 billion year over year, a 13% increase, according to Klopott, who also said that on Health + Hospitals funding, de Blasio is looking at specific streams of funding but not the bigger picture, where overall Medicaid funding supporting H+H is increasing $786 million in the current fiscal year and $772 million next.
Besides the fiscal impact, de Blasio also opposed several proposals in the budget that would affect the city's control over land use and zoning. Though he has backed the principle behind a proposal to allow conversions of vacant commercial properties into affordable housing, he said the language of the governor's proposal does not make any guarantees that housing built will be affordable.
"I think it is an idea that has merit," he said, but noted that it would allow the state to circumvent the local Uniform Land Use Review Procedure (ULURP). "What I'm worried about is the state overriding ULURP, cutting out communities, making sweetheart deals with the real estate industry," he said. "Because if you look at the proposal, it leaves several ways out for the real estate industry to not create affordable housing."
He also opposed another proposal that would allow the Javits Convention Center Operating Corporation the ability to override local building codes and another that allows the MTA to override the authority of the city Department of Transportation.
According to Klopott of the Cuomo administration, the governor is quickly seeking to adjust to new dynamics created by the pandemic and wants to speed development to allow for the conversion of so many commercial vacancies into needed affordable and supportive housing. On Javits, Klopott said the Executive Budget offers legislation enabling the convention center to issue permits in accordance with New York City building codes.
De Blasio also defended the city's landmark legislation to cut building emissions, which Cuomo's budget plan would weaken. And he criticized the threat from the state of withholding funds for law enforcement if the city does not put a police reform plan in place as required by an executive order that the governor signed last year. "These things are moving," he said, promising that his administration is working with the City Council on a package of reforms while also reiterating specific police accountability proposals from his recent State of the City speech. He did, however, raise concerns that the reform process could be slowed down if the NYPD were to fall under an external monitor, a step that State Attorney General Letitia James is seeking through a federal lawsuit against the department last month.
De Blasio argued for more tenant protections, for legalizing marijuana, and reforms at the Board of Elections through a professionalization bill sponsored by Senator Liz Krueger of Manhattan and Assemblymember Nily Rozic of Queens, both Democrats.
He also asked legislators to quickly approve legislation that would help the city build back jobs and support small businesses. His agenda included a community hiring bill that would require contractors and businesses to hire low-income New Yorkers and other workers from high-poverty communities, a Small Business Recovery Tax Credit to give $50 million in rent relief to 17,000 small businesses, and a rebate for owners of 1-to-3 family homes.
Though the mayor did call for increasing taxes on wealthy New Yorkers, he raised some concerns about a sweeping package of bills that would accomplish that goal at the state level. The package of six bills, called the Invest in Our New York Act, has been backed by a coalition of progressive advocacy groups and has several prominent legislative sponsors. But among those bills is one that would establish a stock transfer tax, which critics say would push Wall Street firms to conduct business elsewhere. "I agree that if you don't do it on a national basis, you do create the potential for pitting state against state or locality against locality for where those businesses will be and where those transactions will be," de Blasio said when asked about the Stock Transfer Tax.
Legislators at the hearing gave the mayor plenty of space to air his grievances with Cuomo and the state. He repeatedly critiqued the state's haphazard vaccine program rollout even as legislators pressed him to open more vaccine sites in their districts. De Blasio said he agreed with a number of lawmakers who are pushing the two legislative majorities to repeal the governor's sweeping emergency powers granted early in the covid outbreak.
"We've been stymied by lack of supply," he noted, while also pointing to a lack of direction from state authorities. "There's lots of specific rules the state adds on and changes all the time. It's just gumming up the works...The incessant desire to micromanage every step, we saw what that led to." Under questioning from Assemblymember Ed Braunstein, he pledged to soon open a vaccination site in underserved parts of northwestern Queens.
The mayor made several other promises for which legislators are likely to hold him to account. He said he would not raise property tax rates. "We need to give them that rebate, because those are often lower income, middle income homeowners who really don't deserve that hit," he said.
He said that a property tax reform commission he created, which issued its first report in January last year after long delays and was then shelved amid the pandemic, would soon resume borough-wide hearings as it continues its work. "We will get you those dates in the coming days," he promised Brooklyn State Senator Andrew Gounardes. "Because we've talked about it internally. We've got to restart this engine. We're absolutely committed to a final report soon."
He also promised Braunstein that next week the city would announce a new plan to hold this year's Gifted & Talented testing for students, and that would be followed by a new system in the months ahead. "Between now and September, we're going to announce an entirely new approach for the future because I think we can reach many more kids," de Blasio said.
Note: this story has been updated with response from the Cuomo administration.