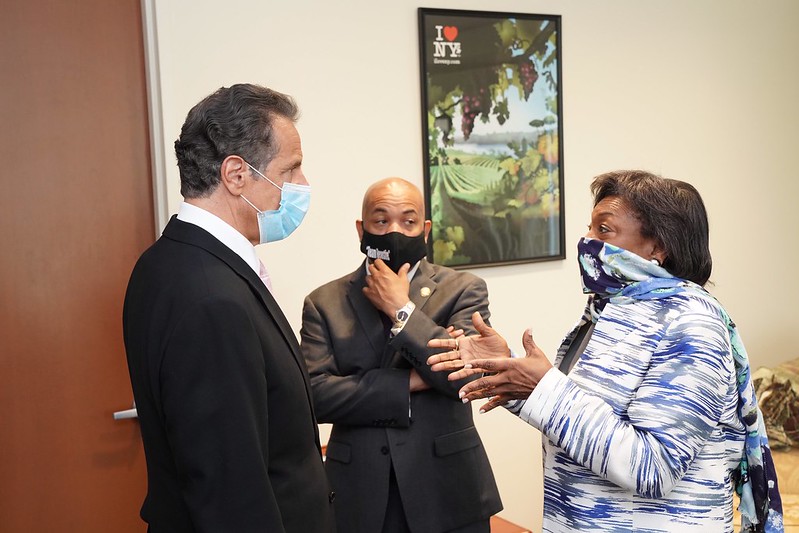 Gov. Cuomo, Majority Leader Stewart-Cousins & Speaker Heastie (photo: June 2020/Governor's Office)
---
Shortly after Governor Andrew Cuomo on Sunday gave a defiant press briefing in which he reiterated he has no plans to resign from his position, two major shoes dropped in the scandals engulfing the third-term Democratic governor: State Senate Majority Leader Andrea Stewart-Cousins called on Cuomo to resign and Assembly Speaker Carl Heastie said he supports Stewart-Cousins' questions about Cuomo's ability to govern and that the governor should consider leaving office.
"Everyday there is another account that is drawing away from the business of government," said State Senate Majority Leader Andrea Stewart-Cousins, a Westchester Democrat, in a Sunday statement. "We have allegations about sexual harassment, a toxic work environment, the loss of credibility surrounding the Covid-19 nursing home data and questions about the construction of a major infrastructure project."
She continued: "New York is still in the midst of this pandemic and is still facing the societal, health and economic impacts of it. We need to govern without daily distraction. For the good of the state Governor Cuomo must resign."
A few minutes later, Assembly Speaker Carl Heasite, a Bronx Democrat, issued his own statement, with slightly less definitive language:
"The allegations pertaining to the Governor that have been reported in recent weeks have been deeply disturbing, and have no place whatsoever in government, the workplace or anywhere else," Heastie said. "I too share the sentiment of Senate Majority Leader Stewart-Cousins regarding the Governor's ability to continue to lead this state. We have many challenges to address, and I think it is time for the Governor to seriously consider whether he can effectively meet the needs of the people of New York."
Earlier in the afternoon, Cuomo had addressed increasing calls from legislators and others that he step down, with remarks coming just after another set of allegations had landed, including new claims of inappropriate workplace behavior toward women and questions about the integrity of the inspections of the Mario M. Cuomo Bridge, which Andrew M. Cuomo opened in hurried fashion and with great fanfare just days before his 2018 Democratic primary win as an example of his ability to get big infrastructure projects done.
"I'm not going to resign," Cuomo said again on Sunday, during a conference call with members of the media.
In recent weeks Cuomo has been accused of sexual misconduct and inappropriate advances by five women, including four former aides. The governor has faced a consistently increasing crescendo of voices painting a picture of Cuomo as a bully who oversees a culture of intimidation, conflict, and disrespect. Meanwhile, the ongoing scandal around the Cuomo administration's handling of information related to how many nursing home residents died of COVID-19 has also intensified given new information about the governor and his team not fully disclosing an accounting of such fatalities to the Legislature and public. Law enforcement inquiries into the matter are ongoing.
On Sunday afternoon, Cuomo struck a far more defiant and combative tone than he had several days before, when during a Wednesday press conference he offered apologies and expressed some regret over how he had treated Charlotte Bennett, one of the former aides alleging harassment, though he pled ignorance of proper workplace standards and claimed he had never touched anyone inappropriately. Cuomo indicated that his inappropriate line of conduct toward Bennett -- what she described as "grooming" her for sex and "textbook sexual harassment" -- was misinterpreted by the victim, a characterization she has rejected, instead calling for the governor to directly apologize for sexually harassing her and for him to resign. Bennett also alleged that Cuomo's assistant took mandated sexual harassment training for the governor, who over a number of years has heralded himself as a leader on enacting tough standards to prevent and punish sexual misconduct in New York.
Lindsey Boylan, another former aide, has also claimed Cuomo made a series of inappropriate advances toward her, providing her own evidence of 'grooming,' and also alleged the governor once kissed her in his office. She has also said the governor should resign. Cuomo denied all of Boylan's allegations but has not directly addressed many of the specifics, including an email Boylan posted that shows Cuomo sending her an inappropriate message through his assistant. In his apology last Wednesday, Cuomo appeare to acknowledge he has often spoken inappropriately to aides and others, but repeatedly said he never intended to make anyone uncomfortable and that he never touched anyone inappropriately.
On Wednesday and again on Sunday Cuomo said he does not plan to step down and urged patience, saying that he and others should wait for the findings from an inquiry that will be overseen by State Attorney General Letitia James, who is expected to soon announce the hiring of an outside law firm to investigate the governor. Cuomo said that those already calling for his resignation are playing politics and pointed to comments from several top Democrats who have instead also said that they want to see the investigation play out.
"One last piece," Cuomo said toward the end of his opening remarks during the Sunday phone briefing, after discussing the latest in the state's fight against COVID-19, economic reopening, and news of major federal aid on its way to New York via a new stimulus package that appears on the verge of Congressional approval, "there are some legislators who suggest that I resign because of accusations that are made against me. I was elected by the people of the state, I wasn't elected by politicians. I'm not going to resign because of allegations. The premise of resigning because of allegations is actually anti-democratic and we've always done the exact opposite. You know the system is based on due process, and the credibility of the allegation."
He continued:
"Anybody has the ability to make an allegation in democracy and that's great, but it's then the credibility of the allegation, and we've gone through this with the legislature. I remember when we set up JCOPE. We set up this whole elaborate process that the accusation was private. The person who was accused got a private letter, but the accusation was private. Why? Because it's damaging to publicize allegations before you know that they are credible. JCOPE has hundreds of allegations, but until they are reviewed, they're private."

"The Inspector General's office is private, hundreds of accusations, but until you go through the due process. So, we have the Attorney General who's doing an independent review. She has all the allegations, anybody can make an allegation to her, and let the Attorney General do her job. She's very good, she's very competent, and that will be due process and then we'll have the facts. That's why Senator Schumer said let the Attorney General do her investigation, Senator Gillibrand said let the Attorney General do her investigation, Congressman Jeffries said let the Attorney General do her investigation, the White House Spokesperson said let the Attorney General do the investigation, because that's democracy. So no, there is no way I resign. Let's do the Attorney General investigation, let's get the findings, and then we'll go from there. But I'm not going to be distracted by this either. We have to get a budget done in three weeks; we have a lot of work to, a lot of work to do for this state."

"This is not about me and accusations about me, the Attorney General can handle that. This is about doing the people's business, and this next six months I believe will determine the future trajectory for New York State. What we do in this budget, how successful we are in rebuilding, how positive we portray this state going forward, how resilient we appear. We have to say to those New Yorkers who are looking at us and saying do they have a future or do they not have a future. Should I move to a warmer climate? Is New York ever going to come back? We have six months of an open window where we have to say you're damn right we're coming back, and we're coming back stronger than ever before, and not just say it, we're going to show it and you're going to see new public works, and you're going to see a real shot in the arm for this state. You're going to see us do vaccines where we're going to have the massive vaccination effort where people will see this is going to be a thing of the past. We're going to beat COVID. No government is better at doing its job than this government, and we've shown that all through COVID, and we're not going to be distracted from that."
During a brief question-and-answer session Cuomo repeatedly said he wasn't going to be distracted by the allegations and investigation and calls for him to resign, and he grew more defiant and combative, as he has often been throughout his ten-plus years as governor.
"People make allegations, great, that's democracy," Cuomo said when asked about the allegations against him. "Women should come forward, yes, and then there should be a qualified independent finder of the facts, and that's what the attorney general is, and we'll await her report. But in the meantime, I'm not going to get distracted by this because it is all irrelevant in the meantime, because what is determinative is what the attorney general finds...In the meantime I have to do my job, and the Assembly has to do their job, and the Senate has to do their job. We have to get a budget passed in three weeks. We have to get 15 million vaccinations done. We have to restore public safety in New York State. We have to get tenants aid that they need to stay in their home. We need to make decisions and put this state back on a trajectory for a positive future. That's my job and the Senate's job and the Assembly's job, and we're doing it together. And then the attorney general does her job, and when she finishes her job, we'll take that from there."
Not long after, Stewart-Cousins released her statement calling on the governor to resign, which she had indicated at the end of last week would be coming if another accusation against Cuomo emerged, which it did on Saturday. Then, State Senator Liz Krueger, a powerful Manhattan Democrat, said the same, tweeting, "I stand with Majority Leader Stewart-Cousins in calling for the Governor to resign. Our state is rightly crying out for truthful, transparent government. The people's business is too pressing to continue to be derailed in this way."
Stewart-Cousins, Gianaris, and Krueger are the most prominent state legislators to call for Cuomo's resignation, joining a number of others from both parties who have either said he should step down or that the Legislature should initiate impeachment proceedings. That list has included State Senators Jessica Ramos, Alessandra Biaggi and others, including several who joined the chorus after Stewart-Cousins; as well as Assemblymembers Ron Kim, who Cuomo targeted for his criticism of the administration on the nursing home scandal, and others.
Notably, Democratic Rep. Kathleen Rice of Long Island has also called on Cuomo to resign. Meanwhile, State Democratic Party Chair Jay Jacobs, a longtime Cuomo ally, has acknowledged the allegations as very serious but urged caution about calls for Cuomo to leave office, saying that the Attorney General investigation should be allowed to fully unfold.
Cuomo's office did not immediately return a Gotham Gazette request for comment in response to the statements from Stewart-Cousins and Heastie. Heastie's office did not immediately return a question clarifying if the speaker was indeed calling on the governor to resign immediately as Stewart-Cousins said. The Assembly has the option to begin impeachment against the governor, which some members of both political parties have called for.
Lieutentant Governor Kathy Hochul, a Democrat who has won two terms as Cuomo's running mate and has been a very loyal deputy throughout the years, would become Governor if Cuomo was to resign or be removed from office. Hochul has said very little publicly about the allegations against Cuomo and her usually very busy public schedule, which often includes many TV and radio appearances to discuss the Cuomo administration's priorities, has been mostly quiet. "Everyone deserves to have their voice heard and taken seriously," Hochul said in a statement at the end of February just before the Attorney General was granted the power for an independent inquiry by the governor. "I support an independent review."
New York now finds itself in a major government crisis -- with a defiant governor immersed in multiple scandals and the two legislative leaders of his own party pointing him toward leaving office -- just over three weeks before a new state budget is due and at a time of unprecedented challenges in the state.
"I'm going to do the job I'm assigned, I'm going to do the job that the people elected me to do," Cuomo said on Sunday. "I'm not going to play politics with people who say, 'well I think you should resign' - that's nice, I'm going to do my job, wait for the facts from the attorney general, focus on what we have to do."
"I believe this is the probably most difficult period for state government in modern history," the governor said.
Note: this article has been updated with additional information.