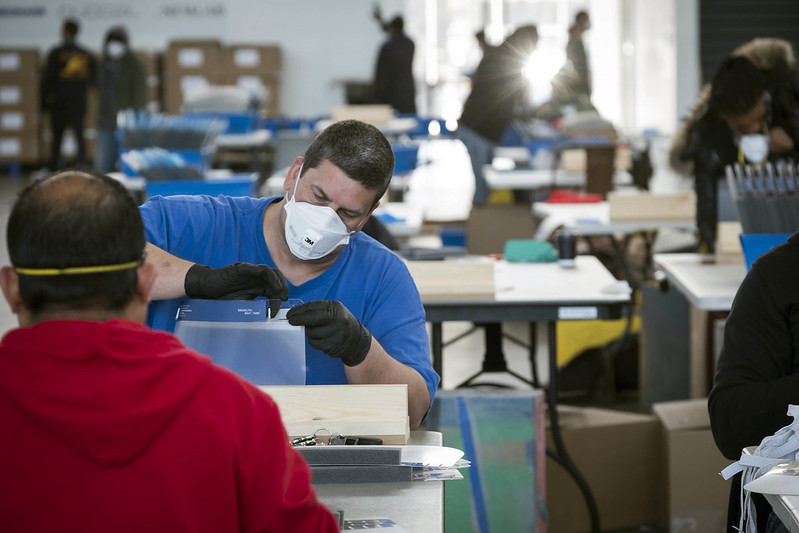 Workers at work (photo: Ed Reed/Mayoral Photography Office)
---
When state and city health officials closed down non-essential activities last spring to prevent the spread of the new coronavirus, they acknowledged the heroics of people who had to continue to report to work, to operate the hospitals, food counters, and buses that kept New York vital. Yet while the vast majority of the likely hundreds of thousands of New Yorkers who contracted COVID-19 on the job are eligible for workers' compensation, most have not applied and only a fraction of those have received it.
In addition to the physical damage, the virus has taken a financial toll on many workers, especially in low-wage industries, who have lost income or jobs and incurred steep medical costs after becoming infected. Many are struggling with debt alongside symptoms of "long covid" even as public attention shifts to reopening.
"The bus drivers, the subway drivers, the public transit workers, these are people showing up, leaving their family — as nervous as you are. But they are doing their jobs," Governor Andrew Cuomo said at a press briefing in late March 2020.
"We have nurses, doctors -- these people are heroes -- they're putting their lives at risk. At least get them the right equipment," he said on CNN that same day. Cuomo had been imploring then-President Donald Trump to invoke the Defense Production Act to manufacture masks and surgical gowns, which were in short supply.
Over 2 million COVID-19 cases have been reported statewide in New York and at least 52,000 people have died, a large portion of whom are in face-to-face industries and from working-class communities. A recent study from the New York Committee for Occupational Safety and Health (NYCOSH), a workers' safety advocacy group, estimated as many as 250,000 workers are eligible for workers comp for contracting the coronavirus but only about 21,000 have applied. Of those, fewer than 2,100 have received determinations from the New York State Workers' Compensation Board, the report states.
Lawyers and unions representing workers say the high burden of proof and systemic problems with the Workers' Compensation Board, a body appointed by the governor to administer the state's restitution laws, prevent many people from receiving benefits. Among the biggest issues named by advocates is a dearth of public education around benefits, poor accommodations for non-English speakers, and a decades-long reduction in initial hearings for injury claims.
"The Workers' Comp Board in New York State has a history of not doing the appropriate amount of outreach to workers about their eligibility for workers' compensation," said Charlene Obernauer, executive director of NYCOSH, in an interview. What outreach has been done has not been "enough to really significantly showcase that this system is one that you can apply for if you had COVID-19," she said, suggesting the state fund community-based organizations to reach a wider section of the population with education around workers' rights.
Workers have two years from the time they are injured -- or get COVID-19 -- to file a claim. Successful claims can lead to a portion of lost wages being restored and cover medical expenses related to the on-the-job injury. In the event that a workplace injury is fatal, family members may receive a percentage of income and money towards funeral expenses.
A Workers' Compensation Board spokesperson said the body has gone beyond its legal mandate to provide outreach to workers, labor unions, healthcare providers, and insurers through webinars and social media. The board has issued multiple guidance documents specifically for filing covid-related claims and has published "frequently asked questions" and answers in eight languages and an instructional video in English and Spanish. The spokesperson told Gotham Gazette the Workers' Compensation Board has made efforts to identify and contact family members of people who died from a work-related COVID-19 infection.
Many people who contracted COVID-19 have a hard time proving they got it at work and that they had the virus at all, Obernauer said. It can be especially difficult for people who were infected at the beginning of the pandemic when testing was limited and guidance from Cuomo and Mayor Bill de Blasio and many businesses advised employees to quarantine at home if they had symptoms.
The Workers' Compensation Board has ruled that workers can receive benefits if they can demonstrate that they worked in a place where COVID-19 was "prevalent." According to a spokesperson, a worker needs to show a positive test result or a report from an authorized medical provider. There are about 25,000 board-authorized providers in New York State, far fewer than the number of active physicians, which numbered around 73,000 in 2018, according to the American Association of Medical Colleges.
Last week Cuomo signed the New York Health and Essential Rights Act, or HERO Act, to create enforceable standards for businesses related to testing, social distancing, masks and other personal protective equipment, disinfection, and other precautions.
Even when people do have the documents, they can get tied up in Board proceedings. It can be months for filers to receive benefits, during which time bills can pile up.
Delita Glori-Feri is a critical care nurse at Montefiore Medical Center in the Bronx who got COVID-19 in March 2020 at the peak of the pandemic. She had been working with covid-positive patients and was soon admitted to the ICU herself, where she was given high levels of oxygen. Delita was out of work for 11 months before returning, she said in a phone interview.
She applied for workers' comp and received a favorable determination from the Workers' Compensation Board, she said. But Montefiore's insurers appealed the decision, claiming she contracted the virus from her husband. She said she submitted more evidence through her lawyer and is now waiting for another ruling.
Delita still gets short of breath but has used up her sick leave and said she worries what will happen if she needs to take more time. She said she's started getting calls from collectors about her ICU stay last year but no final word from the Workers' Compensation Board.
"I would like the Workers' Compensation Board to act on it as soon as possible, not just for me but for those other nurses," she told Gotham Gazette. "We kind of gave everything to provide service to take care of the people of the community or the patients going to the hospital."
Advocates are pushing for COVID-19 to be designated an occupational disease by law, which would in effect enshrine the prevalence standard, which is currently applied at the discretion of the Workers' Compensation Board. A bill in the State Legislature would create a host of applicable occupations in health care, transportation, food service, retail, hospitality, and other industries.
Speaking at a press conference last week hosted by NYCOSH, the bill's sponsor and Senate labor committee chair Jessica Ramos, a Democrat state senator from Queens, said the legislation would invite "state government to make a clear and meaningful investment in helping these workers seek and obtain the economic relief that is justly owed to them for having risked their lives and quite frankly the lives of their family members when they got home."
As a practical matter, the Workers' Compensation Board's prevalence standard already achieves some of these effects, but legislation would make it permanent and help deter frivolous objections from insurers, said Robert Grey, who authored the report in collaboration with NYCOSH and is managing partner of Grey & Grey LLP, a firm representing injured workers.
"You've got a situation where the employers and insurers are disputing 7 or 8 out of 10 cases and they're only winning one in a thousand and yet they continue to do it," he said. "Hopefully, if the presumption statute were passed it would reduce the incentive for insurers to be contesting these cases because they would understand that they're not going to win them."
But "getting the presumption written into the statute would not change the outcome of any of the cases we've seen so far," he noted.
NYCOSH is also advocating for a return to initial hearings, which the group argues the Workers' Compensation Board should hold for all workers when a claim is filed in order to ensure the worker is well-informed of their requirements and the board of the details of their case. A bill in the State Legislature would require at least one hearing for each claim, but it has stalled in committee.
The Workers' Compensation Board spokesperson said the board sent notices to all COVID-19 claim filers that a medical report was required.
Limited translation and interpretation services may have deterred potential covid claimants, many of whom work in industries predominantly occupied by immigrants and non-English speakers, advocates say. Ramos carries legislation to require the Workers' Compensation Board to translate all materials into the six most common languages spoken in New York along with translation services and a broader language access plan. Another bill requires hearings be recorded by a stenographer and provided to filers in their native language.
"This can be an issue with Spanish but it's also really an issue in communities [that] are not one of the top six languages in New York State," Obernauer said. "We work a lot with Nepali workers, for example, you would be hard pressed to find materials in Nepali on the system."
Advocates are concerned that workers may face retaliation from their employers when seeking restitution for workplace health costs, despite laws against it. The Workers' Compensation Board is empowered to issue penalties and order employers to restore jobs or lost wages for violations. The board does not track how many determinations of retaliation or discrimination it makes, according to the spokesperson.
"Whether it's the Workers' Comp Board doing it administratively or whether it needs to be legislation is a debate, but either way there needs to be some additional level of protection for workers so they're not able to be retaliated against," Obernauer said.
Advocates say there is little New York City can do absent state action. But as a large employer, according to Grey, the city government itself has been far more lenient than private hospitals and other employers in challenging COVID-19 claims. "In the 9/11 case, the city was probably far and away the worst actor," he recalled, "in covid cases it's one of the best."
"I'm not saying that's good," he added.