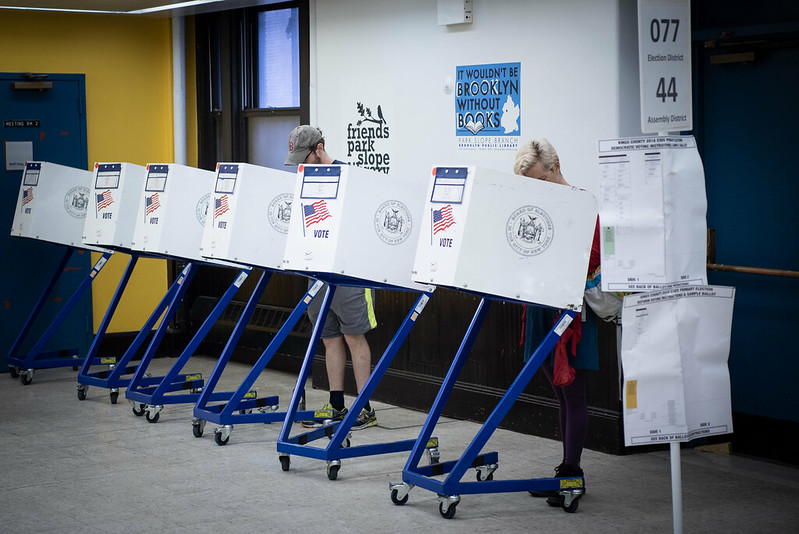 Voting (photo: Michael Appleton/Mayoral Photography Office)
---
The New York State Assembly on Tuesday approved two bills that would amend the state constitution to make significant changes to voting laws, and the proposals will now go to voters on this fall's ballot.
One would allow voters to request "no excuse" absentee ballots, opening up voting by mail to all. The other would allow voters to register to vote and cast a ballot on the same day. The bills had been previously approved by the Senate, and passed by both houses of the State Legislature in the last session, and will now head to voters across the state for their approval or disapproval as questions on the 2021 general election ballot.
The two bills marked the successful passage of the last remaining items on an agenda first put forward by the Let NY Vote coalition in 2017. The coalition, made up of more than 175 organizations from across the state, had already succeeded in advocating for the legislative passage of early voting, more flexibility in changing political party affiliation, pre-registering 16- and 17-year olds to vote, consolidating primary dates, automatic voter registration, and for the restoration of voting rights to formerly incarcerated New Yorkers.
The passage of most of these many significant changes to New York voting and elections was made possible by the fact that Democrats took control of the State Senate, and thus both houses of the Legislature and governor's office, through the 2018 elections and have made these reforms, many of them opposed by Republicans, among their top priorities.
"The Assembly Majority is committed to making it easier for voters to exercise their constitutional right to vote," Assembly Speaker Carl Heastie, a Bronx Democrat, said in a statement on Tuesday. "These bills will increase accessibility to the polls and continue some of the safety precautions we began taking during the pandemic. As we see states roll back access to voting, New York will fight to make sure every eligible voter is able to have their voice heard."
"Voting is an integral part of ensuring a functioning democracy, and part of our civic duty as Americans," said Assemblymember Latrice Walker, a Brooklyn Democrat who chairs the election law committee, in a statement. "The Assembly Majority will continue working to ensure every eligible voter has access to the ballot – whether in person or by absentee ballot – and is able to have their voice heard."
Activists from the non-partisan Let NY Vote coalition celebrated the passage of the bills. "Our work is not done, but right now, it is a little bit easier to vote in New York," said Sarah Goff, deputy director of Common Cause New York, in part, in a statement. Amanda Blair and Amanda Richie, co-founders of Brooklyn Voters Alliance, said in a statement that New York is "one step closer to becoming a beacon for democracy." Murad Awadeh, executive director of the New York Immigration Coalition, noted, "Newly naturalized voters, in particular, can finally navigate what was once an outdated and opaque voter registration process."
Despite its reputation as something of a progressive state, New York had, until recent years, among the nation's most archaic election and voting laws. In the 2016 presidential election, the state ranked 41 out of 50 states for voter turnout. Voting rights activists had long pointed out that though New York did not undertake any overt attempts to discourage voter participation like some Republican-led states, its laws effectively led to passive voter suppression. Roadblocks included the split Legislature as well as the fact that many entrenched Democratic incumbents have been more than happy to leave the suppressive system in place.
After years of languishing before the Legislature, election and voting reforms were quickly ushered through when the Democrats grabbed control of the state Senate amid a "blue wave" in 2018. At the forefront of the reforms were newly elected progressive Democrats in the state Senate, who had replaced more moderate members of their party who had caucused with Republicans under the banner of the breakaway Independent Democratic Conference.
For instance, the state had the earliest deadline in the country for switching party affiliation to vote in an election – it was roughly six months prior to primary election day before it was shortened in 2019 to just about ten weeks. Early voting had been in place in 37 other states before New York approved it earlier that same year, while also consolidating state and congressional primaries that had been held on separate dates, discouraging turnout. Sixteen other states and Washington D.C. had already approved automatic voter registration before New York passed it into law in December 2020. And just last week, Governor Andrew Cuomo signed into law a bill that restored voting rights to people released from prison.
There are still voting and election reforms some would like to see out of Albany, including reforms to how state and local boards of elections are structured and operate.
The coronavirus pandemic lent added urgency to expand access to voting. Through executive and legislative action, voters saw expanded early voting hours and easier access to absentee ballots. If the ballot referenda should pass in November, New York will join 38 other states that now allow no-excuse absentee voting, and 18 states and D.C. that already have same-day registration.
"If approved by the voters this fall," said Betsy Gotbaum, executive director of Citizens Union, in part, in a statement, "these reforms will build on the positive work that has been done in Albany over the past years to expand and protect the right to vote and make it easier for New Yorkers to participate in the democratic process."
Note: Gotham Gazette is an independent publication of Citizens Union Foundation, sister organization of Citizens Union.