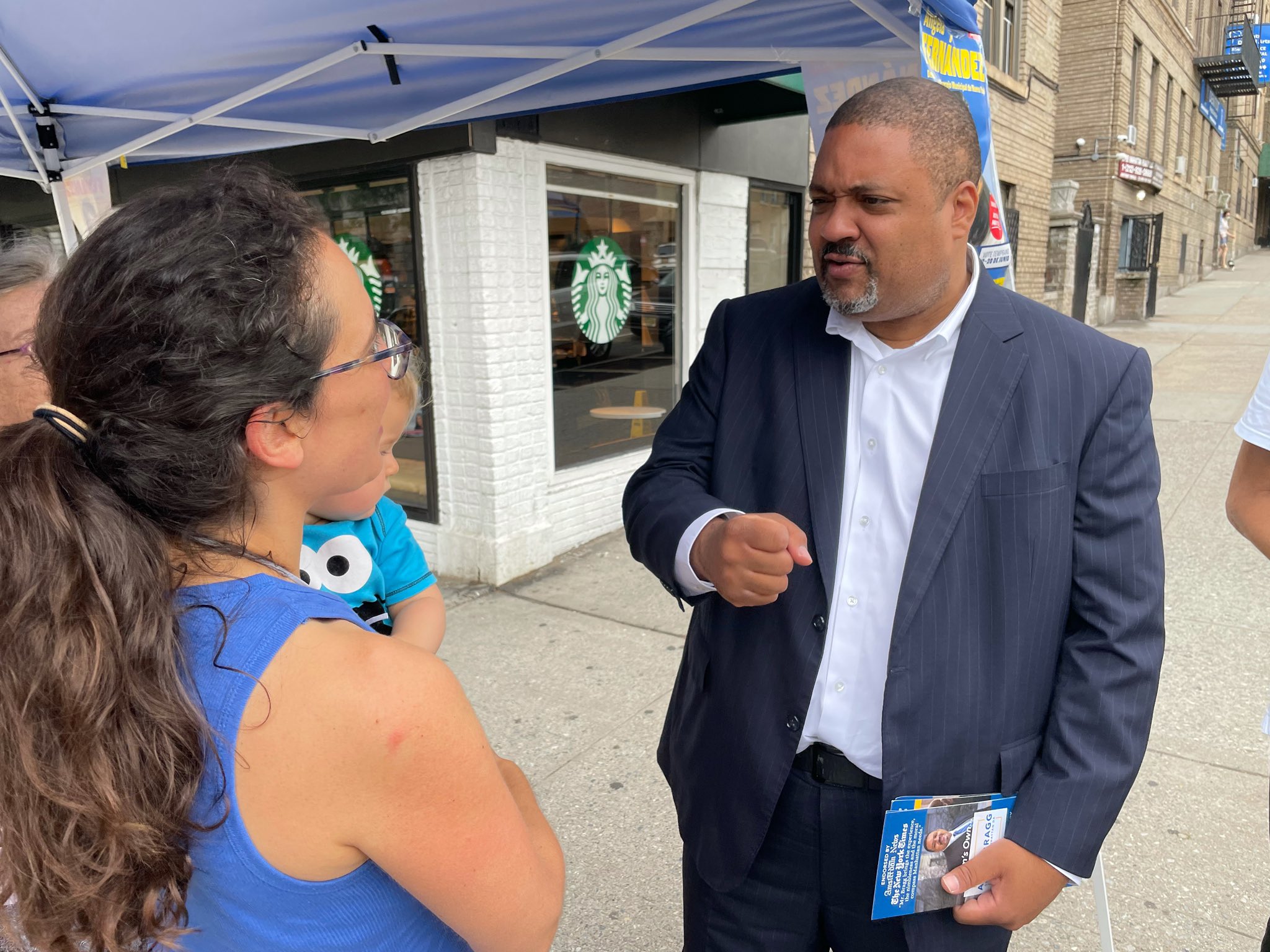 Alvin Bragg on the campaign trail (photo: @AlvinBraggNYC)
---
Alvin Bragg, the current frontrunner in the Manhattan District Attorney Democratic primary election, said during an appearance this past week on the Max Politics podcast that he is pleased with how voters responded to his campaign and expressed cautious optimism that his lead will hold when tens of thousands of absentee ballots are counted in the coming weeks.
"I feel good," Bragg told host Ben Max of Gotham Gazette. "I feel that the voters of Manhattan responded to the message of marrying fairness and safety that I've been living for almost 50 years, I've been working on for more than 20, and I've been talking about on the campaign trail for quite some time now."
Bragg emerged on top of the eight candidates vying to be the Democratic nominee for Manhattan DA in the fall general election after a tally of in-person votes late Tuesday night. If elected, Bragg, who most recently served as the Chief Deputy Attorney General for New York State, will be the first Black person ever elected to the office, which is Manhattan's chief prosecutor and state law enforcement official.
The race, still too close to call, has Bragg ahead of Tali Farhadian Weinstein by 7,265 votes, or 3.42%, with almost all of the in-person vote tallied from the early voting period and primary day. About 212,600 in-person votes were tallied, and Bragg received just under 72,000, while Farhadian Weinstein received almost 64,700.
Despite Bragg's sizable lead, the outcome of the race may hinge on the absentee ballot count -- as of Sunday night, the Board of Elections had received more than 39,000 absentee ballots back from Manhattan Democrats (more than 59,000 were sent out by the BOE upon request from eligible voters).
"We all knew going into today that this race was not going to be decided tonight and it has not been," Farhadian Weinstein said, in part, on primary night. "We are down about 3.9 percent with tens of thousands of ballots from today and about 50,000 absentee ballots left to be counted. And so we have to be patient."
Unlike all of the city government primaries on the ballot this year, the Manhattan District Attorney race is a state office, so ranked-choice voting was not at play. There are no runoffs, either, so whichever candidate gets the most votes wins the primary. The winner of the Democratic primary is all but certain to win the general election given Manhattan's overwhelming Democratic tilt, but there will be competition from Republican nominee Thomas Kenniff.
While on the campaign trail, Bragg found himself comfortably between multiple leftist, de-carceral candidates—such as current third-place candidate Tahanie Aboushi, who trails Bragg by nearly 50,000 votes—and those further to his right, who took more of a hard-line stance on crime and safety, including Farhadian Weinstein.
After Bragg, Farhadian Weinstein, and Aboushi, the order among the other Democratic candidates in terms of in-person vote totals is Lucy Lang, Diana Florence, Liz Crotty, Eliza Orlins, Dan Quart. Final results will be determined by how the absentee votes break.
While Bragg was circumspect during the Wednesday podcast appearance, his campaign has since used more stark language, with an email to supporters on Sunday signed by Bragg himself with the subject line "Protecting our victory," and seeking to raise funds to help pay for legal battles that may ensue. "Thanks to you, we did something historic on Tuesday," the message says, in part. "While the math overwhelmingly shows we were victorious, our billionaire opponent has not conceded and there are rumblings of coming court challenges." Farhadian Weinstein's wealth became a focal point of the race, especially after she put more than $8 million of her own money into her campaign.
Bragg credits his lead to his campaign's ability to balance safety and reform, as many voters have encountered both public safety issues and unfairness in the law enforcement and criminal justice system.
"The key language we tried to drill down on during the campaign is how we respond to those public safety issues, right," he said. "I've seen this failure of this, you know, 'law and order,' 'war on drugs' approach, which locks up whole communities. That's not true public safety. That's just bad public policy."
In light of the recent increase in gun violence in the city, Bragg said he plans to enhance gun intervention programs, as well as follow money and contraband to find the most culpable criminals. Overall, he said, the DA's office needs to pair a community-based public safety model, which can range from community violence interruption programs to hospital visits with victims of gun violence, with smart and effective prosecution.
Additionally, reforming the larger law enforcement system, Bragg said, would free up the DA's office to focus on the pressing and significant threats to public safety.
"I think there's a yearning in Manhattan to fundamentally reform our system...," Bragg said. "We have gone throughout the borough and heard, in all corners of the borough, not just up here in Harlem or on the Lower East side, deep concern about police accountability. Deep concern about the types of offenses that we arrest people for that have little to no public safety benefits."
One example of enforcement for these types of offenses is the NYPD prioritization of arrests for untaxed cigarette sales, he said. Tracing the sales back to shipments of untaxed cigarettes and prosecuting those in charge of shipments, according to Bragg, would help the DA's office to truly hold the funders of criminal activity accountable and reduce any problems that occur at the community level.
He also spoke about his father's struggles with substance abuse and how New York City is indisputably in the midst of a mental health crisis. Bragg said the DA's office needs to put resources to good use to address the crisis and lean into substance abuse diversion programs.
Bragg criticized law enforcement criminalization of poverty, and asserted that the government should turn to other methods to address issues like homelessness.
"Whether it's the homeless person that's taking up two seats on the subway—a real case from this past summer that was prosecuted—or the homeless person who the DA's office recommended a sentence of internment of five to 10 years for, you know, buying food or toothpaste with a counterfeit bill," he said. "Those are not criminal matters for me, and we need to use other tools in the government toolkit to address those and save our criminal resources for things that are really what New Yorkers are up thinking about, talking about. True public safety issues."
When asked about any parallels with mayoral primary frontrunner Eric Adams, a former NYPD captain, Bragg noted they appear to have some policy differences around the role of police, though he did not get into specifics, but acknowledged similarities around how they both highlighted personal experiences in pitching voters on their visions for justice and safety. Bragg, who grew up in central Harlem, said that those in the public square must continue to share their personal narratives as these stories hold power and resonate with voters.
"When we do that, we encourage others to tell their story and we develop public policy around real life experiences...," he said. " That power of narrative, and really meeting people where they are and talking about everyday experiences, I think is potent and I really respect Eric for bringing those forward."
[LISTEN: Max Politics Podcast: Alvin Bragg on His Lead in the Manhattan DA Primary]
[WATCH: Decision NYC: Alvin Bragg Discusses His Campaign for Manhattan District Attorney (from March)]
Ben Max contributed to this story.