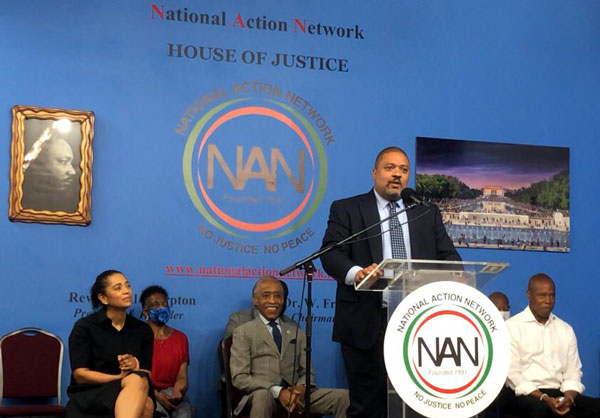 Alvin Bragg at NAN (photo: @AlvinBraggNYC)
---
Alvin Bragg, the former Chief Deputy Attorney General for New York State, appears likely to become Manhattan's next District Attorney. After winning the Democratic primary, in the general election Bragg will face Republican nominee Thomas Kenniff, who has a very steep uphill battle given the overwhelmingly Democratic make-up of Manhattan's electorate and other advantages Bragg comes into the race with, including institutional support. Bragg ran a progressive primary campaign, while still treading something of a political middle ground between the more conservative 'law-and-order' candidates who were less reform-minded and the far-left candidates whose platforms focused largely on declining to prosecute many crimes, decarceration, and shrinking the district attorney's office.
A civil rights attorney turned federal prosecutor and a Harlem native, Bragg would be the first ever Black district attorney elected in Manhattan. He has promised to bring a personal approach to public safety, informed by his own experiences, oft-mentioning on the campaign trail that he has had a gun pointed at him six times before the age of twenty-one, including, he says, "three by NYPD officers during unconstitutional stops...and also three by people who were not police officers."
Since his primary win, Bragg has doubled down in press and other public appearances on the primary messages of his campaign -- community-based public safety that draws on his own lived experience and proportional prosecution based on harm.
"I feel like the voters of Manhattan responded to the message of marrying fairness and safety," Bragg told Gotham Gazette editor Ben Max on the Max Politics podcast, adding later, "the key language I really tried to drill down on during the campaign is how we respond to those public safety issues. I've seen the failures of this, you know, 'law and order,' 'war on drugs' approach, which locks up whole communities. That's not true public safety. That's just bad public policy."
Bragg's platform involves eliminating prosecution for 'lower harm' offenses such as turnstile-jumping, trespassing, and resisting arrest for nonviolent infractions. "We need to focus on things that have public safety implications and impacts -- the kind of things that Manhattanites are sitting around their kitchen tables talking about -- gun trafficking, sexual assaults, things that involve real harm" Bragg explained in a post-election interview with PIX 11 that aired July 11.
Many major U.S. cities, including New York, have seen significant increases in gun violence since the pandemic, and former NYPD captain Eric Adams' success in the Democracic mayoral primary has been attributed in part to his 'tough on crime' platform, though Adams has stressed taking a holistic approach to both prevent and intervene in violent crime. Adams, now the Brooklyn borough president and poised to become the city's second Black mayor, has proposed the reinvention of a special plainclothes unit in the NYPD to break up gun-running, gangs, and other illegal activity related to shootings. Bragg said in an interview with NY1 that he does not agree with this approach. "I don't think the efficacy is there and I know that the civil liberty infringements are," Bragg said, in reference to the plainclothes "anti-crime" unit that had a troubled history and the NYPD disbanded last year amid calls for police reform and an end to police brutality.
Combating gun violence remains a priority for Bragg, he assures, adding in the interview, "I certainly have plans to lower the number of shootings -- at the Attorney General's office we looked at every gun found at a crime scene and traced it to its last lawful sale. It's a blueprint for gun interdiction so we're gonna do that."
When asked about similarities with Adams' campaign and messaging, Bragg said during the Max Politics interview the day after primary day that he and Adams have some differences on matters of policy that he will look to explore if they are both fortunate enough to ascend to district attorney and mayor, respectively, but that he has tremendous respect for the way Adams has shared his personal story throughout the campaign and that there is crossover between them there. "We need to, those of us that are in the public square, we need to tell those stories that are in some way everyone's stories," Bragg said on Max Politics. Adams talked of being beaten by police as a teenager and later joining the NYPD to make reform from within.
Adams spoke of unity on Saturday at a National Action Network rally hosted by Rev. Al Sharpton where both he and Bragg took the stage. "Our new district attorney and his concepts of how he wants to use that office to deal with public safety, to deal with crime -- it is no different than mine," Adams said in his speech, adding, "Alvin Bragg is going to redefine a prosecutor's office and how we are going to ensure that we don't criminalize young people everyday in this city and it's so important because those that would try to pull us apart they would try and create these tensions and fights -- well Eric said this and you said that -- shut up."
Adams went on to pledge that he would work everyday to make Bragg's job boring -- fighting to protect those with learning disabilities and mental health challenges before they enter the criminal justice system and to intervene in situations involving domestic violence. "His prosecution rate is tied to my educational failure rates," Adams asserted.
Speaking after Adams, Bragg mostly stuck to praise of Adams' personal story and connection to people's lived experiences, recollecting a speech given by Adams the last time the two were together at a National Action Network event, calling it "the most profound way I've ever heard anyone tell their narrative," and saying it brought him nearly to tears. Adams has spoken movingly not only about his relationship with policing but also about being on the verge of homelessness as a kid, and more about his personal story that has helped him connect with New Yorkers.
The remainder of Bragg's speech was centered around the historic nature of both his and Adams' wins as well as a series of thank yous to the National Action Network, including Sharpton and many others, and a request for further prayers and support. On policy, Bragg returned to a familiar campaign promise to limit incarceration to only those cases in which he believes it is absolutely necessary.
"The state has the power to take away someone's liberty," Bragg said. "We are going to use that power judiciously and wisely. We are going to use that for fairness and for safety. We are going to address racial disparities, we are going to have one system of justice for all and we are going to address these guns on our streets."
Bragg's comments on gun investigations and tracing are in line with other comments he's made during the primary campaign and since about the importance of following the "contraband" and punishing those pedaling it rather than the smaller actors who fall victim. "If you follow the money and the contraband they invariably will take you to the most culpable people," Bragg explained on the Max Politics podcast.
A follow-the-data and address-the-root-causes approach is also apparent in Bragg's argument against prosecuting small sales of untaxed cigarettes, which he said has been prioritized by the NYPD — including in the deadly case of Eric Garner, whose family Bragg is currently representing in a suit against the city where it is seeking more information about internal decisions about the limited punishment for officers on the scene of Garner's 2014 killing. It's much better to trace back those shipments and hold UPS and FedEx accountable, he said on the podcast, advocating for more emphasis on finding the "funders of criminal activity."
"We don't compartmentalize justice," Bragg said on Max Politics of the decision to run to be one of the most important prosecutors in the country while involved with the case, where he's representing Garner's mother, Gwen Carr. "We want justice and fairness across the board; they're inextricably linked," he said.
Bragg has been criticized by his Republican general election opponent and conservative media outlets as being 'pro-crime' in part because of his stance that not every gun-related crime should be prosecuted. He has indicated that some possession cases should lead to alternative programs. "We need to recognize that not every person charged with possessing an illegal gun in New York City is a driver of violence…," Bragg's campaign website states. "Sending these individuals to jail or prison increases the likelihood of recidivism. In short, it does not make Manhattan safer. Fortunately, New York City has a robust array of programming for appropriate gun cases, including a number of programs already used for gun cases in other boroughs."
"The notion that I don't care about this, or I'm not focused on this is really antithetical to reason," Bragg said on WNYC's The Brian Lehrer Show on July 8, in reference to his approach to gun violence and gun crimes. "I've got to walk these streets. My family and loved ones walk in the street. My response is yes, of course, I care. If you look at my body of work, you look at what I've done, I've worked on both public safety issues and fairness issues. I find that a lot of people pushing this narrative don't want to talk about the fairness part. They don't want to talk about the police accountability. They don't want to talk about the effects and the collateral consequences of these cases that have nothing to do with public safety."
On specifics of the prosecuting policy he plans to bring to the DA's office, Bragg oft-explains his stance by telling the story of his brother-in-law who served over a year in jail after being rounded up by police after a fist-fight in which five were arrested on gun charges but only one participant had a gun. "There are some gun cases that I think shouldn't be brought," he said on NY1. "We're going to use that kind of life-based experience as a guide to what is really public safety."
Pressed on the trespassing 'leniency' Bragg returned to his common refrain, arguing that "If there's real harm we'll charge the real crime." Trespassing in particular, he says, is a charge that "has sometimes been abused" and used with "great racial disparity," citing the history of the NYPD's vertical building sweeps.
On softening the charges for resisting arrest in some cases, Bragg says this too is about systemic reform. "I've based these policies on my life experience and my work experience," he told NY1. "I have never once seen a good stand-alone resisting arrest charge." Most of these charges, he explained, are retaliatory, used against someone who is 'mouthing-off'" to the police.
For Bragg, these are all components of a larger philosophy he hopes to bring to the position that would reduce incarceration by declining to over-punish for low-level infractions and creating instead a robust and community-centered public safety program. "I think we need to restructure the office," Bragg explained to NY1, saying, "we need to shift the office's focus from what I call churn cases, cases where people are going in and out of the system but we're not addressing underlying issues to more significant issues."
Bragg characterized the relationship he plans to have with the NYPD as familial, in his interview with PIX 11, vowing to always tell members of the police department the truth, even when it's hard, and to share a spirit of cooperation though it's unlikely they'll agree on everything. If he is the next DA, his relationship with the next NYPD commissioner, likely an Adams appointee, will be important. In the primary, Bragg spoke a lot about police accountability; police unions endorsed candidate Liz Crotty, who ran the most conservative, traditional campaign in the Democratic field.
"I think there's a yearning in Manhattan to fundamentally reform our system," Bragg said on Max Politics. "We have gone throughout the borough and heard, in all corners of the borough, not just up here in Harlem or on the Lower East side, deep concern about police accountability. Deep concern about the types of offenses that we arrest people for that have little to no public safety benefits."
His focus will always be on public safety implications, he added on PIX 11, saying, "If we don't have accountability we don't have community trust and without community trust victims and witnesses don't come forward and we don't have public safety."
Like Adams and others, Bragg also speaks regularly about focusing on underlying causes without turning first to a law-enforcement solution. His father, whom he oft-referenced on the campaign trail as well, worked in homeless shelters, which he says gave him an up-close view on the way poverty has been criminalized.
"Whether it's the homeless person that's taking up two seats on the subway—a real case from this past summer that was prosecuted—or the homeless person who the DA's office recommended a sentence of internment of five to ten years for, you know, buying food or toothpaste with a counterfeit bill," Bragg said on Max Politics, "those are not criminal matters for me, and we need to use other tools in the government toolkit to address those and save our criminal, carceral resources for things that are really what New Yorkers are up thinking about, talking about. True public safety issues."
Bragg also said in the July 8 interview on The Brian Lehrer Show that it's all about thinking about how to deploy the power of government, not ignoring the problems but also not putting them all under criminal sanction.
Bragg says he watched his father battle addiction as well and has let that inform his desire to lean into diversion programs for New Yorkers with substance use disorders and to capitalize on the city's mental health resources to address that crisis. The importance, he says, lies in "matching the right response to the real need and not just reflexively responding with police."
Once in office, Bragg would also take control of the case recently brought against the Trump Organization, which involves a 15-count indictment and could expand between now and the end of DA Cyrus Vance's term, which goes through December, and/or during the next DA's tenure. While he was unable to comment on specifics, he did tell PIX that he has a history of prosecuting complex white collar cases and feels "very equipped" to handle the matter.