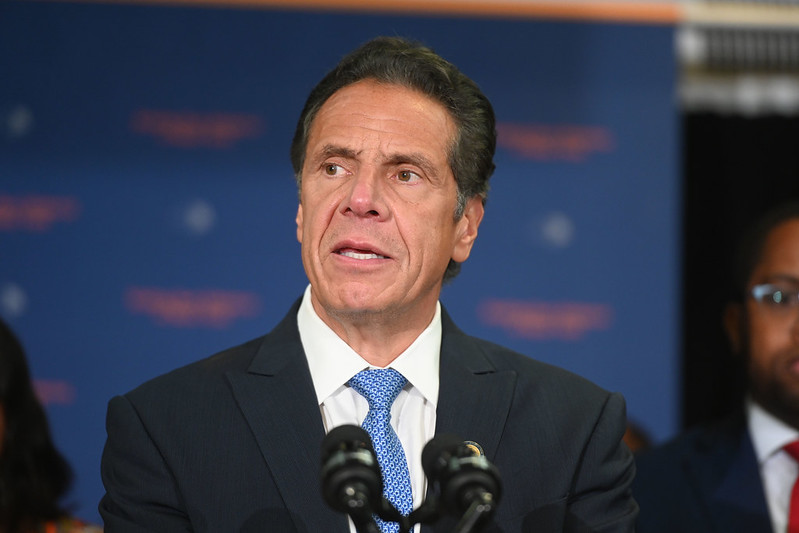 Photo: Kevin Coughlin/Governor's Office
---
Governor Andrew Cuomo sexually harassed multiple current and former state employees, and his executive office retaliated against one woman who publicly accused him of harassment, according to the findings of an investigation released on Tuesday by New York State Attorney General Letitia James.
James released a lengthy report concluding a five-month investigation by independent attorneys Joon H. Kim and Anne Clarke, who were appointed by James' office to look into several allegations of sexual harassment against the governor. Kim is a former federal prosecutor and partner at Cleary Gottlieb Steen & Hamilton LLP, and Clark is a high-profile employment lawyer and partner at Vladeck, Raskin & Clark, P.C.
According to James, the report found that Cuomo harassed multiple women by "engaging in unwelcome and nonconsensual touching and making numerous offensive comments of a suggestive and sexual nature that created a hostile work environment for women."
The investigators interviewed 179 witnesses and reviewed more than 74,000 pieces of evidence, including documents, emails, texts, audio files, and pictures, James said. "These interviews and pieces of evidence reveal a deeply disturbing yet clear picture," she said, noting that the governor and the executive chamber violated both state and federal law as well as the executive chamber's own written policies. The governor and senior aides also retaliated against one accuser, Lindsey Boylan, who made public allegations against the governor on Twitter in December last year and then came forward with her full story in February. The report noted that the governor's office leaked personnel records regarding Boylan and the circumstances of her departure from his administration in an effort to undercut her credibility.
The scathing report concluded that Cuomo's administration and senior staff created a "toxic workplace" that enabled the governor's harassment and led to a "climate of fear" that discouraged staffers from reporting their complaints. "This investigation has revealed conduct that corrodes the very fabric and character of our state government and shines light on injustice that can be present at the highest levels of government," James said. However, James later noted that the behavior laid out in the report constituted civil violations and the governor does not face criminal liability. An Assembly impeachment probe into these and other allegations is also ongoing and James' report led to renewed calls for Cuomo to resign from state lawmakers and other prominent elected officials Tuesday.
At the news conference, Kim said the governor's actions and repeated sexualized comments towards state employees "were not isolated incidents" but rather "part of a pattern" that extended to workers outside of the executive chamber, including a state trooper on the governor's protective detail. The trooper was one of 11 complainants in the report, and one of two whose complaints against the governor were previously unreported. "Some suffered through unwanted touching and grabbing of their most intimate body parts. Others suffered through repeated offensive, sexually suggestive or gender based comments," Kim said. "A number of them endured both. None of them welcomed it. And all of them found it disturbing, humiliating, uncomfortable and inappropriate."
"The governor's conduct detailed in the report clearly meets and far exceeds the standard" for gender-based harassment in the workplace, said Clark.
Among the complaints that were substantiated in the report were allegations made by Charlotte Bennett, who was previously an executive assistant in Cuomo's administration. Bennett, who left the administration in November, came forward with her complaint just days after Boylan, saying the governor harassed her last spring by inquiring about her sex life and whether she had ever slept with older men. Bennett said she believed the governor was attempting to sleep with her.
Cuomo responded to the report on Tuesday afternoon, denying the complaints in a livestream without taking questions from the press, though he did apologize for certain actions. "I never touched anyone inappropriately or made inappropriate sexual advances," he said. "I am 63 years old. I have lived my entire adult life in public view. That is just not who I am and that's not who I have ever been." He specifically addressed Bennett's complaint and apologized to her, though he dismissed her complaint as a misunderstanding of his intentions.
The governor also attempted to explain away another complaint from a woman who said he held her face and gave her an unwanted kiss on the cheek at a wedding, of which there is corroborating photo evidence. As he has repeatedly done since the allegations were first levelled, he said he has a habit of hugging and kissing people, both men and women, as gestures to show appreciation and friendship. "I now understand that there are generational or cultural perspectives that, frankly, I hadn't fully appreciated and I have learned from this," he said.
He dismissed the claims that his office fostered a toxic work environment while also insisting that complaints against his top staffers, including Secretary of State Melissa DeRosa, smacked of sexism. "I have always said my office is a demanding place to work and that it is not for everyone," he said.
The report quickly triggered a flurry of calls for the governor's resignation from both sides of the aisle, including from President Joe Biden and prominent Democrats such as U.S. Senators Chuck Schumer and Kirsten Gillibrand, House Speaker Nancy Pelosi, U.S. Reps. Hakeem Jeffries, Thomas Suozzi, and Gregory Meeks, and State Senate Majority Leader Andrea Stewart-Cousins.
Biden had previously said in March that Cuomo should resign if the Attorney General's investigation confirmed complaints against him. "I stand by that statement," he said at a news conference on Tuesday.
"No elected official is above the law," said Schumer and Gillibrand in a joint statement. "The people of New York deserve better leadership in the governor's office. We continue to believe that the Governor should resign."
"Recognizing his love of New York and respect for the office he holds, I call upon the Governor to resign," Pelosi said in part in a statement.
"As I said, when these disturbing allegations first came to light, the governor must resign for the good of the state," Stewart-Cousins said in a statement.
Notably, State Assembly Speaker Carl Heastie, also a Democrat, did not directly call on the governor to step down. In a statement, he said the findings of the report were "disturbing" and the victims' accounts were "gut-wrenching." "The conduct by the governor outlined in this report would indicate someone who is not fit for office," he said, noting that the report had been sent to the Assembly judiciary committee, which is conducting the impeachment inquiry into the governor. Heastie said the Assembly would undertake an "in-depth examination" of the report. "We will have more to say in the very near future," he added.
State Senate Republican Minority Leader Rob Ortt said in a statement, "In the wake of another devastating report, now more than ever Andrew Cuomo must resign. If he fails to do so, the legislature must immediately reconvene to take action to remove him."
The sexual harassment investigation is just one of the many scandals that have plagued the governor for months. The Assembly's impeachment investigation is looking into both the sexual harassment complaints and the Cuomo administration's mishandling of Covid-19 in nursing homes, among other issues. The nursing home issue is also the subject of a federal inquiry. Separately, Attorney General James is also investigating whether the governor misused state resources when writing and publishing his book released during the pandemic.