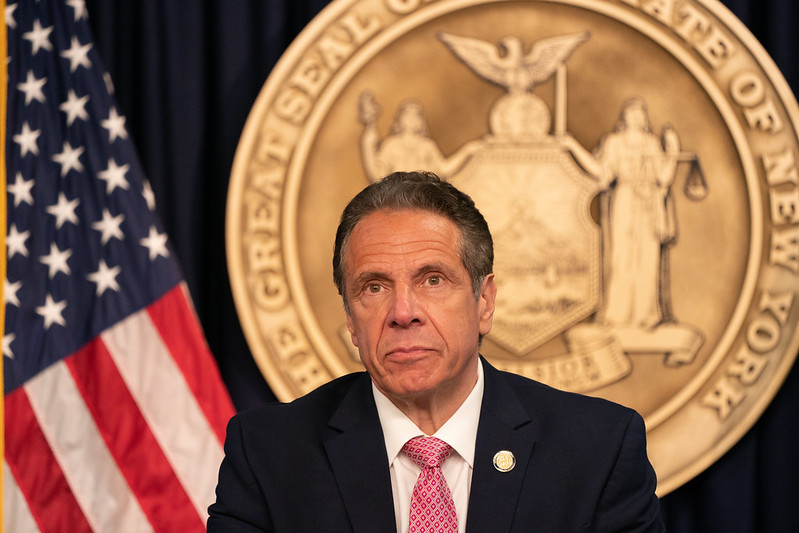 Governor Andrew Cuomo (Don Pollard/Governor's Office)
---
Governor Andrew Cuomo on Tuesday announced that he is resigning from office, just one week after a bombshell state attorney general report found that he had sexually harassed 11 women, nine of whom were current or former state employees.
Cuomo, in a live virtual address from his Manhattan office, said his resignation will take effect in 14 days, at which time Lieutenant Governor Kathy Hochul will take over, making her the first woman to become Governor of New York.
The governor continued to deny the substantiated allegations against him and claimed the report from Attorney General Letitia James' office was "politically motivated," "unfair," and "untruthful." But he nonetheless apologized to all 11 women, and he said he wanted to avoid "months of political and legal controversy" which would distract the state government as it deals with the lingering coronavirus pandemic. The governor was simultaneously facing an impeachment investigation by the State Assembly, which was looking into the sexual harassment complaints and several other issues. The impeachment could still proceed and if impeached, the governor faced the prospect of not being able to run for state office ever again.
"I think that given the circumstances, the best way I can help now is if I step aside and let government get back to governing," Cuomo said, "and therefore that's what I'll do, because I work for you, and doing the right thing is doing the right thing for you."
The governor, a Democrat now in his third term, went on to tout the many accomplishments of his tenure including the passage of marriage equality, gun control legislation including an assault weapons ban, a $15 minimum wage law, paid family leave requirements, free public college tuition for low-income New Yorkers, a broad infrastructure program, and eleven timely, balanced state budgets.
In a statement, Hochul said she agreed with the governor's decision and was ready for the role. "It is the right thing to do and in the best interest of New Yorkers," she said. "As someone who has served at all levels of government and is next in the line of succession, I am prepared to lead as New York State's 57th Governor."
Cuomo's fall from grace was months in the making, as he and his administration were beset by several compounding scandals. The Governor was first accused of sexual harassment in December by Lindsey Boylan, a former economic development official, who later came forward with her full story in February. Another complaint from Charlotte Bennett, an executive assistant in his office, soon followed and kicked open the floodgates to several other complaints against the governor.
At the same time, the administration faced intense scrutiny over its mishandling of COVID-19 in nursing homes. The administration had, according to a report from the attorney general's office, undercounted the number of deaths from COVID-19 in nursing homes, drawing criticism that the governor and his top staff attempted to cover up the true scope of fatalities.
In March, the State Assembly's Judiciary committee launched an impeachment investigation to look into both the sexual harassment claims and nursing home deaths. The scope of its inquiry was broad and also included whether the governor had misused state resources to write and promote his pandemic memoir and whether the governor had improperly given priority Covid testing access to family members and close associates. The committee was also looking into whether his administration covered up potential flaws in the structure of the Gov. Mario M. Cuomo Bridge, a signature infrastructure project for the current governor.
The 165-page report released last week by Attorney General James – based on an investigation by independent attorneys Joon Kim and Anne Clarke – substantiated 11 complaints against the governor and also concluded that he and his top aides illegally retaliated against Boylan. The 11 complaints included Boylan's and Bennett's allegations but also previously unreported ones. One involved a state trooper on the governor's protective detail, who said Cuomo ran his fingers along her stomach and back, and kissed her on the cheek. The most serious complaint, however, came was from an unnamed employee, simply termed "Executive Assistant #1," who said Cuomo groped her at the executive mansion last Fall.
That accuser, Brittany Commisso, went public on Monday in an interview with CBS This Morning and the Times Union. Last week, she also filed a criminal complaint against Cuomo with the Albany Sheriff's Office.
The effects of the AG's report were swift. It quickly led to a flurry of calls for Cuomo's resignation from top Democrats, including President Joe Biden, U.S. Senators Chuck Schumer and Kirsten Gillibrand, and House Speaker Nancy Pelosi, besides dozens of local and state Democratic elected officials.
On Sunday, Secretary to the governor Melissa DeRosa, the top unelected official in the state, resigned her position. According to the AG's report, DeRosa led the effort to retaliate against Boylan and tried to discredit her account.
The Assembly's impeachment inquiry was also given added urgency as the Judiciary committee was presented with the report. "Our goal is now to bring this matter to a conclusion with all due haste," Assembly Speaker Carl Heastie said Monday in a news conference. Heastie had previously said he would await the attorney general's findings before taking a position on whether Cuomo should remain in office. That shoe dropped last week, along with calls to resign from Jay Jacobs, the chair of the state Democratic Party and one of Cuomo's staunchest allies.
Cuomo indicated Tuesday that he hoped to avoid a drawn out impeachment probe. "It will consume government. It will cost taxpayers millions of dollars. It will brutalize people," he said.
"It is a matter of life and death, government operations, and wasting energy on distractions is the last thing that state government should be doing," he added. "And I cannot be the cause of that."