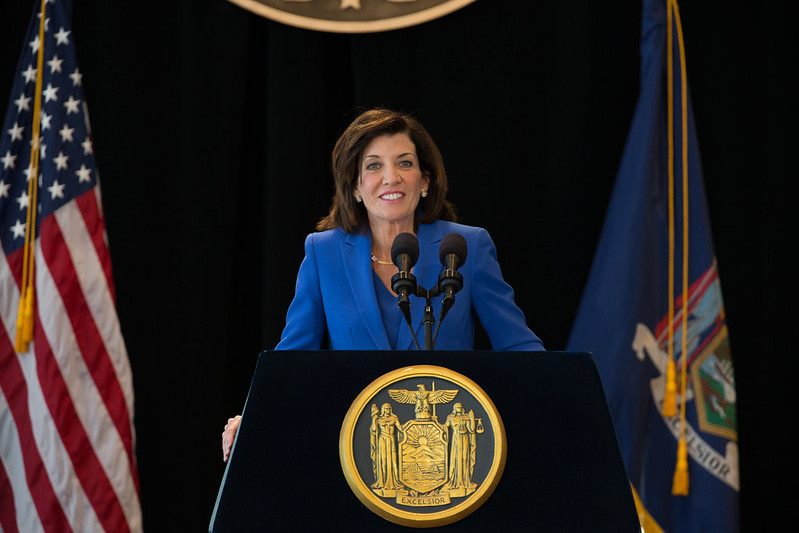 Soon-to-be-Governor Kathy Hochul (photo: governor's office)
---
Kathy Hochul, the Democratic Lieutenant Governor about to become New York's 57th Governor and first woman to hold the position, has been stepping further into her own after the resignation announcement by Governor Andrew Cuomo. As Hochul becomes Governor on Tuesday, August 24, 2021, she will define herself anew as the most powerful state government leader, free of the trappings of the Lieutenant Governor position, largely seen as a key functionary for the Governor and his or her administration.
Over nearly two terms, Hochul has been a loyal lieutenant to Cuomo, even as they have clearly not been close and the governor has regularly been disrespectful of her, including publicly encouragining her to leave their ticket in 2018 to run for her old congressional seat, largely sidelining her during state budget negotiations and the covid response, and not once mentioning her in his covid book about leadership. Hochul has persisted, travelling the state promoting major administration initiatives, especially related to economic development, and championing key causes, like child care and women's empowerment. There is no record of her saying a cross word about Cuomo or even flubbing an administration talking point as she's visited all 62 counties of the state each year as Lieutenant Governor.
But in past interviews and debates, Hochul has talked about her background, her politics, her approach to the government roles she has held, the Cuomo-Hochul administration record, and more. Below is a sampling from Gotham Gazette of Hochul in her own words, including an in-depth discussion about her personal story and political history in a June 2018 podcast interview at her Manhattan office and her 2018 primary debate against challenger Jumaane Williams, as well as two other podcast and radio interviews on the Max & Murphy show hosted by Gotham Gazette's Ben Max and Jarrett Murphy of City Limits. In some instances, like during the debate, you can clearly hear Hochul sticking closely to her careful approach to being Cuomo's lieutenant; in other instances, you get a better sense of Hochul defining herself as a person and a politician.
To better get to know the incoming Governor of New York, listen to her in her own words:
During this June 2018 interview at her Manhattan office, Hochul gave an extended recounting of her personal and political story:
---
During the lone debate in the 2018 Democratic primary for Lieutenant Governor between Hochul, the incumbent, and her challenger, then-City Council Member Jumaane Williams, Hochul explained her approach to the role and made her case for why she deserved another term:
---
During a September 2018 radio interview, Hochul made her closing argument to Democratic voters across New York just ahead of the primary election where she was being challenged by Williams and ultimately won:
---
During a December 2018 podcast interview after winning another term alongside Cuomo, Hochul discussed that victory and the 2019 agenda for the Cuomo-Hochul administration and her particular focus areas: