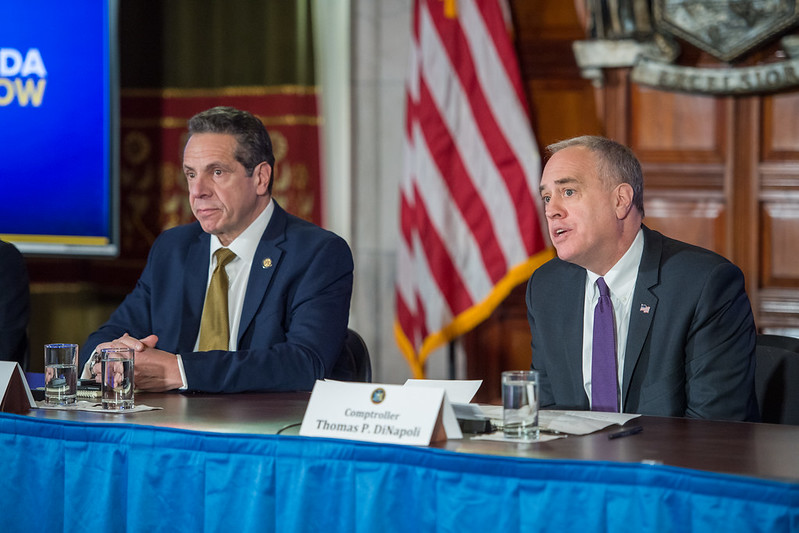 Comptroller DiNapoli, right, & Governor Cuomo (photo: governor's office)
---
Comptroller Tom DiNapoli, the self-described "steady hand helping the state move along" throughout more than a decade of scandal and turmoil in New York politics, is expressing optimism about the change of leadership expected when Governor Andrew Cuomo resigns and Lieutenant Governor Kathy Hochul becomes the state's 57th Governor.
Appearing recently on the Max Politics podcast hosted by Gotham Gazette's Ben Max, DiNapoli discussed Cuomo's decade-plus as governor, their contentious relationship, his reaction to the scandal that brought Cuomo down, how his office is helping Hochul with the transition, whether he is going to run for Governor himself in 2022, and more.
During the August 13 conversation DiNapoli also acknowledged that the joint investigation between his office and the office of State Attorney General Letitia James related to possible misappropriation of state resources by Cuomo and his administration related to the Governor's pandemic book and priority covid testing early in the pandemic is ongoing. This, after James' office closed out its inquiry into a long list of allegations of sexual harassment by Cuomo, the damning findings of which led to his resignation.
DiNapoli had called for Cuomo to step aside back in March when the accusations had become numerous and an apparent distraction, saying that while an independent investigation took place, the state needed stable leadership. DiNapoli said on the podcast he never witnessed or heard anything about Cuomo's inappropriate and unlawful behavior toward women. He did of course acknowledge some familiarity with the other major findings in the report: that Cuomo has run an administration rife with bullying, intimidation, and secrecy, a "toxic" and "abusive" culture as explained by former members of the executive branch who spoke with investigators hired by James, though he said he did not know the full extent as outlined in the report.
Having served alongside four governors and three attorney generals, not to mention becoming Comptroller because his predecessor resigned amid scandal, DiNapoli said the Cuomo resignation was not something unfamiliar to him, but also unique. "There's a part of me that's almost like, 'Oh well, here we go again.' But there's another part though, I think there's something a little different about this, in some ways more monumental," said DiNapoli, one of four elected statewide state-level officials, in a job meant to provide checks on the executive branch especially as the state's chief fiscal officer. All four positions are currently held by Democrats. Hochul will soon get to appoint her Lieutenant Governor.
"Whatever analysis you have on Cuomo's tenure," DiNapoli said, "he certainly was a very dominant figure in state government over the past decade, really maximizing the power of what in New York is already a very powerful role as Governor." The magnitude of the power shake-up created a "huge vacuum," DiNapoli explained. "We'll get through this, but whenever you have this kind of reshuffling, and this is such a huge reshuffling, happening right before a pivotal election year where everything is up, all the legislative seats, all the statewide offices, I think we're in for a bit of a rollercoaster for the year ahead," DiNapoli said of the looming 2022 elections.
"The distraction at the top of government made it harder for there to be a focus on making sure we were operating in the smoothest way possible," DiNapoli recounted, adding that he had urged Cuomo to step aside back in March to allow government to continue without having to deal with months of drama in an important period of leadership. Directing his team, DiNapoli said, "We still are dealing with tremendous issues with the economy, with public health, you mentioned the rent program…So what I have said to my folks is that we need to just do what we do well, which is to stay focused on the work of government."
The comptroller said he had had a brief conversation with Hochul, who is set to be sworn in as Governor at midnight Monday night, or 12 a.m. Tuesday August 24, and that he's made his office and its experts available to her and her team during the transition. He expressed great optimism about her leadership and the change of style and tone, including a far stronger sense of collaboration among officials, that she will usher in.
DiNapoli's relationship with Cuomo has been more than contentious, and while the nature of the Comptroller-Governor relationship is always tense at times, as designed constitutionally, Cuomo's and his team's repeated attacks on DiNapoli over things like audits went beyond the pale, in typical Cuomo fashion.
"I never really understood it. I remember after many calls with him in 2006, I endorsed him when he was running for AG," but "everything shifted as soon as I became state comptroller," DiNapoli said on the podcast. "I don't know whether I was viewed as a rival, I don't know why he would have thought that I was sitting there plotting and planning to take him on, to run against him or anything like that, I never gave any indication of that."
"We had a really difficult time when he was Attorney General and that really was a very contentious, privately contentious relationship," said DiNapoli. During Cuomo's first run for the governorship, he did not endorse DiNapoli, who was seeking his own first statewide election after having been an Assembly member from Long Island appointed by the Legislature to the position of Comptroller during that 2009 vacancy. "It was the first time in my memory that the top of the state ticket did not endorse a running mate on the ticket. It was embarrassing frankly," DiNapoli recounted.
Regarding what he said was a relatively small, inconsequential audit a few years ago, DiNapoli said Cuomo "got all wiggy" when asked about it at a press conference. DiNapoli recalled Cuomo saying, "That's the comptroller's opinion. The comptroller tells his auditors what he wants them to write and then they write the audit." This was an utterly false characterization of the audit process, DiNapoli explained, saying, "I mean it's total nonsense! Our auditors are civil service, I don't know if they are Republicans or Democrats, they do a professional job, I back them up because they are calling it as they see it."
"The problem with him, and not just him, but some of his team, they seemed to just enjoy the sport," DiNapoli said of the larger culture in Cuomo-world. "They enjoyed the sport of accusing you, they enjoyed the sport of that nickname that I don't repeat that they used in describing certain anatomy related to squirrels, as I recall. That's like bad boy locker room nonsense. They had too much fun doing that."
"We didn't answer in kind. I mean I pushed back, I stood my ground, I think I protected the office," said DiNapoli. But at the end of the day, DiNapoli said, "I also understood what the power relationship was. We did not have a lot of cards to play, so to me the best defense was stick to the merits of the issue."
Cuomo's hostile relationship with other actors in New York politics like Mayor Bill de Blasio became harmful to New Yorkers, most notably during the pandemic. That relationship also had a long history. DiNapoli said he did not have a lot of answers about why he and others didn't call Cuomo out more, and that it's quite reasonable to ask, other than the major power imbalance and Cuomo's penchant to make people pay for crossing him.
De Blasio's extended and revolutionary 2015 criticism of Cuomo "unleashed a fury from Andrew that destroyed whatever functioning relationship they might have had," according to DiNapoli. "Fast forward to what we just went through with covid and how in so many cases, the dysfunction between the two of them hurt the people of the City of New York."
DiNapoli recounted how Cuomo was able to gain power by serving as the Democratic mediator for a vulnerable Republican majority in the State Senate, which Cuomo helped prop up to ensure he would remain extremely powerful brokering deals with the Assembly's Democratic majority.
Both Cuomo himself and others in his sphere made Cuomo "into a much more powerful presence than was appropriate, and maybe that's a lesson for whoever becomes governors down the road, maybe it's a lesson to look again at how we structure the executive branch vis-a-vis the Legislature," DiNapoli reflected. Additionally, the comptroller said, "There was a whole power structure in New York that was very much behind him as well, and I think that was a very strong enabling force. When you're sitting on $20 million, not just this year, but in other years, politically, who could take that on?"
"Maybe folks should have said more often, 'the emperor really doesn't have clothes.' On the other hand, given the power that the emperor had all those years, the ability for him to get away with really undercutting your ability to do your job, which is really what he kept inflicting on Mayor de Blasio, it's a tradeoff," DiNapoli said.
"It's not a new notion that power corrupts and absolute power corrupts absolutely," DiNapoli told Max. With an accommodating Legislature and friendly newspaper editorials around elections, DiNapoli said "it just reinforced [Cuomo's] own view that in some ways the governorship had to be an imperial role rather than a democratic role. It ended up being his undoing."
Through this tumult, DiNapoli remains firm in his conviction that his team will continue to keep government running smoothly in a time when the public health crisis is still looming large. DiNapoli said short-term, his job will be "keeping the operations of government functioning smoothly, making sure the bills are paid, the checks get out, and more longer term, looking at the difficult time we've been going through and how we can through our audit and our research work contribute to making government work more efficiently and effectively."
With state finances stable and offices opening back up more amid widespread covid vaccination, DiNapoli said his auditors would be able to reengage with their investigations into the Department of Labor's handling of unemployment during the pandemic as well as the management of infection rates in nursing homes, among other more long-term work that is more possible when the state is not in a constant emergency situation.
With Cuomo almost out, DiNapoli envisions a much more constructive relationship with the Hochul administration and a more productive government. "We've cleared the decks in terms of the distraction, let's all focus on government for now," DiNapoli said. And while Cuomo "tended to not want to engage when we made recommendations, sometimes very belligerent when we would produce an audit that was really meant to be helpful and try to improve government operations," DiNapoli said, "I'm hoping with a new administration, there will be more openness to look at some more recommendations."
DiNapoli campaigned for Hochul during her successful run for Congress a decade ago and calls her a friend. "She is a very fine person. A very smart person, she's been certainly a friend and a colleague in government for many years," said DiNapoli. A new administration might bring much needed change as New York continues its pandemic recovery.
"I hope it will be a reset in terms of tone," DiNapoli said, "a reset in terms of civility, atmosphere, opportunity to in a more united way, a less hard-charging way, confront the continuing public health emergency, to confront the fact that our economic recovery is still uneven, that there are a lot of families and people who are hurting out there, and that we need to have a concerted effort to look out for those who are being left behind."
With a focus on "doing a good job as comptroller," DiNapoli said he hasn't taken time to consider the possibility of his own run for governor in 2022, and said he most likely will be running for reelection as state comptroller. Either way, he plans to be on the ballot in 2022.
"I'd be certainly less than honest and probably less than human if I didn't say I'm pleased when people write articles and they mention me as a possibility [for Governor], everybody has a little bit of an ego. Certainly after 20 years in the Legislature and 15 years as state Comptroller, I think I know something about what you need to have New York State run."
Hochul has quickly said she will run for a full term as Governor in next year's election, with the primary in June.
For now, DiNapoli wants to focus on giving "Kathy Hochul the opportunity to settle things down, to settle in. We need her to be successful with this transition," he said, "and let's give it all a few months to see what the lineup is for next year."
[Listen to the full conversation on Max Politics: Comptroller Tom DiNapoli on the End of the Cuomo Era and What's Next]