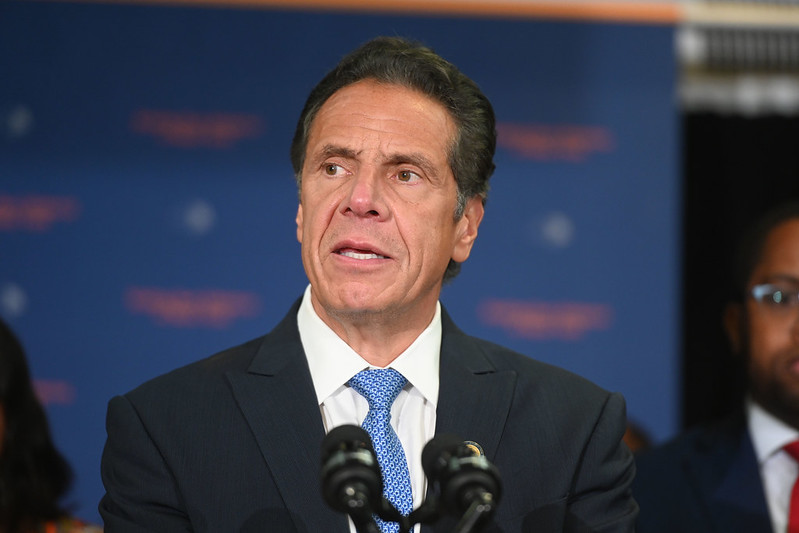 Governor Andrew Cuomo (Kevin P. Coughlin/Governor's office)
---
Governor Andrew Cuomo struck a defiant tone Monday in his farewell address as he sought to defend his record in office and paint the attorney general's sexual harassment investigation that prompted his resignation as "unfair" and "unjust."
Cuomo is officially stepping down at 11:59 p.m., two weeks after announcing that he would resign following an independent investigation which found he had sexually harassed or groped 11 women, nine of whom are current and former state employees. His successor, Lieutenant Governor Kathy Hochul, is set to be sworn in as governor at 12:01 a.m. She will become the state's 57th governor and the first woman to hold the position.
In his pre-recorded final address, Cuomo continued to try to undermine the investigation, which was conducted by independent attorneys chosen by Attorney General Letitia James. "I understand that there are moments of intense political pressure and media frenzy that cause a rush to judgment. But that is not right," he said. "It's not fair or sustainable. Facts still matter."
Since the attorney general released the 165-page report, Cuomo and his attorneys have repeatedly tried to cast aspersions on both the investigative process as well as several of the accusers whose accounts were corroborated. On Monday, the governor reiterated his belief that he was the victim of a politicized investigation. "The truth is, ultimately, always revealed," he said. "The Attorney General's report was designed to be a political firecracker on an explosive topic, and it worked. There was a political and media stampede. But the truth will out in time. Of that, I am confident."
"I am a fighter, and my instinct is to fight this, because it is unfair and unjust in my mind," he added. But he insisted that he chose to step down to save the state from months of political paralysis. Two weeks ago, he faced the prospect of impeachment by the state Assembly, but the chamber dropped its impeachment investigation when the governor said he would resign. The Assembly intends to issue a report on its findings and the governor still faces separate investigations by the attorney general, a U.S. attorney's office and several district attorneys.
As he bookends his nearly three terms in office, Cuomo touted a long list of accomplishments including the passage of marriage equality, gun control legislation, increasing the minimum wage to $15, action on climate change and an expansive infrastructure program. "No governor in the nation has passed more progressive measures than I have," he said.
He also had advice – and warnings – for the next administration. He pushed back against the movement to defund the police, which spread nationally after the police killing of George Floyd in Minneapolis last year. "I believe it is misguided, I believe it is dangerous," he said of the movement. He argued against higher taxes that he said would drive businesses out of the state and undercut the state's tax base. "We can address income inequality without ending incomes," he said.
As the delta variant continues to surge, Cuomo called for a statewide mask mandate and for a vaccination proof mandate for private businesses. "Political procrastination is COVID collaboration. We know the choice is between the politically contentious or the medically infectious. You decide which is worse," he said.
He also urged his successor to be decisive and avoid the pitfalls of bureaucratic inefficiency. "We have developed, over the last decade, a new paradigm of government in this state. A government that actually works, and actually works for people," he added. "It sounds simple, but it's all the difference in the world. We cannot go backwards."
It's unclear what lies in Cuomo's future out of office. His former top aide, Melissa DeRosa, who also resigned in the wake of the attorney general's report, said in a Monday statement, "Between HUD, AG & his time as Governor, Andrew Cuomo has spent nearly 25 years in public service. And the way he does it, it's 24 hours a day, 7 days a week. He looks forward to spending time with his family and has a lot of fishing to catch up on. He is exploring a number of options, but has no interest in running for office again."
As Hochul takes over tomorrow from Cuomo, she faces several immediate challenges and decisions, and Cuomo concluded his Monday address by wishing her good luck. "I believe she will step up to the challenge. We all wish her success," he said.
[The Major Challenges and Decisions Facing Kathy Hochul as She Becomes Governor of New York]
Cuomo also took a parting shot at Mayor Bill de Blasio, with whom he has feuded constantly for the last seven years. "Eric Adams will be the next mayor of New York City. I think he'll bring a new philosophy and competence to the position which can give New York City residents hope for the future," he said.