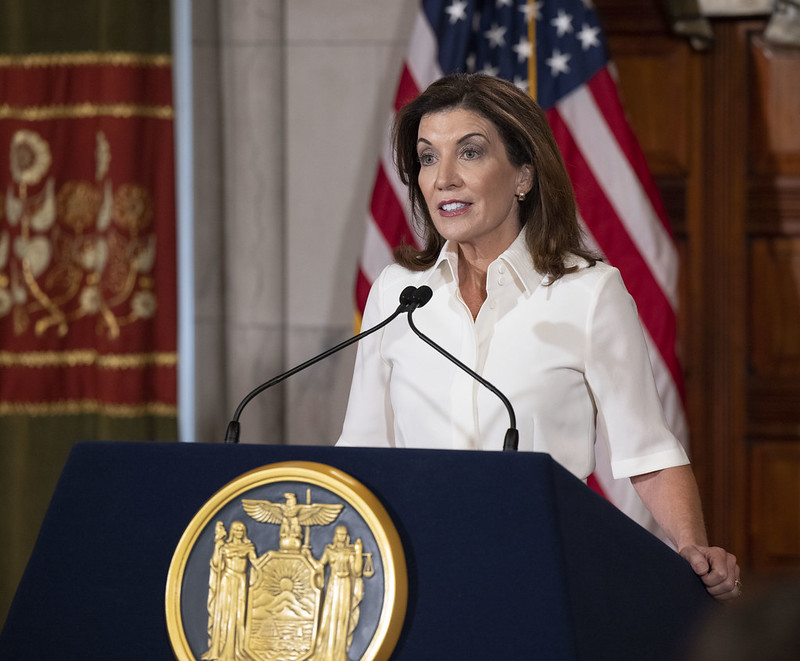 Governor Kathy Hochul (Mike Groll/Governor's office)
---
Newly sworn-in Governor Kathy Hochul said Tuesday she would take proactive measures to fight the spread of the Covid delta variant, quickly distribute federal relief funds and immediately strengthen state ethics and sexual harassment regulations as she seeks to change the culture in Albany that she inherited from disgraced former Governor Andrew Cuomo.
Hochul, a Democrat, was sworn in earlier in the day, becoming the 57th governor of New York State and making history as the first woman to hold the position. Her predecessor, Cuomo, resigned in the wake of an attorney general's report that found he had sexually harassed or groped 11 women, most of whom were state employees.
In her first public address on Tuesday afternoon, Hochul outlined her immediate priorities and promised a "fresh and collaborative approach" to achieve them, contrasting herself with her Cuomo, who was known for his bullish and authoritarian tendencies and who oversaw a cutthroat office culture that was described in the attorney general's report as "toxic," "hostile" and "abusive."
Speaking from the State Capitol's Red Room, Hochul thanked her family for supporting her, and the women's suffrage movement that paved the way for her elevation to the state's highest office. And she spoke directly to New Yorkers. "You may not know me, but I know you," she said.
"I've embraced and internalized the hopes and dreams of 20 million people who share the name, 'New Yorkers.' And I want you to know, you are heard, and I'm ready to get to work as your governor to solve the big problems that this state faces," she added.
Hochul's first priority, she said, is tackling the delta variant. As the reopening of schools approaches, she said is working on a state mandate for required vaccinations or a weekly test-out option for all school personnel. She directed the state health department to institute a universal mask mandate for anyone entering a school, and promised to release a series of "concise and consistent" school-related policies later in the week. Later in the day, Hochul announced a new COVID-19 Testing in Schools Program with $335 million in federal funds through the state, and another $225 million that was received by New York City directly.
Though New York's vaccination rate has been slowly increasing and is at 59%, Hochul also teased additional new vaccination requirements. And she promised to prepare for the mass administration of booster shots, including by potentially reopening mass vaccination sites.
[The Major Challenges and Decisions Facing Kathy Hochul as She Becomes Governor of New York]
Among the issues before Hochul is the state's shoddy rollout of the $2.7 billion Emergency Rental Assistance Program and the $2.1 billion Excluded Workers Fund. Both programs have been funded with federal relief aid but have been slow to reach beneficiaries. "I want the money out now. I want it out with no more excuses and delays," Hochul said. Earlier in the day, she met with Assembly Speaker Carl Heastie and Senate Majority Leader Andrea Stewart-Cousins, and said they shared her sense of urgency.
Hochul said the state will launch a new $1 million targeted outreach campaign on the rent relief program, that she will hire more staff to process applications and build a team to "identify and remove any barriers that remain." "And we'll take the same focused approach to our Excluded Workers Fund," she said.
In a direct response to the circumstances of her predecessor's resignation, Hochul also announced immediate reforms to the state's ethics enforcement and anti-sexual harassment policies, and pledged greater transparency in her administration.
She promised "a dramatic change in culture, with accountability and no tolerance for individuals who crossed the line." She said she will require all sexual harassment trainings be conducted live. She will mandate that state entities review and report on their compliance with transparency laws. She will require her counsel to create an expedited process to complete requests made under the state Freedom of Information Law, and post those requests online publicly. And she promised an executive order requiring ethics training for all state employees, "which shockingly is not required across the board."
"As I undertake the weighty responsibilities before me, know that I have the confidence, the courage and the ability to lead New Yorkers forward and make New York's women proud," she concluded. "You'll find me to be direct, straight-talking and decisive. I will not be deterred and I'm willing to be bloodied and marred in the pursuit of doing what's right for the people of this great state."