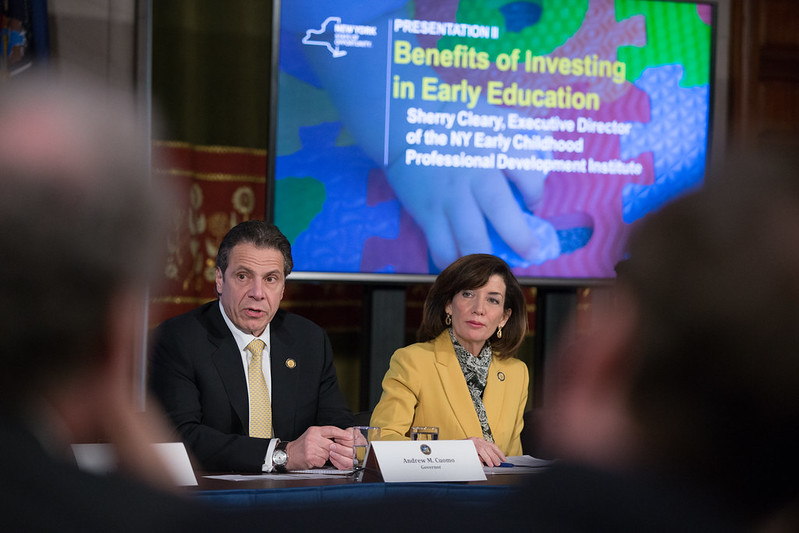 Then-Gov. Cuomo with current Gov. Hochul (photo: Governor's Office)
---
With the abrupt end of the ten-year reign of Governor Andrew Cuomo, reformers inside and outside of state government are looking for change. Unspooling their wishlist has been a kind of inaugural red carpet for Governor Kathy Hochul, who took office last month after Cuomo resigned amid a flurry of scandal -- almost all connected, in some way, to government ethics, transparency, and the erosion of checks and balances.
Hochul immediately pledged to take steps to undo Cuomo's culture of political aggression and aggrandisement and move New York into a new era of more ethical government. Cuomo was known for trying to use every lever of government to his advantage -- controlling the flow of information from state agencies, using the massive state budget to advance his policy agenda, and stacking state commissions and public authorities with his aides and allies.
He resigned in the face of an Assembly impeachment probe over his abuse of power, including the sexual harassment of aides and a state trooper, his handling of covid-related death in nursing homes, the use of state resources on a $5.1 million book deal, a possible cover-up of faults in the Mario M. Cuomo Bridge -- one of his signature infrastructure projects -- and more. But the parade of wrongdoers in New York State government extends well beyond Cuomo to include prior governors, legislative leaders, and others.
In more than half a dozen interviews with Gotham Gazette, lawmakers and advocates described the ways Cuomo wielded his power to punish adversaries and elevate his position at the expense of democratic and transparent government. While Hochul, the first woman to lead the state, has been described by many as "a breath of fresh air" in the smoke-staled State Capitol, reformers see a litany of litmus tests ahead of her bid for a full term next year.
In her first major address as governor, Hochul -- a Buffalo native and former Congresswoman and Lieutenant Governor -- set out her pandemic-era priorities: getting kids back in classrooms, boosting vaccination rates, and moving stalled relief funding to renters, landlords, and 'excluded workers.' She also vowed "a dramatic change in culture—with accountability and no tolerance for individuals who cross the line."
And she promised "a new era of transparency" with a "focus on open, ethical governing that New Yorkers will trust."
"On day one of her administration, the Governor ins​tructed her counsel to come up with an expedited FOIL process, directed State entities to review their compliance with state transparency laws, and began including an additional data set from the CDC in the daily COVID reports," said Hazel Crampton-Hays, Hochul's press secretary, in a statement to Gotham Gazette. "As part of the 45-day transition period, we are reviewing the matters raised by recent investigations and exploring all ways to ensure accountability and open, ethical governing that New Yorkers will trust."
Good government advocates, including some legislators, see the new administration as a chance to fix some of the worst elements of Albany's political culture. They are taking aim at the state's ethics watchdog, the Joint Commission on Public Ethics (JCOPE), which is known to be compromised by conflicts of interest and something Hochul has also identified.
Reformers want to see the inspector general's office -- another watchdog appointed by the governor -- retooled and the state's sexual abuse statutes and harassment policies updated. And they hope Hochul will restore oversight powers of the Legislature and state comptroller that were stripped by Cuomo, as well as address the state's massive Freedom of Information backlog, including the disclosure of covid-related datasets and the financial interests of a top state judge.
In some regards, Hochul has already met these expectations -- with the acknowledgement of the pandemic's full death toll, for example -- or provided encouraging remarks. But in other instances, like temporary changes to the state's Open Meetings Law made without public review -- her first act of lawmaking as governor -- Hochul's actions have raised alarms.
JCOPE and the Inspector General
For many, high on the list of necessary changes in Albany is revamping the state's system of government ethics oversight. That begins with the Joint Commission on Public Ethics, or JCOPE, the watchdog designed in 2011 by Cuomo and the legislative leaders, Senate Majority Leader Dean Skelos and Assembly Speaker Sheldon Silver -- all of whom left office in disgrace (the former still facing multiple investigations and the latter two in prison on corruption charges).
JCOPE was introduced as an independent watchdog with commissioners appointed by the governor and majority and minority legislative leaders. It is meant to have jurisdiction over government ethics and lobbying issues. But in its ten years, critics say the body has been plagued by inaction and obfuscation stemming from political loyalties and conflicts of interest.
A number of examples have come to light of alleged political interference by Cuomo via his appointees on the commission. That was enabled by an allowance in the state constitution for a small number of commissioners to block investigations from going forward, which can render inert complaints about appointing authorities or their allies.
"The model that we have in the constitution now is just fundamentally flawed," said Senator Liz Krueger, a Manhattan Democrat, who sponsors an amendment that would abolish the commission and create a new body with full jurisdiction over both the legislative and executive branches.
Allowing the governor and legislative leaders, "whoever they are, to have veto power over investigations going forward is just completely unacceptable," she said. While support for replacing the body entirely has grown widely among legislators, legal experts, and good government groups, not all agree on the proposed amendment or the details of a better oversight system.
"My hope is that we do it in a smart, transparent fashion that is honest and earnest and is not hyperbolic or just pure virtue-signalling," said Assembly Member Robert Carroll, a Brooklyn Democrat who sponsors the amendment in the Assembly. "I think that is too often what happens in Albany."
On her first day in office, Hochul indicated support for changing JCOPE but did not go as far as say it should be replaced. She reiterated that position last week after JCOPE again made headlines related to Cuomo's controversial book deal: "We are committed to instituting bold reforms of JCOPE, which is why my administration will work with legislators, good government groups and the public to reform ethics oversight and ensure that the work of this ethics body is beyond reproach."
When asked directly by a reporter at a September 15 press briefing whether JCOPE should be abolished, Hochul said, "I said what I'm going to do is turn it upside down and to challenge the premise that an entity that is created by elected officials with their own appointees should be charged with investigating those individuals, should circumstances arise. The whole premise behind it is flawed."
An omnibus bill in the state Senate, sponsored by Senator Alessandra Biaggi, a Bronx Democrat and the chamber's ethics committee chair, would make a number of changes to JCOPE short of the constitutional amendment needed to create a new agency with full authority over both the leg and executive branch. The bill would eliminate the requirement that JCOPE investigations have support from two members of the same political party as the person being investigated. It would also get rid of a partisan voting requirement to appoint an executive director. And the bill would give legislative majority and minority leaders an equal number of appointments on the commission.
While it passed the Senate in May, it represents one instance in which the upper chamber advanced a bill without the Assembly doing likewise. Biaggi said she had been working with Assembly ethics chair Jo Anne Simon, a Brooklyn Democrat, to introduce the bill last year but that they were blocked administratively.
"She said yes, she put the bill in for the number, and was never given a bill number," Biaggi told Gotham Gazette. Biaggi said she is still working with Simon to introduce a bill but is again facing resistance: "What I have heard, both in public statements as well as internally, that there's a real reluctance to want to pass these bills," she said.
Biaggi, whose committee held a hearing examining JCOPE in August, plans to hold another in December, this time jointly with members of the Assembly. "Their participation does matter and...they do have a lot of members who have opinions and we want them to be accounted for," she said.
On September 14, Hochul appointed two commissioners to replace Cuomo appointees who had recently resigned, including James Dering -- one of those recently departed appointees -- as acting chair. Her choice of Dering, who also had once worked for Cuomo as general counsel in the health department, raised the ire of politicos seeking a change from business as usual.
"Rather than fulfilling her promise to prioritize transparency and integrity in government, Governor Hochul's appointment only maintains the status quo," Biaggi said in a statement. "It is now even more imperative for the Legislature to take matters into our own hands, and pass legislation to completely reform and restructure our state's system of ethics and oversight."
Hochul defended her choice to reporters a day later. "I had to find an individual, an individual who is highly recommended, has credentials, but literally is unknown to me. I want to make sure that we are not stacking these bodies with our friends and with our allies as had been the past," she said at the September 15 briefing.
Hochul will have another chance to win the approval of reformers seeking an independent watchdog when she appoints a new inspector general to replace Cuomo-appointee and ally Letizia Tagliafierro, who stepped down last week without specifying a reason.
Tagliafierro's office was the subject of public criticism for failing to interview Cuomo or Assembly Speaker Carl Heastie in a probe of their involvement in an alleged leak of a confidential JCOPE vote -- one to investigate Joseph Percoco, a former top Cuomo aide, who is also now serving prison time for corruption. Tagliafierro has said she recused herself from that investigation.
Regardless of who is appointed, Krueger believes the "rules of the road" for an inspector general should be changed entirely so that the position does not report to the governor. "I believe this IG failed on any number of occasions to follow through on what they were supposed to be doing and instead, either by order or request of Governor Cuomo, didn't do what they should have been doing," she said.
Sexual Harassment
Advocates for better policy to prevent and punish sexual harassment in and outside of government have won a series of major changes to state law in recent years, including some signed by Cuomo that he went on to violate, according to the State Attorney General's August report. Those advocates had already been seeking additional changes to state law, which gained new life in the wake of the many sexual misconduct allegations against Cuomo and subsequent Attorney General report.
"Today, I am directing an overhaul of state government's policies on sexual harassment and ethics, starting with requiring all training be done live, instead of allowing people to click their way through a class," Hochul said during remarks on her first day as governor. She also said she would sign an executive order requiring ethics training for all government employees.
The Sexual Harassment Working Group, an advocacy organization of former legislative aides who were harassed by employers, has been pushing for the definition of abuse of power to be expanded, both in the public's eye and in state law. Among the group's goals is to have "discrimination, harassment, assault, and retaliation" included as a violation in the Public Officers Law.
"They are not explicitly mentioned in the Public Officers Law, leaving too much room for interpretation," said Erica Vladimer, the group's co-founder, in testimony at the Senate ethics committee's August hearing.
The Working Group is also pushing a bill that would extend workplace harassment protections under the state's Human Rights Law to all employees of government officials, including so-called "personal staff" who in some cases have been considered exempt from protections under a federal statute.
The bill, sponsored by Senator Andrew Gounardes and Assembly Member Yuh-Line Niou, passed the Senate in May and remains in committee in the Assembly. "I can assure you that we will continue to look at that and any other appropriate legislation that continues to underscore that we value...a workplace that allows you to do your best work," Senate Majority Leader Andrea Stewart-Cousins said in a recent interview with Gotham Gazette.
"And when you work, regardless of who you are, you will be protected," she added. "So, yes, there will be continued conversations on that."
Another glaring gap advocates see is the so-called "rape intoxication loophole," which has been used to undercut the state's rape statute in cases where the victim or survivor was voluntarily enibriated. Biaggi sponsors a bill that would close that loophole and believes Hochul may be the one to help advance it.
"Having a female governor come in and also really take on things like closing the rape intoxication loophole is important because we know that even though all people can be raped, women are most likely the ones who are raped," she said. The bill passed the Senate in June, but remains in committee in the Assembly.
Government Transparency and the Freedom of Information Law
Before there was a series of sexual harassment allegations against Cuomo, the governor and his Department of Health were facing criticism for mishandling COVID-19 and nursing homes, and questions around their purposeful underreporting of the number of deaths of nursing home residents due to the virus.
For close to a year, the state's regularly reported covid death toll lagged behind one kept by the CDC and other groups monitoring New York. On her first day at the helm, Hochul reconciled the discrepancy by disclosing the deaths of 12,000 more New Yorkers than had previously been reported by the state's Health Electronic Response Data System (HERDS).
It was a promising first step toward fulfilling a commitment she had made in her first major address as governor: "A new era of transparency will be one of the hallmarks of my administration," she said on her inauguration day.
But good government groups and transparency advocates have been disappointed with some of Hochul's actions and inaction since. At the top of the list was a middle-of-the-night amendment to the state's Open Meetings Law, which, citing covid, temporarily allows local governments to block the public from physically participating in meetings as long as they are broadcast virtually. The change, Hochul's first law signed as governor, was made during a special legislative session originally slated to extend the state's expired eviction moratorium. Because much of the legislation was discussed in an executive session of the state Legislature, the public did not see the bill language until after it passed.
"Going straight into secret session...with an unknown agenda with changes to basic parts of public transparency law...which have not been seen by the public -- that's the kind of thing that makes watchdog groups howl," said John Kaehny, executive director of good government group Reinvent Albany, in a recent interview with Gotham Gazette. "It rattles one's confidence in a clean break from the past."
Advocates including Reinvent Albany, Citizens Union, Empire Center, and others have also been pushing the state to release its COVID-19 data sets, which they argue are public documents subject to disclosure under New York's Freedom of Information Law (FOIL). "Of the [123] datasets we identified, the state has published only 14 as open data, with 64 others provided in a format that cannot be easily used or analyzed," the groups wrote in a letter to Hochul on September 7. The hidden data includes everything from infection and mortality rates by zip code, age, and ethnicity to hospital capacities and facility statistics.
For Ron Kim, a Queens Democrat in the state Assembly and an outspoken Cuomo critic, this is one of the most pressing issues facing the new governor. "The previous administration under [Health Commissioner Dr.] Howard Zucker came up with a million excuses of how they couldn't correlate the data and release accurate numbers," Kim said in an interview. On Thursday, Hochul announced Zucker's resignation as health commissioner.
Kim, whose uncle died in a nursing home last year after contracting COVID-19, was on a call with Melissa DeRosa, Cuomo's Secretary to the Governor, and other Democratic lawmakers when DeRosa admitted to dodging their calls for nursing home data out of fear it would be used by President Donald Trump against the Cuomo administration. He said Hochul could administratively ensure compliance with FOIL requests "in real time" rather than "stonewalling us...something Cuomo was notorious for with the press and legislative body."
Hochul can also enact changes to the FOIL statute that could strengthen enforcement and give the request process more teeth. One bill in the State Legislature would require an agency to provide a "particularized and specific justification" when denying a FOIL request, something transparency advocates say would help block frivolous exemptions to the law. Cuomo vetoed that bill in 2019, but the Legislature reintroduced and passed it again earlier this year. It awaits Hochul's signature.
"I think the FOIL statute is pretty good. You just have to follow it and the Cuomo administration was not following it," Senator Krueger told Gotham Gazette. Instead, extensive delays and refusals regularly "require[d] us to go to court for basic FOIL-able information," she said.
In her inaugural address, Hochul promised to fix that status quo. "I will direct State entities to review their compliance with state transparency laws, and provide a public report on their findings," she said. "I have instructed my counsel to come up with an expedited process to fulfill all FOIL requests as fast as possible—and post completed requests publicly online." Two weeks later, good government groups issued the September 7 letter for the release of the missing covid datasets.
Hochul's office would not provide a status update on these changes to Gotham Gazette or elaborate on what her commitments will entail. But on September 20, the governor's office issued a memo, first reported by the Buffalo News, to agency heads to review their transparency "policies and practices." The memo directed agencies to submit plans for improving transparency by October 20, including FOIL response times, and "proactively posting frequently requested information or completed requests online."
None of those measures would address another long-standing cause for transparency advocates: extending the full coverage of FOIL to the state Legislature. While the Legislature is subject to some FOIL disclosure -- and the Assembly has adopted internal rules to increase the release of information -- the requirements of the law are not as expansive as they are for state and local agencies.
Oversight Powers and Public Authorities
One of the hallmarks of the Cuomo administration was consolidating under the executive branch the separate powers of state government -- namely those of the state Legislature, state comptroller, public authorities and government watchdogs like JCOPE and the inspector general. He also exploited the powers the governor's office already had.
The most powerful tool he wielded in this regard was the state budget. Since the early 20th century, the New York State Constitution has ensured the proposed budget, unlike typical legislation, originates with the governor. Over the years the courts have strengthened the office's standing in budget negotiations.
The most recent example is a series of lawsuits, decided in 2004, between former Governor George Pataki and the state Assembly under Silver. The cases limited the Legislature's ability to alter spending and conditions set in appropriation bills. They also allowed the governor to include certain language that did not relate directly to budget matters. That has been used by governors, particularly Cuomo, to pack the budget with policy that goes beyond state spending.
The practice has created, in effect, two legislative sessions, according to Kaehny, the good government advocate. "There is kind of the varsity level one, which is the budget, and the big policy changes that go into that. And then there is the JV session that comes afterwards after the budget deal is done, when you have less important bills," he said.
According to Senator Biaggi, the state constitution, and the fact that many of the appropriation bills are negotiated at the last minute before the April 1 fiscal year deadline, means legislators often have to decide between forcing a government shutdown or deferring to the governor's proposal.
"The way to deal with this is to allow for the Legislature to have the same kind of power as the executive to say, 'no we're going to make this change and it's not going to reset the whole entire negotiating process,'" she said.
Biaggi and Assembly Member Dick Gottfried, a Manhattan Democrat, sponsor an amendment to even out that balance by allowing the Legislature to "modify and substitute" budget language rather than simply "striking" or adjusting existing proposed appropriations, among other provisions.
Biaggi said the Cuomo administration indicated to lawmakers that voting on the amendment, which remains in committee, would amount to "an act of war." She hopes Hochul or a future governor would be more supportive of it. The amendment doesn't address the governor's ability to include policy matters in the budget, but "when it comes to this issue, the most important thing is that the Legislature and the executive have equal bargaining power," she said.
Hochul will have limited opportunity to pursue legislation outside the budget before she faces a potential primary challenger in June, Kaehny noted. "She has barely any time to do anything so her budget is going to be her main product," he said. The governor's executive budget plan is due in January.
Avoiding 'acts of war' with Cuomo was in many ways the state of play in Albany. It extended from the budget to the Legislature's power to hold oversight hearings over state agencies, according to Assembly Member Kim.
"There's been kind of a soft agreement to play nicely under Cuomo's administration, fear that members would be punished if they crossed the line with the executive office," said Kim. "I think Kathy Hochul can immediately send the right message that transparency is about holding state government agencies accountable and they should be completely cooperative with our hearings." Kim was among those to expose Cuomo's notorious bullying after he said he received a threatening phone call from the then-governor earlier this year.
Cuomo also used his broad budget powers to remove a key piece of oversight once held by the state comptroller to review state contracts before they begin. Good government groups have been pushing to restore that power for years. In July, Cuomo extended the comptroller's preclearance exemption to programs to combat gun violence when he signed executive order 211, declaring a state of emergency in the wake of numerous shootings.
"No new contracts should be entered into by Governor Cuomo or Budget Director Robert Mujica without Comptroller review regardless of any prior exceptions," said good government groups in a joint statement in August.
That oversight power is one of a handful of tools advocates say is needed to ensure economic development projects like Cuomo's "Buffalo Billion" are not misused. In the case of the Buffalo Billion -- a billion-dollar-plus initiative to expand nanotechnology manufacturing in western New York and revitalize the state's second biggest city -- charges of bid-rigging and bribery landed Alain Kaloyeros, the CEO of SUNY Polytechnic Institute, and Joseph Percoco, a top Cuomo aide, in prison.
The state funding came through the Empire State Development Corporation and the New York State Energy Research and Development Authority, or NYSERDA, two public authorities whose members are appointed largely by the governor. State Comptroller Tom DiNapoli, some legislators, and good government groups have said the convoluted funding and contracting structure of the entities made them far too unaccountable to public oversight. It's part of what they say enabled some of the corruption Kaloyeros, Percoco, and others were convicted of.
"If you look at the chain of accountability it starts with the Legislature writing blank checks" to Empire State Development, Kaehny said, which then funneled the money through SUNY-controlled nonprofits. The comptroller's preclearance powers over SUNY contracts, which were removed in Cuomo's first budget in 2011, would have been the canary in the corruption coal mine, he said, but legislative oversight was "really supposed to be the first line of defense."
Even with the laws in place, Kaehny warned, Albany -- including the Legislature and comptroller -- has a fiefdom culture of acquiescence to power that goes beyond Cuomo. "There's a tacit agreement that you'll stay out of my business and I'll stay out of your business," he said.
While some of the comptroller's oversight power was restored in a pre-pandemic 2020 agreement between Cuomo and DiNapoli, it may be terminated with ten days notice. "In the long-term, contract oversight provisions such as these should be embodied in law," said Matthew Ryan, a spokesperson for DiNapoli.
Ryan warned that state budgets "routinely" contained measures "allowing state spending without standard protections," like the comptroller's preclearance power. The pandemic budgets have been rife with them: "Most recently, the State Fiscal Year 2021-22 Enacted State Budget included several new provisions authorizing substantial COVID-related (or public health emergency-related) state spending without such protections," Ryan said.
Another opaque authority where Cuomo's influence has been criticized is the massive Metropolitan Transportation Authority (MTA) -- responsible for public transit in the greater New York City area and employs over 70,000 people. Reformers want to see Hochul and her predecessors appoint competent and independent people to run the MTA (and other authorities). To do that, they would need to operate without political interference and under clear standards of accountability. Hochul has pledged just that, saying she will "professionalize" boards through her appointments and not interfere.
"One of the reasons why it is hard to get additional funding for necessary infrastructure projects for the MTA or for airports or bridges is because people question whether the money is being well spent and who is overseeing it," said Assembly Member Carroll.
"It's our job to pass laws that make sure that the management and the accounting of the MTA is transparent and...there's accountability when there are problems," he added. Carroll sponsored two bills with Senator Leroy Comrie, a Queens Democrat, to require the MTA to publish information in open data format -- one that is easily downloadable and searchable -- and to bring New York City subways and buses under municipal control. The data bill has passed both chambers and could be signed by Hochul this year. The municipal control bill remains in committee.
"If we allow for business as usual, which is the MTA as a black box, that will be a failure of leadership on Governor Hochul's part but also on the legislature's part," Carroll said.
"There was a real push from the second floor not to meddle with the MTA and I think that's because Governor Cuomo and his folks on the board wanted to control everything," he added.