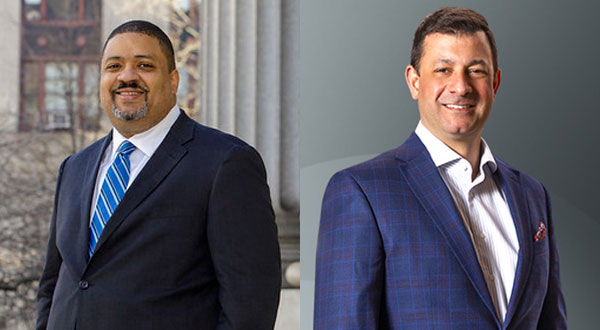 Alvin Bragg, left, & Thomas Kenniff
---
With Manhattan District Attorney Cyrus Vance Jr. retiring after 12 years leading one of the most high-profile prosecutorial offices in the country, Alvin Bragg emerged from a crowded, competitive, expensive, and closely-watched Democratic primary and is now in the midst of a one-on-one general election. Bragg, a progressive former prosecutor and top deputy New York Attorney General, competing with Republican nominee Thomas Kenniff, a former military judge and criminal defense attorney.
The two candidates have drastically different visions for criminal justice and running the office as the top state-level prosecutor in Manhattan. With Democrats outnumbering Republicans more than eight-to-one in Manhattan, Bragg is heavily favored to win the general election, which culminates on Election Day, November 2, but Kenniff is seeking to make the race competitive, largely by portraying Bragg as soft on crime. No Republican has held the office since Thomas Dewey in 1941.
The Manhattan District Attorney oversees an office with a $146 million budget and 1,185 employees, including more than 500 attorneys and many other investigators. Vance, a three-term Democrat, has blended a number of progressive reforms with a fairly traditional view of running the prosecutor's office.
Vance declined to seek another term while facing significant criticism that his office mishandled several major investigations, including into the Trump family's business dealings and a sexual assault case against now-convicted rapist and former Hollywood producer Harvey Weinstein. People to Vance's right believe he's retreated too much from tougher prosecution of low- and mid-level offenses while criminal justice reform advocates have long accused him of over-prosecuting low-income New Yorkers of color while looking the other way in cases involving richer, white defendants and doing too little to crack down on police abuses.
Bragg, who would be the first Black district attorney representing the 1.6 million residents of Manhattan (as well as many millions more who work, own businesses, or visit in the borough), is promising to go much further than Vance when it comes to reducing racial and economic biases in the criminal justice system. He is also pledging to take less punitive approaches to many crimes, instead using different approaches to reduce incarceration and its impacts and create more long-lasting safety.
Kenniff, who is white, characterizes himself as a candidate with a "commonsense approach to prosecuting crime" and promises to be "a compassionate DA, who will innovate our system without abandoning law & order."
According to the latest Census redistricting data from 2019, about 46.8% of Manhattan residents were white, 23.7% Hispanic, 12.9% Asian, and 11.7% Black.
The borough is also overwhelmingly Democratic. As of February 21, 2021, there were 871,969 registered Democrats and 107,920 registered Republicans in Manhattan; with another 243,007 registered voters, often called "independents," who were unaffiliated with any political party.
The next Manhattan District Attorney faces a complicated law and order landscape in the wake of the coronavirus pandemic, recent increases in gun violence, and ongoing calls for rethinking criminal justice.
As shootings and murders increased dramatically in 2020 and much of 2021 until recent drops compared to last year, crime and public safety have taken a front seat for a concerned public. There have also been added worries about broader street disorder and subway safety, with notable responses at different levels of government that appear to be having some impact in terms of subway crime rates, gun arrests, and more.
The likely next mayor, Brooklyn Borough President Eric Adams, a Democrat, won the primary nomination pledging to reverse those trends while ensuring more fair and racially equitable policing and criminal justice policies. Bragg made similar promises in his successful primary, though he has been further to Adams' left on reform and expressed some reservations about some of the language the mayoral frontrunner has used, even as the two have pledged to work well together.
Vance's successor will also assume responsibility for the office's case against the Trump Organization; while the organization and CFO Allen Weisselberg have been indicted on several tax fraud charges, former President Donald Trump has not faced charges from Vance's office. That could change as the probe progresses and key decisions could be up to the next DA.
Alvin Bragg
Bragg, who was recently the ​​chief deputy attorney general for New York State, won the Democratic primary campaigning as a progressive reformer against a crowded field that included candidates both to his left and right. He was generally viewed (and rated by some reformers) as among the more reform-minded candidates in the eight-candidate field, but more moderate than three competitors pledging massive decarceral overhauls of the office and its practices.
"[F]airness and safety go hand in hand," he said in a phone interview, professing policies that he believes will balance the two, transform the culture of the DA's office, and focus on justice rather than punishment.
Bragg, a civil rights lawyer and New York Law School professor, has a long list of priorities and has outlined nearly a dozen changes, including organizational, that he will undertake on his first day in office. They include creating a new Police Integrity Unit, appointing a public defender as executive DA for policy, replacing the Conviction Integrity Unit with a "Free the Wrongfully Convicted Unit," boosting resources for the hate crimes unit, and replacing the sex crimes unit with one that is survivor-centered and trauma-informed, among others.
He has pledged to "shrink the system," reducing prosecutions of low-level offenses such as fare-beating and resisting arrest. And he promised to rely on data to inform policy decisions, including where it points to racial disparities in prosecutions.
"Fundamentally this is a management job, overseeing a large office that got things done," Bragg said. "So voters should be thinking about who should be entrusted with fairness and safety, who has done it before, and who has done this work in the courtroom."
The Harlem-born-and-raised Bragg drew on his own personal experiences with gun violence – pointing to six incidents where has had a gun pointed at him, including three times by police officers – as he insisted that it will be a priority for his office. He has pledged not to charge every case of illegal gun possession, instead looking in some cases to alternatives to prosecution, which has earned him criticism from his opponent and those on the right but praise from many Democrats.
Bragg argued that there exists a "false dichotomy" that reform comes at the cost of public safety, as his opponent and others have suggested. It is one way his rhetoric resembles that of Adams, who is likely to become only the second Black mayor of New York City.
But in key ways, Bragg has taken positions at odds with his fellow Democrat. Adams has called for reinstating a version of the NYPD's plainclothes "anti-crime" unit, which was disbanded last year because it was disproportionately the source of complaints of abusive policing in the city. Adams has also pushed for overhauling a set of bail reforms passed by the state Legislature (and subsequently somewhat rolled back) that went into effect at the start of 2020. Bragg has opposed both ideas, and has a lengthy plan for reducing pretrial detention. He is also a supporter of the Less is More Act, signed into law by Governor Kathy Hochul on Friday, which will restrict the reincarceration of people on parole for technical violations.
Hochul signed the bill into law in part citing dire conditions on Rikers Island, where the incarcerated population has ballooned to over 6,000 after having dropped to a many-decades low under 4,000 in the spring of 2020. About a three-tenths to a third of those locked up in city jails have been or are being prosecuted by Vance's office.
Though district attorneys often insist they only enforce the law and do not create it, a prominent voice in legislation at the state level is the District Attorney's Association of the State of New York (DAASNY) and individual prosecutorial offices can and often do exercise massive discretion in how they enforce the law, what alternatives-to-incarceration programs they support, and more.
Advocates for criminal justice reform have often critiqued DAASNY as a roadblock to progressive reforms, a view that Bragg shares. "There's no doubt about it. The Association has been an impediment to change. I think that is an objective truth," he said. But he said he plans to become a member to push for change from within and to represent the interests of Manhattan. "Being in the room is necessary," he said.
On prospectively inheriting the Trump case, Bragg has been careful to make any presumptions and has said he will "follow the facts, wherever they go," as he has done throughout his long career as a prosecutor. He already has experience investigating Trump. In 2018, at the attorney general's office, he was part of the team that sued the Trump Foundation for improper use of charitable assets, leading to the foundation's dissolution.
Thomas Kenniff
Kenniff, an Iraq war veteran, has had a long career as a prosecutor, Judge Advocate General, and now as a defense attorney who co-founded his own practice. He is also a major in the Army National Guard and was called to active duty last year to serve as legal officer at the federal mass vaccination site at the Javits Center in Manhattan.
He said his call to arms in this election was prompted by the massive spike in violent crime last year. "Like so many people, I'm very disenchanted with the state of the city and the state of crime in the city," he said in a phone interview.
Though there was a national trend of increasing crime last year in the wake of the pandemic and resulting mass unemployment and dislocation, Kenniff instead attributes it to "the progressive criminal justice agenda" that has been instituted in recent years in New York. "I think that there is much blame to go around. I think that it is first and foremost an indictment of our legislature," he said, referring especially to bail reform.
Kenniff specifically discounts the pandemic as the trigger for increasing crime. "I think it's counterintuitive to suggest that it is," he said, arguing that the accompanying citywide partial lockdown, exodus of some residents, reduced tourism, and portion of the commuting population that remained at home should have in fact led to lower crime rates. "I don't see any logic in trying to pin the blame for this on covid," he said.
Kenniff insists he is not an ideologue, but rather a "common sense" candidate. His platform includes tough-on-crime policies – including a promise to aggressively prosecute illegal gun possession and gun-related violence – but also reforms to prosecutorial practices. While he has said he will "fairly" prosecute lower-level offenses, including graffiti and fare evasion, he has also promised to support diversion practices that focus on rehabilitative justice.
He criticized the Legislature's criminal justice reforms of 2019 and 2020, specifically reforms to the discovery law, giving defendants and their attorneys much more information earlier in the process, but not because he opposed the reform but because he said it overwhelmed local prosecutors who did not receive the requisite funding for its implementation. He also pushed for greater funding for public defenders "because frankly, it's a lot of work for them."
Kenniff has promised other reforms. He has said he will hold police officers accountable for abuse of power, though he has not offered specifics. He wants to reduce the use of disproportionate charging decisions to pressure defendants into plea bargains. He wants to establish a rehabilitation program that will allow for the early sealing of criminal convictions and remove the stigma of criminal records – though he notes it differs greatly from the Clean Slate Act currently before the Legislature. He wants diversion for low-level drug offenses and to focus on traffickers. And he wants to expand the number of offenses eligible to be referred to mental health treatment courts and provide for mental health professionals in court at arraignments.
But Kenniff has largely crafted his public message of the campaign around taking a harder line. In press releases and on social media, he regularly criticizes the "radical policies" of the "far left," which he believes are causing "mayhem" and "unchecked violence" in the streets of New York City.
"A lot of politicians are doing what they do best - shifting the blame and avoiding accountability. My opponent, Alvin Bragg, goes silent and ignores the violence," he said in an August 23 statement, after a weekend that saw 18 shootings in the city (though Bragg does regularly discuss gun violence). "All because this doesn't fit their narrative. Because for them, it's not about what's actually good for the people. It's about what will get them headlines and dollars."
Kenniff said his platform is largely similar to previous Manhattan District Attorneys who are Democrats, including Vance and his predecessor, Robert Morgenthau, who served in the office for 34 years. "A lot of my platform, had they been running on it, they might even have been accused of being too liberal," he said.
But in terms of this election, the question is in large part the electorate, which has been moving left, even in Manhattan where there are still pockets of more conservative voters, including Democrats. Kenniff said concerns for public safety aren't a partisan issue, and he is relying on that message as he campaigns. "[New Yorkers] are absolutely fed up with crime in the city, Democrats as much as Republicans, and they are not on board with a progressive district attorney like Alvin Bragg that will bring the experiments that we've seen in San Francisco, Detroit, Philadelphia here to New York," he said.
Where Bragg has differences with Adams, Kenniff shares common ground. He too wants to see the citywide NYPD plainclothes unit back on the street and wants tougher bail laws back in place. "We have divested judges of the ability to take people that are recidivist offenders, demonstrably dangerous, of our streets, and we're forcing this revolving door system of justice where the courts have no choice but to place these individuals back on the street to commit more crime," he said.
If victorious, Kenniff would join DAASNY, even if he does not completely agree with its agenda. "I've always been a very independent thinker. I don't get hung up on labels like Democrat, Republican," he said, noting that he has not received much monetary support from the local, state, or national Republican parties. The Manhattan GOP has, however, endorsed him and undertaken some efforts to boost his campaign and help him raise funds.
Kenniff has raised limited funds for a competitive campaign. As of July 15, he had only pulled in about $55,500 and spent about $37,800. In comparison, Bragg had raised about $2.75 million over the course of the campaign as of July 15, and had spent about $2.5 million, largely in winning the primary, though he was widely outspent by the second-place finisher, Tali Farhadian Weinstein, who ran a more moderate campaign. Bragg had just about $237,000 in cash on hand as of the July 15 filing.
Like Bragg, Kenniff also did not want to comment on the Trump organization investigation. "I'll handle it like I handle any other case," he said.
Asked if he was a supporter of the former president, he said, "I really have no public opinion on that. Yeah, I don't think it's relevant to this. What I can say is that I have absolutely no connections, zero, to either former President Trump or any former president for that matter."