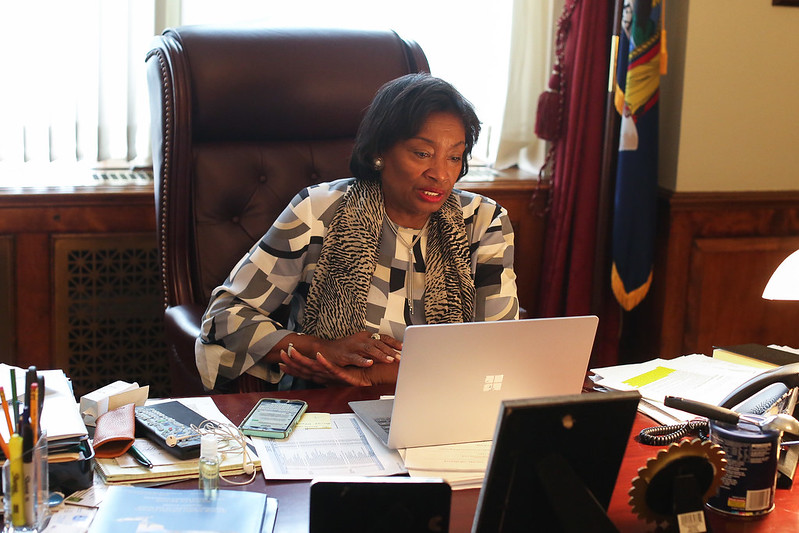 Senate Majority Leader Andrea Stewart-Cousins (photo: NY Senate Media Services)
---
Amid major upheaval in state government and ongoing pandemic-era crises in New York, State Senate Majority Leader Andrea Stewart-Cousins is embracing a sense of stability and an opportunity for more collaboration among political leaders.
During a recent appearance on the Max Politics podcast from Gotham Gazette, Stewart-Cousins, a Democrat from Westchester who has led the Senate since 2019, discussed the early stages of Governor Kathy Hochul's tenure, her relationship with former Governor Andrew Cuomo, key issues facing state government and New Yorkers, and upcoming legislative priorities.
"It's always easier when everyone sees the same reality," Stewart-Cousins, a Westchester Democrat, told host Ben Max. "We're all rowing in the same direction. I think the response to extending the eviction moratorium is really emblematic of how important that is."
"It was clear that we needed to do something and we needed to be on the same page to do it," Stewart-Cousins said of one of Hochul's first acts as governor. "It was very clear that we had to extend the eviction moratorium." State leaders also recognized the need to get rental relief money out faster to tenants and landlords, and moved additional tweaks to the emergency program for doing so, she said.
"We were able to make corrections, we were able to do important things and we have until next year," Stewart-Cousins said about addressing the moratorium and the relief fund for renters and landlords. "Hopefully we will be in a better position in many, many ways so that people will be able to get on with their lives with some sense of security."
Though she had a difficult relationship with Cuomo, Stewart-Cousins was reserved in her comments when asked about him, calling it a "character-building" exercise. She was more forward-looking, expressing optimism about the new era that has dawned under Hochul, a Democrat, and the two Democratic supermajorities in the Legislature, and getting back to the business of governing after many months where Cuomo's scandals hung over everything.
"It certainly has been an amazing transition," Stewart-Cousins told Max when asked about the shift from Cuomo to Hochul. She said that she and Hochul haven't been friends, per se, but "certainly had a good relationship before," and that Hochul consistently reached out, visited Stewart-Cousins' district, and showed herself to be a "partner in government" who was "honest and earnest" and committed to "a collaborative government."
"I am happy that at this point, the governor is fully immersed in fighting covid, building the economy, and obviously with the tragic flooding we've had as a result of Ida," she said of Hochul and lawmakers. "We've had real issues and she is singularly focused on that. I think it bodes well for the future and our recovery."
[Listen to the full conversation: Max Politics Podcast: Senate Majority Leader Andrea Stewart-Cousins on the New Era in State Government & Upcoming Priorities]
When asked about any advice she may have given Hochul, Stewart-Cousins said she did not feel the need to offer advice to the newly-appointed governor as they have known each other a long time and had good communication, and she expects them to be open with each other throughout. She also noted that she, Hochul, and Assembly Speaker Carl Heastie all took unprecedented paths to respectively become the first female Senate majority leader and governor and first Black Assembly speaker.
"I think for both of us, we are women in rarified air for women," said Stewart-Cousins of herself and Hochul. "We're all people who have not had predictable journeys to put us into these places, so I believe that in our relationship, we've always been honest with each other and so there was no advice that I had to give her because she knows that I will say what I believe and express very clearly what I think our priorities should be."
Asked about how Hochul should handle some of Cuomo's top appointees who still hold leadership positions in state government, Stewart-Cousins deferred to Hochul, who has pledged a full review of personnel over her first 45 days.
"I know that she has made it very clear that people who appeared in that report and had an active role in creating some of what we unfortunately experienced have no place in her administration," she said. "I think she's taking the time that she's taking in order to determine whether their abilities are suitable to the tasks at hand," she said of several top officials Max named, including SUNY Chancellor Jim Malatras, the state health commissioner, Dr. Howard Zucker, and budget director Robert Mujica.
Asked about possible state ethics reforms in the wake of Cuomo's resignation, Stewart-Cousins stressed that those changes continue to be a priority for her majority, as they have been in recent years. She said improving government transparency and ethics has been "our brand."
"We've been very, very clear what we feel the government should look like in terms of transparency, in terms of really living up to the highest ethical standards," said Stewart-Cousins. "We're very much interested in making sure that people trust the government and I believe our behavior around these issues will make a difference."
She stopped short when asked how she could get the Assembly to agree to some of the same reforms that the Senate has passed, including major changes to the Joint Commission on Public Ethics, or JCOPE, telling Max to ask Assembly Speaker Carl Heastie when he appears on the show.
"Whether it's sexual harassment, toxic workplaces, there's always a conversation about how to make sure that people are respected in the workplace, that they're protected in the work place, that they know exactly what to do and where to go should they feel that this is not happening for them," Stewart-Cousins said when asked about potential changes to state laws in light of Cuomo's transgressions. " I can assure you that we will continue to look at that and any other appropriate legislation that continues to underscore that we value people's work, we value a workplace that allows you to continue to do your best work...When you work, regardless of who you are, you will be protected."
Another piece of legislation the Senate has passed but that has not moved in the Assembly is one that would cover all employees of state elected officials under the Human Rights Law, a top ask of reformers seeking to improve the state's sexual harassment protections for government workers.
Asked what priorities she and her Senate majority have around climate and resiliency policy in the wake of the death and destruction from Hurricane Ida, Stewart-Cousins said her conference is considering next steps and promoted the $3 billion environmental bond act that will be on the fall ballot this year for voters to approve or disapprove. She also acknowledged the need for a long-term plan to fortify infrastructure and mitigate flooding.
"I'm happy that at a federal level, we have partners that are also willing to talk about climate change," Stewart-Cousins added. "I am hoping that we will have partners in terms of resources, in terms of commitment because, frankly, if we can't save the planet, then none of this other stuff matters."
[Listen to the full conversation: Max Politics Podcast: Senate Majority Leader Andrea Stewart-Cousins on the New Era in State Government & Upcoming Priorities]
Ben Max contributed to this story.