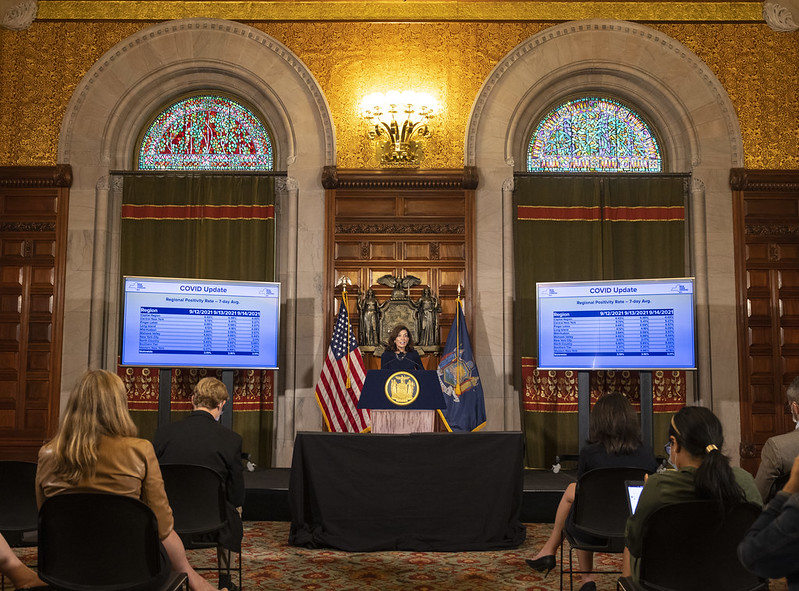 Gov. Hochul (photo: Mike Groll/Office of Governor Kathy Hochul)
---
A coalition of advocacy groups is pushing Governor Kathy Hochul to release over 100 datasets related to the coronavirus pandemic in New York that they believe the state is keeping. The groups say that information can be used by scientists, journalists, and advocates to better understand the virus, its impact on public health, and the state's response.
In a letter to Hochul, the coalition identified 123 datasets it said should be made available "without delay," of which only 14 have been published on the state's open data portal in a way that is easy to read and analyze. Another 64 sets have been published across various portals and websites in formats, like graphs, that cannot be broken down into more granular detail.
There are believed to be 45 of the datasets completely hidden from public view, including data on outbreaks and death in long-term care facilities, where some of the worst devastation of the pandemic has taken place.
"Publishing COVID data in a tabular, downloadable, machine-readable format would help restore trust in state government and help researchers, journalists and the public to better understand the dire pandemic that has cost us loved ones and continues to upend everyday life," reads the letter, dated September 7 and signed by ten organizations "from across the political spectrum." The advocates include good government groups like Reinvent Albany, Citizens Union, Common Cause NY, and the Empire Center, journalist associations like the New York News Publishers Association, national organizations like the National Freedom of Information Coalition, and civic data group BetaNYC.
The groups have been urging the state to release this information at least since March, when they sent a letter to then-Governor Andrew Cuomo, Senate Majority Leader Andrea Stewart-Cousins, and Assembly Speaker Carl Heastie.
On June 22, the Empire Center submitted requests for 62 of the datasets under the state's Freedom of Information Law (FOIL). By September 2, only five had been provided with another five fully or partially denied, according to a blog post by Bill Hammond, the Center's senior fellow for health policy who has been tracking the Cuomo administration nursing home scandal throughout the pandemic. The rest of the requests are pending, including 42 filed with the state Department of Health.
In the most recent letter, the groups argued all the data is subject to FOIL disclosure and should be published online. "We emphasize that this public health data is owned and paid for by the public and should be published as a matter of course," they wrote.
The missing data includes basic information on COVID-19 testing and fatalities as well as more detailed statistics that could be used to track the virus and its variants in critical settings. Many of the datasets are reported in open data format in other states and localities, including on New York City's COVID-19 portal.
Hochul has promised a new era of transparency and accountability in state government, including a reevaluation of what covid-related information is released publicly. A spokesperson for Hochul noted to Gotham Gazette that when she became governor on August 24, Hochul signed an executive order to review all existing executive orders through the 45-day transition period she allotted herself, at which time she will take new executive actions that will include efforts toward a more open, ethical government. That transition period ends October 8.
According to the groups, the state does not publish positive tests tracked by zip code, age, or race and ethnicity, nor does it publish a chronological account of fatalities by zip code -- information that could be used to track regional outbreaks and assess local responses.
The state also does not publish information on hospital capacity, including available COVID-19 beds, according to the coalition analysis. Nor does it publish records of the state's stockpile of PPE and medical equipment -- a major source of anxiety for hospital administrators and health workers, and critical information in the event of another serious outbreak.
The groups say the state has not released any information about the death of staff members working in long-term care facilities, nor infection data in those settings or a list of facilities with outbreaks.
Despite months of lagging inoculation rates and the ongoing prevalence of the highly contagious Delta strain, information on covid vaccines and the state's efforts, while published, is not available in open data format making it difficult to closely analyze. The same is true of deaths in nursing homes and assisted living facilities, as well as testing efforts in schools, according to the coalition. Infection and fatality data in other congregate facilities, like prisons and some group homes is not published at all, the groups say.
"Because the state has not made this data available it is possible that they are not collecting it at all," said Tom Speaker, a policy analyst at Reinvent Albany.
On her first day in office Hochul committed to improving government transparency and the state's FOIL responses. "A new era of transparency will be one of the hallmarks of my administration," she said. "I have instructed my counsel to come up with an expedited process to fulfill all FOIL requests as fast as possible—and post completed requests publicly online."
On September 20, the governor's office issued a memo to state agency heads directing them to review their information-sharing policies and submit a plan "detailing changes your agency will make to increase the transparency of your work." The plans, due October 20, must show how agencies will improve FOIL response times, including "by proactively posting frequently requested information or completed requests online."
The state's tight grip on COVID-19 data, particularly the total death toll and facility outbreaks, has been the subject of controversy. For months, the Cuomo administration had underreported the pandemic's total fatalities by excluding people who died at home, in prisons and other state-run facilities, and people suspected to have contracted the virus without confirmation by a positive test result. On her first day in office, Hochul acknowledged an additional 12,000 deaths -- which had previously been tracked by the CDC and academic institutions -- in the state's regular reporting.
Last week, Hochul announced the resignation of Health Commissioner Dr. Howard Zucker, whose department had kept the state's mortality figures and was dogged by criticism that it mishandled outbreaks in nursing homes and covered up the full covid death toll of nursing home residents.
Nearly 56,500 New Yorkers have died from the coronavirus since the pandemic began, according to the state Department of Health.