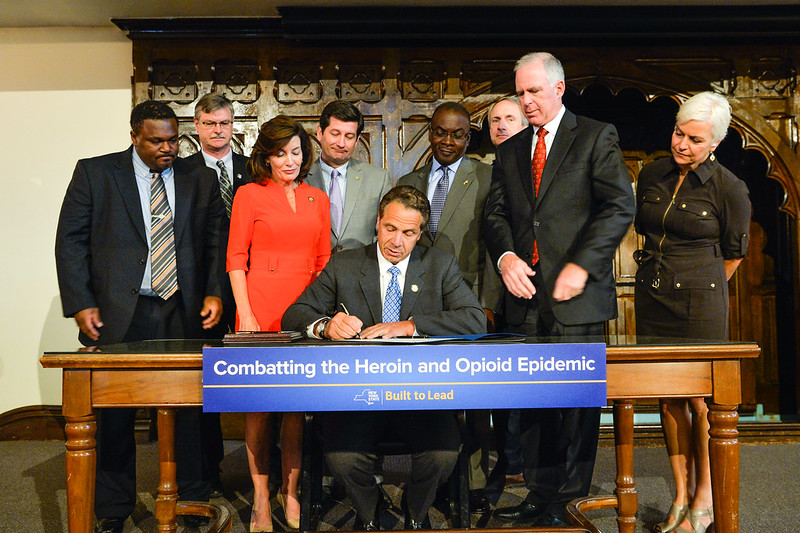 Then-Gov. Cuomo signs legislation (photo: Darren McGee/Office of Governor Andrew M. Cuomo)
---
In the aftermath of the highest number of overdose deaths recorded in New York State in a single year, advocates and substance use treatment providers are calling on Governor Kathy Hochul to sign what they call a crucial piece of legislation to reverse the trend. Without the new governor's signature, they say, the state's recently-established two-tiered substance use treatment system, with greater barriers to access for lower-income New Yorkers, will continue and cause more harm.
Medication-assisted treatment (MAT) is a proven tool for helping people who suffer from substance use disorders. It prevents overdoses, emergency room visits and hospitalizations, and ultimately saves lives. But, until recently, New York State required that insurers provide prior authorization to doctors before they can prescribe MAT drugs, like buprenorphine and methadone, to patients.
At the end of 2019, then-Governor Andrew Cuomo signed a bill that removed prior authorization for commercial insurers, expanding access to the life-saving drugs. But with the same pen, he vetoed another bill that would have removed that regulation for Medicaid, which the lowest income, mostly Black, Latino, and Asian New Yorkers rely on. The governor's decisions effectively created two separate systems, removing obstacles for commercial insurance patients while keeping them in place for Medicaid enrollees.
This Friday, October 1, the state health department is also poised to institute a new statewide formulary for MAT drugs, taking a one-size-fits-all approach to a far more complicated issue.
"When it comes to anything in healthcare, one size does not fit all patients and their medical provider should have a right to decide what treatment works best for them," said Senator Pete Harckham, who sponsored both bills to remove prior authorization.
After Cuomo's veto, the state Legislature passed the Medicaid-related bill again this year with overwhelming bipartisan support, as part of an overdose prevention package. Lawmakers, advocates, and treatment providers are optimistic as they urge Governor Hochul to sign the bill into law that Cuomo previously vetoed.
Cuomo's rationale for vetoing the bill was that it would increase state Medicaid spending. But as advocates point out, that argument was flawed and ignores the cost in human lives from preventing access to MAT drugs. A 2019 report by RTI International for the Legal Action Center, a nonprofit legal services and advocacy group, found that removing prior authorization would save almost 600 lives every year in New York, create cost savings for Medicaid of nearly $52 million annually, and reduce inpatient admissions and emergency department visits by 42%.
Dr. Justine Waldman, CEO of REACH Medical, a harm reduction provider based in Ithaca, said patients on medication-assisted treatment would benefit from a variety of medications rather than a single drug that may be allowed under the state's new policy. "Given that it's a medication that keeps people alive, we really need to have that flexibility to find the medication that works for them," she said.
Any additional administrative hurdles can reduce participation in treatment programs, Waldman said, and without first reducing opioid use, the state cannot eliminate it. "If you make everything based on elimination of use completely, you're not treating a disease process, you're treating sort of a moral process," she said.
The need for greater action on the overdose crisis has also never been more urgent. In 2020, overdose deaths spiked nationally by about 30% to more than 93,000. In New York, the Cuomo administration cut funding to syringe exchange programs, forcing many providers to lay off staff and reduce services, exacerbating the crisis even further and leading to increases in overdoses and STD outbreaks, according to experts. According to the latest CDC data, New York reported 5,129 overdose deaths between February 2020 and February 2021, a 34.3% increase compared to the 3,817 overdose deaths in the same period from 2019 to 2020.
"The state of New York should be doing everything that it can to make sure that we're turning the tide," said Jasmine Budnella, drug policy coordinator at VOCAL-NY, an advocacy and service group.
"We have a moment in New York to really chart a whole new path and there's never been a better moment to have true leadership at the state level to trickle down into interventions and solutions," she added.
Budnella is among the advocates that spent months negotiating with the Cuomo administration to allow greater access to MAT drugs, particularly for those on Medicaid. But while the administration agreed to implement those demands through policy, the new formulary for medications does not achieve the goal. Instead of ensuring that all MAT drugs would be "preferred" and hence need no prior authorization, several drugs continue to require it as well as come with limits on dosage.
"[W]hat you had there was an indication that the Cuomo administration wasn't too worried about creating this two-tiered system and specifically not expanding access for the Medicaid population, which obviously is low-income communities of color," said Christine Khaikin, senior health policy attorney at Legal Action Center.
Hochul, a Democrat with just over a month on the job as governor, has indicated an interest in more fully tackling the substance use and overdose crisis. In her first public address as governor, she spoke of her own personal experience, having lost her nephew to a fentanyl overdose in 2017, and said the issue would be a top priority.
"Too many of our families have had to face this specter of dealing with someone, and sometimes they lost someone they cared deeply about because of addiction," she said on August 26, when she announced Senator Brian Benjamin as her lieutenant governor. "So to those families, I know the pain you're going through, and we're going to make sure that we do everything in our power to stop that," she added.
"Combating the opioid epidemic is a top priority for Governor Hochul, having served as co-chair of the NYS Heroin and Opioid Task Force for years," said Haley Viccaro, a spokesperson for the governor, in a statement to Gotham Gazette. "She was also personally impacted by the crisis, losing a nephew to addiction several years ago. Governor Hochul will continue to fight for protections for New Yorkers struggling with substance abuse in partnership with families and impacted groups. The Governor is reviewing the legislation and will have more to say on this soon.​"
Hochul's comments have been encouraging to those who have worked on substance use legislation for years. "It is refreshing to have a governor that understands that pain and grief and frustration that the state of New York has gone through around the overdose crisis," said Budnella from VOCAL-NY.
"I think she's been much more willing than her predecessor to take on some of these issues," said Senator Harckham, a Hudson Valley Democrat who chairs the Committee on Alcoholism and Substance Abuse and has been open about his own struggles with substance use.
As Harckham noted, the state is also flush with federal relief funds to fight the overdose crisis and is expected to receive as much as $1.6 billion through the settlements of lawsuits against opioid manufacturers and distributors brought by State Attorney General Letitia James' office.
"So we will be having new revenues coming into state coffers that will be targeted to addressing substance use disorder, and clearly medication-assisted treatment and equity in medication-assisted treatment needs to be at the top of the list," Harckham said.
For providers, Hochul's approach has the right focus on lives rather than cost. "This is a governor who's really going to pay attention to health equity and put health equity above the cost of it, and that makes me extremely hopeful that this is our governor," said Waldman.