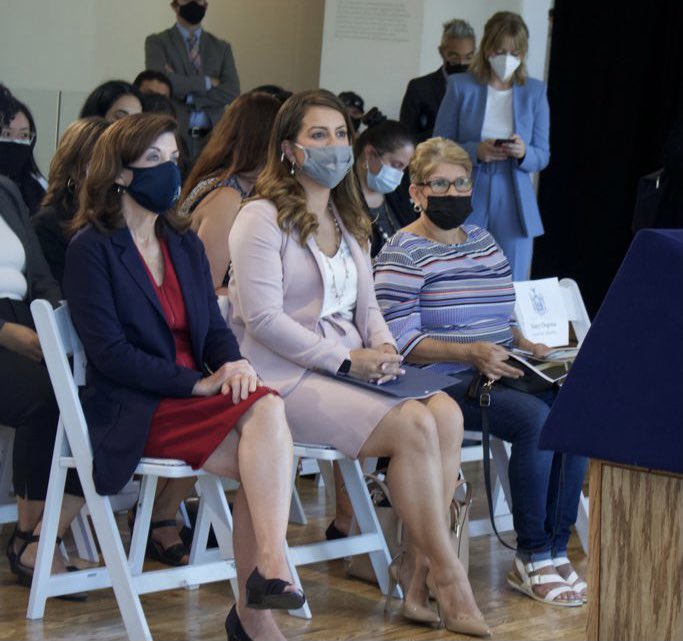 Assemblymember Cruz, middle, with Governor Hochul (photo: @CatalinaCruzNY)
---
"My neighbors speak more than 150 languages. We have folks from all over the world who call this beautiful community their home. They are small business owners, they are first responders, they are frontline workers, we also have Elmhurst hospital. It's just a beautiful, beautiful community that I am extremely proud to represent," said Assemblymember Catalina Cruz, a Democrat who represents the 39th Assembly district, made up of Corona, Elmhurst, and Jackson Heights in Queens.
Appearing on a recent episode of the Max Politics podcast from Gotham Gazette, Cruz discussed the many ways she is working to help immigrant communities, at times especially undocumented immigrants, the Assembly judiciary committee's investigation of former Governor Andrew Cuomo, and more.
"Sixty percent of our neighbors were born in another country and 40% of them have no voting power," Cruz said regarding the large number of residents of her district who are undocumented or otherwise not full citizens of the United States and unable to vote locally. "That's because they are permanent residents, undocumented, they have DACA or asylum. Some sort of non-citizenship status that definitely, unfortunately, relegates them to a second class of 'citizens,' if you will, when it comes time to have their needs heard."
Therefore, Cruz says, it's especially important for local representatives like herself to work on behalf of those constituents and ensure that all levels of government are paying attention to their needs — and making a point to note that many are indeed taxpayers even as they are ineligible for many forms of government aid.
Not only has COVID-19 devastated many communities in New York City, particularly low-income communities of color like those Cruz represents, but Hurricane Ida also just poured historic rains on them, creating another example of how hard it is to be undocumented in a tragedy.
"A day or two after Ida hit, we were trying to figure out how to get our neighbors the government resources, that means the FEMA money, as soon as possible," Cruz said.
As state government entities, from the administration of Governor Kathy Hochul as well as Cruz's office and others, screened constituents and tried to help them apply for FEMA funds, they found that roughly half of those in need of help were undocumented and could not apply for FEMA help, Cruz said. She told podcast host Ben Max of Gotham Gazette that she then asked the governor for a fund to help the undocumented individuals of New York who could not apply for FEMA funds and quickly between the state and the city they created a $27 million fund that just launched through the state's Office for New Americans.
Cruz, who is chair of the Assembly's Task Force on New Americans, has also been working with her staff and other colleagues in government to help constituents and others access the state's $2.1 billion "Excluded Workers Fund," which provides financial aid to undocumented New Yorkers who lost income due to COVID-19 but were left out of federal relief programs. Cruz said many eligible New Yorkers have still not applied and should before the fund runs out of money, or in order to help make the case that it needs to be replenished.
"There's absolutely more need," Cruz said on the podcast. "I'm committed, if the time comes and the fund runs out and we realize we need more money, I'm committed to fighting along with the [Excluded Workers Fund] Coalition in the same way that we did before, because people need it to survive.
Cruz also explained that she is working toward a package of efforts coming out of her work as the chair of the New Americans Task Force, which will include new legislative and budget priorities.
[LISTEN: Max Politics Podcast: Assemblymember Catalina Cruz on Pro-Immigrant Policies, the Cuomo Investigation, & More]
Asked about two pieces of legislation she's sponsored — getting Hochul to sign her Nourish New York Act and both houses of the Legislature to pass the Clean Slate Act — Cruz stressed their importance and expressed optimism.
"Nourish New York was born out of the food desert and food insecurity issues that we saw get exacerbated during covid," Cruz said. "My office alone, we provided 250,000 meals in a six-month period because we closed our office and turned it into a food pantry because there was no other place where people could get food at one point."
Working with the Cuomo administration, legislators and other partners helped set up Nourish New York as a pandemic food program connecting upstate farmers with food pantries and food banks across the state, with the state paying the farmers for their goods in order to both utilize that product and feed needy people. While it was a one-time deal with the Cuomo Administration, Cruz and her colleagues passed legislation to ensure its survival and now need Hochul to sign it into law.
The Clean Slate Act would remove publicly available criminal records for misdemeanor crimes and most felonies after people have completed their sentences and parole. For example, someone with a "clean slate" would not have their criminal history available for a landlord to check and then illegally discriminate against them in determining their housing options.
"It gives people in my community a real second chance at life," Cruz explained. "You've come out of jail, you've paid your dues, a certain amount of time will pass, depending on the type of crime, and during that time you are basically showing that you are a good, contributing member of our community. You're able to show that you are moving forward. Then, after that, your record will disappear."
Cruz and her colleague believe that Clean Slate can help reduce recidivism rates by removing barriers to employment, housing, and other things for those who have criminal records but have paid their dues.
Cruz also discussed the Assembly Judiciary Committee's impeachment investigation of now-former Governor Andrew Cuomo. While his resignation led Assembly Speaker Carl Heastie to call off the impeachment proceedings but for referrals and a report, some were disappointed with his decision and many are eager to see the findings, however incomplete.
"I don't have a date yet but I suspect we are not looking to extend this beyond a couple of weeks, maybe a month or two," said Cruz, who is an attorney and sits on the judiciary committee. "Because I think people want to know, people want to hear what's in that evidence, what was in that report."
Asked about the report, Cruz confirmed that it would include significant information beyond issues related to the former governor's pattern of sexual harassment that was outlined in the report issued by Attorney General Letitia James, which led to additional calls for resignation, impeachment, and prosecution, and to Cuomo's decision to resign. Those issues include the governor's use of government resources on his covid book memoir, Cuomo's nursing home covid scandal, and more.
Cruz also took a moment to address how Cuomo and his allies have been pushing back against the attorney general and Assembly.
"The governor's implying that this has all been some kind of political attack on him and his character," Cruz said. "That this is some kind of war against him and his character. It's not. This is a war against corruption in Albany. This is a war against corruption in government. This is a war against sexual harassment of staff."
[Listen to the full conversation: Max Politics Podcast: Assemblymember Catalina Cruz on Pro-Immigrant Policies, the Cuomo Investigation, & More]